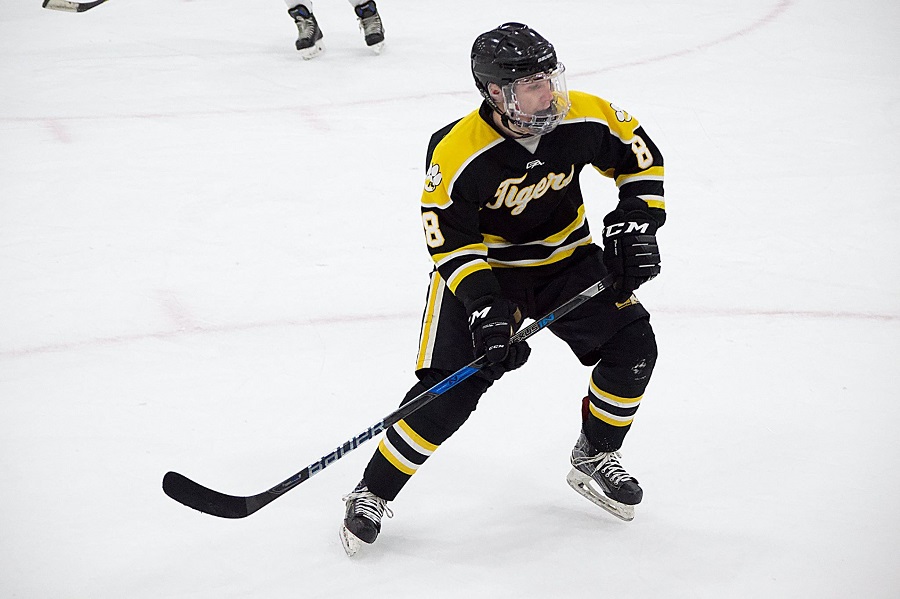 Six Tigers Named To PIHL Class AAA All-Star Game
Nearing the all-star break, North Allegheny has rolled to an 11-2-1 record and sits in first place in the Class AAA standings with 23 points. With such success there should be no surprise that six Tigers were tabbed to participate in the 2020 PIHL All-Star Game on Sunday, Jan. 26 at the RMU Island Sports Center.
Seniors Tyler Lamark, Will Parreaguirre and Tyler Putnam, along with sophomore Connor Chi, were all selected at the forward position. Senior Chris Hanlon earned all-star recognition on defense and senior Tyler Boyles was honored at the goalie position.
Lamark will appear in the all-star game for the second straight year and leads Class AAA in both assists (22) and points (31). Chi is second in Class AAA in assists (13) and is tied for third in points (22) with Upper St. Clair's Mitchell Geinzer. Putnam is the team leader in goals with 10 on the season along with six assists, and Parreaguirre has tallied nine goals and five assists. Thanks in large part to Lamark, Parreaguire, Putnam and Chi, the Tigers are the top scoring team in the classification with 63 markers on the campaign.
Always a staple of North Allegheny teams is a hard-hitting and stingy defense and this year is no different. With the help of Hanlon and Boyles, the Tigers have permitted the third-lowest goal total in Class AAA with 32. Hanlon has tallied one goal and four assists and Boyles boasts a record of 6-2 with a 2.62 goals against average.
Congratulations to these six players and good luck at the all-star game on Jan. 26.