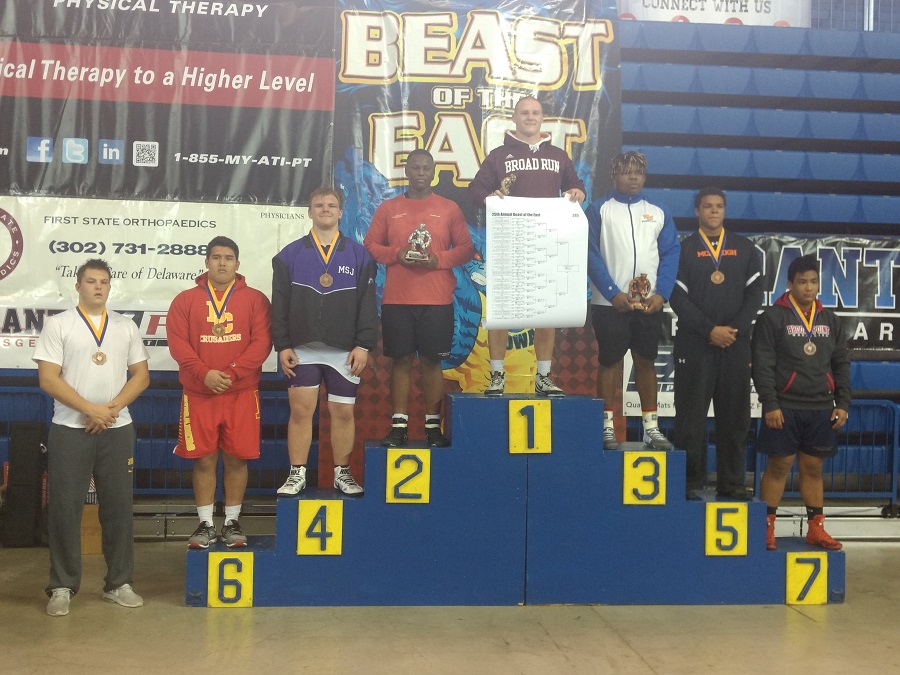 Strong Showing For NA At Beast of the East Tournament
The North Allegheny wrestling team placed 34th out of 120 teams at the annual Beast of the East Tournament over the weekend, the No. 2-ranked high school tournament in the country. North Allegheny was one of just three WPIAL schools that participated in the tournament and posted a team score of 46.5.
Senior Derek Devine (pictured above) was the top finisher for North Allegheny and reached the medal rounds at 285 pounds. Devine entered the tournament as the No. 12 seed and secured a fall against Alex Hazard of JW Robinson in the round of 32. In the round of 16, Devine fell to eventual champion John Birchmeier of Broad Run (VA), ranked 13th nationally. Devine then rolled off three straight victories by fall to move into the medal rounds. He lost to eventual fourth-place finisher Isaac Reighter of Mount St. Joe's before losing a close match to fourth-seeded Ramses Montalvo of Brooke Point (VA), 3-2, in the seventh-place bout.
Unseeded Jon Hoover fell one match shy of placing at 160 pounds. In the round of 32, Hoover knocked off 10th-seeded Avery Mayan of Polytech, the third-place finisher at the Delaware State Tournament last year, by a 6-3 decision. He then secured a 4-2 overtime win against Joseph Wilson of Pemberton Township (DE). Hoover lost a hard-fought quarterfinal match against eventual champion and No. 2-nationally ranked Andrew Merola of Blair Academy, 6-0. Hoover finished with a 3-2 record at the tournament.
Max Stedeford (113), Freddy Junko (120) and Jimmy Turici (195) all made good runs in the tournament. Stedeford went 2-2 with a win by fall, Junko was 3-2 with two major decisions and Turici was 3-2 with two falls.
For a look at the brackets from this weekend's tournament, click here. For team standings, click here.