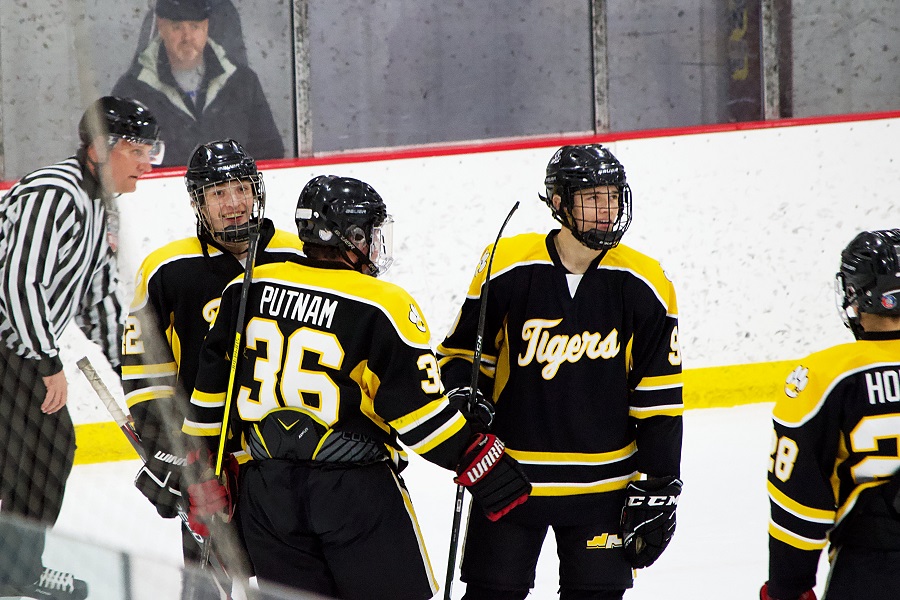 Student-Athlete Profile: Senior Forward Tyler Putnam
On any championship team, there is always a collection of leaders who contribute their own particular set of skills to win a title. For the 2018-2019 Class AAA Penguins Cup champion North Allegheny Tigers, Tyler Putnam was unquestionably one of those leaders. Not only an outstanding goal scorer, Putnam brought a great work ethic but also an innate ability to keep his teammates loose.
"I keep it fun in the locker room," said Putnam. "When we're down, I'll say something and crack a joke to get us rolling a little bit.
"Not every puck bounce is going to go your way and you're going to get down. I think you need somebody to loosen it up and get your head back in the game."
A great team player on and off the ice, Putnam helped North Allegheny to a 14-4 record during the 2018-2019 regular season and the No. 2 seed in the PIHL playoffs. Providing 10 goals and six assists, Putnam finished second on the team in goals and points.
In the playoffs, Putnam's capacity to keep things loose aided the Tigers during intense playoff wins over Seneca Valley in the quarterfinals, 3-2, and Bethel Park in the semifinals, 2-1, in double overtime. In the Penguins Cup championship versus Peters Township, North Allegheny held a 1-0 lead until two third period goals propelled the team to a 3-0 triumph.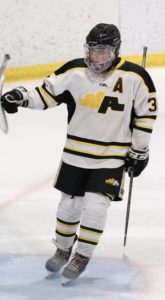 "I was so excited. I couldn't stop smiling," said Putnam of winning the championship. "It was definitely special. The whole team was like a family and we had a bond."
Just days later in the Pennsylvania Cup championship, Putnam had one of the finest plays of his career when he created a breakaway and scored a first period goal against LaSalle College.
"The puck was chipped up the boards and I saw the (opposing player) turnaround. He didn't know I was coming and I stick lifted him. I remember shooting it…and it ended up going top right (corner)."
With the help of Putnam, the Tigers overcame a 3-1 deficit to tie the game by the start of the third period. However, LaSalle prevailed in the final stanza, including two empty net goals, for a 6-3 win.
As the start of the 2019-2020 season approached, North Allegheny set its sights on becoming the first team in nearly 20 years to win back-to-back PIHL title in Class AAA. Now a senior and an assistant captain on the team, Putnam and his teammates were ready for a big year.
In the regular season, the Tigers rolled to a 15-4-1 record and the No. 1 seed in the playoffs. Individually, Putnam continued his growth as a player and tied for the team lead in goals with 17 and totaled 26 points. With his most explosive season yet, the three-year starter was named an All-Star by the PIHL.
"It was fun playing against some of the top players in the league. It was a very fast-paced game and everyone can make plays."
Putnam made his own fair share of plays in the all-star classic, netting two goals to lift Class AAA's Team Blue to an 11-8 victory over the Gold Team.
The magical senior season continued for the all-star forward in the opening game of the PIHL playoffs as Putnam and teammate Connor Chi scored two goals each in a 4-3 victory over Bethel Park. Unfortunately, due to COVID-19, the playoffs were halted prior to the semifinal round and the season remains suspended by the PIHL.
While there is still a glimmer of hope that the playoffs could be completed, no matter what happens, nothing will change the fascinating achievements by Putman and his fellow seniors during the course of their careers.
"Playing with the seniors is a lot of fun. I'm very close with all of them and some of them are my very best friends. I think this senior class is special with the amount of talent it has. We kind of have a touch of everything when it comes to defense, offense and the grit and determination it takes to win."
Putnam will finish his career at North Allegheny with regular season totals of 33 goals, 16 assists and 49 points. Putnam will take his talents to John Carroll University next season where he plans to play on the club ice hockey team there. He considering a major in either Business or Education at JCU.
(Featured photo of Tyler Putnam above courtesy of Burgh Hockey Digest).