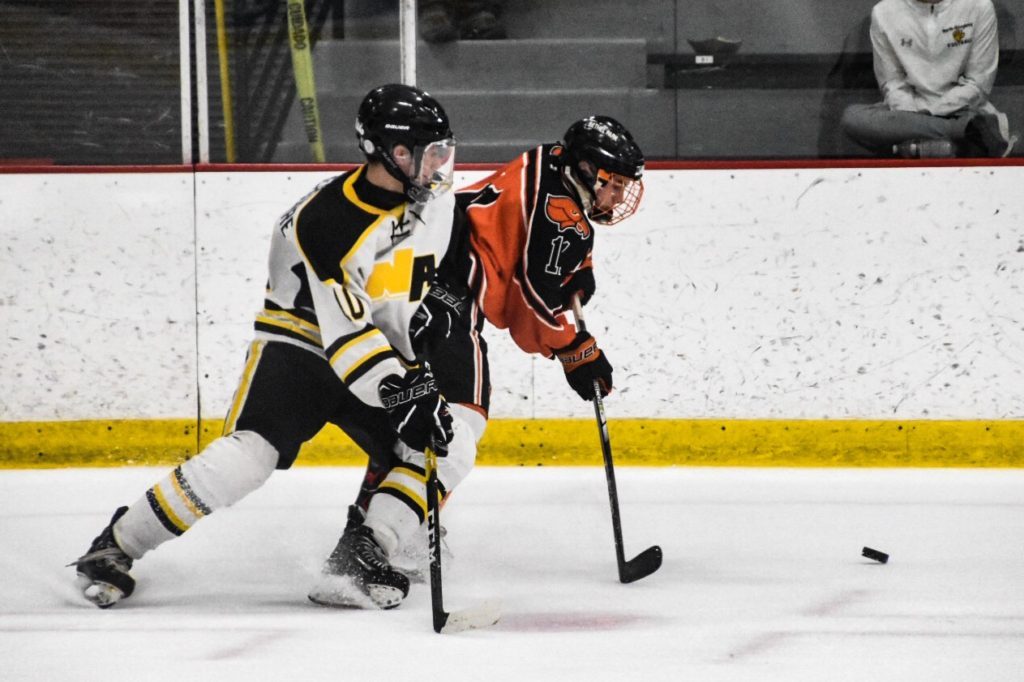 Student-Athlete Profile: Senior Forward Will Parreaguirre
En route to the 2019 Class AAA Penguins Cup championship, the North Allegheny ice hockey team amassed several memorable victories. Perhaps the most unforgettable game came in the PIHL semifinals against Bethel Park. In a double overtime marathon, then-junior Will Parreaguirre scored the game-winning goal at 12:40 in the a.m. to propel North Allegheny to the Penguins Cup final with a 2-1 victory over the Black Hawks.
The goal was monumental for the Tigers but it was especially gratifying for Parreaguirre who had endured a long road of injuries and rehabilitation up to that point.
A concussion and back injury limited Parreaguirre to only nine games as a freshman. During his sophomore campaign, Parreaguirre showed promise with eight goals and 14 points, both good for second best on the team. However, in a late-season game in February of the 2017-2018 season, an awkward hit to the back of his knee proved damaging.
"I finished the (hockey) season," said Parreaguirre. "Then after the season I tried to run track, but every time I'd run my knee would throb and swell up. I got it checked out and my doctor told me it was a torn meniscus."
With surgery looming on April 9, 2018, the prognosis for recovery was five months. Unfortunately, the torn meniscus was much more severe than initially diagnosed and his timetable for recovery turned into 10 months. Instead of beginning his junior season on opening night in October, Parreaguirre's balky knee kept him out of action until midseason.
"It was a struggle for me. Being active as I am, it was tough being stuck on crutches for two months without being able to walk. But it shaped me into the person that I am and it really helped my hockey career being able to overcome all of it."
With Parreaguirre finally at full strength heading into the 2019 playoffs, the timing couldn't have been better. Following a 3-2 win over Seneca Valley in the PIHL quarterfinals, several other Tigers were forced to miss the semifinal showdown with Bethel Park due to the flu.
In a defensive struggle, the game was tied 1-1 deep into the night and into the early morning hours of March 15. Despite significant exhaustion for everyone involved in the game, Parreaguirre produced a steal at the blue line and steered a hard wrist shot past Bethel Park goalie Nicholas Guimond for the win.
"I saw their defense pinch up and I just stuck my stick out and poke-checked the puck. The rest is history…It's something I'll never forget."
Days later in the Penguins Cup championship, Parreaguirre scored one of three NA goals in a 3-0 victory over Peters Township.
"It was really special to be able to raise (the trophy) with that group of guys, especially for the seniors because I had played with them for most of my life. It was really special to be able to win it with them."
After the strong playoff push to conclude his junior season, Parreaguirre has posted the best numbers of his career as a senior. During the 2019-2020 regular season, the talented forward tied for the team lead in goals with 17 and totaled 27 points, third best on the squad. His outstanding performance earned Parreaguirre his first trip to the PIHL All-Star Game.
"I didn't think too much about trying to put up as many points as I did. I wanted to go out with a bang with it being my senior year. I just wanted to make it through a full season, play in every game and help my team win."
The senior captain has again led North Allegheny deep into the postseason. The Tigers defeated Bethel Park in the quarterfinals, 4-3, before the season was halted due to COVID-19 prior to NA's scheduled meeting with Pine-Richland in the PIHL semifinals.
While it's unknown when or if the 2020 playoffs will resume, it doesn't take away from the resilient efforts and career of Parreaguirre.
Parreaguirre has not decided on what college he'll attend next year, although he hopes to be a physician's assistant one day. If his college of choice has a club hockey team, Parreaguirre plans to try out for the team.