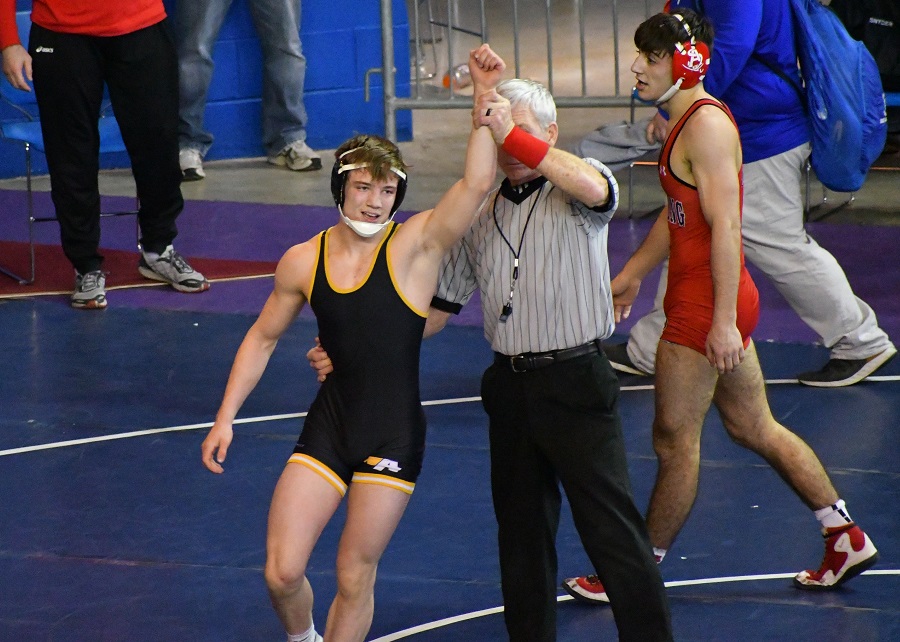 Student-Athlete Profile: Senior Freddy Junko
When Freddy Junko was in second grade, a family friend and wrestling coach, Chris Edenfield, recommended that Junko should give the sport of wrestling a try. The energetic and rambunctious seven-year old was introduced to wrestling coach Sanshiro "Sunny" Abe and a life-long relationship for Junko was born.
Participating at Abe's wrestling club, at that time in Carnegie, Junko began honing a craft that would later see him join the 100-win club at North Allegheny.
"I was privileged in that aspect," said Junko of wrestling for Abe. "He got to see me develop and he developed me in how he saw fit so that I can have success."
Junko's development continued even further when Abe took over as North Allegheny's head coach in 2016. An accomplished athlete in his own right, Abe won an NCAA championship in 1996 at Penn State and was an Olympian that same year for Japan. A four-time All-American, among other accolades, Abe spent eight years as the head coach at Central Catholic before coming to North Allegheny.
In Abe's second year as Tigers head coach, Junko was a freshman on the 2016-2017 team that made a remarkable run in the postseason. North Allegheny defeated Franklin Regional, 32-25, in the WPIAL third-place consolations and reached the PIAA semifinals at the Giant Center in Hershey.
A starter at 106 pounds, Junko won all five of his bouts during the Tigers' march through the PIAA team tournament.
"I was 14-years old and wrestling at states was probably the most fun I've had."
Junko's phenomenal freshman year was just the beginning of a great career for him at North Allegheny. He qualified for the WPIAL Class AAA individual wrestling tournament all four years on the varsity roster. At the Section 3-AAA individual tournament, Junko medaled four times and twice finished in second place as a sophomore and junior at 113 and 126 pounds, respectively.
The pinnacle of Junko's career came this season as a senior. On Dec. 21 at the Beast of the East Tournament in Delaware, he reached the 100-win plateau with a 2-1 victory over Nick Paolucci of Archbishop Spalding at 145 pounds.
"Ever since middle school, that was one of my goals to hit that milestone. What was even cooler was that we were wrestling at the Beast of the East and that is probably one of the most difficult tournaments in the nation.
"My teammates were there celebrating mat side with signs and everything. It was an unreal experience."
Milestone wrestling achievements are nothing new for the Junko family. Freddy's great uncle, Ron, was a PIAA runner-up in 1966 and a state champion in 1967 at Trinity High School, where he would later become head coach. Ron Junko had an excellent career at the University of Toledo, qualified for the U.S. Olympic Trials and is a member of the Washington-Greene County Chapter of the Pennsylvania Hall of Fame.
Continuing his family's wrestling tradition, Freddy Junko will take his academic and athletic career to the Virginia Military Institute next season.
"VMI is a very prestigious academic school. I get to wrestle another four years…and I was also looking for a school that would give me the best academics and set me up for my future."
Junko will pursue a degree in Civil Engineering at VMI.
While his plans for the future are firmly in place, Junko will always look back fondly on his time with North Allegheny and coach Abe.
"(NA) has been a great environment to wrestle in. The coaching staff is one of the best in the nation. They are devoted to see you succeed."
Junko concluded his wrestling career at North Allegheny with an all-time record of 127-54.