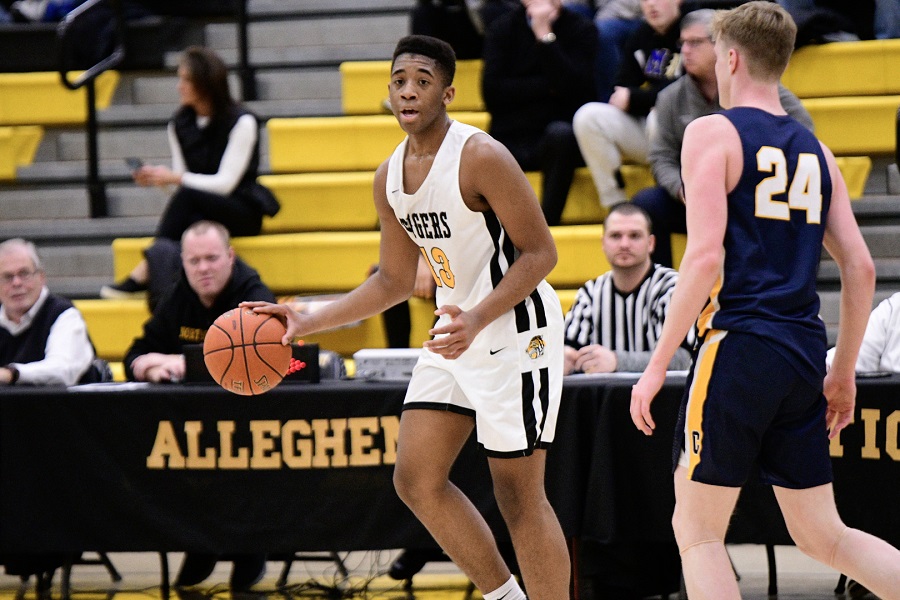 Student-Athlete Profile: Senior Grant Timmerson
Basketball has always been a big part of the life of senior Grant Timmerson. The son of a basketball hall of famer, it isn't much of a surprise that Timmerson would also excel at the same sport. Timmerson's father, Wade, had an outstanding basketball career at Robert Morris University and Fort Cherry High School and is a member of the RMU Athletic Hall of Fame (Class of 2007) and was recently announced as an inductee to the 2020 Washington-Greene County Chapter of the Pennsylvania Sports Hall of Fame.
"I can remember when I first got a basketball hoop in my driveway, he was always teaching me about the game and how to play the right way," said Timmerson about his father.
Under his father's tutelage, Timmerson's hard work helped him climb through the ranks of the North Allegheny basketball program. Following the graduation of five seniors from the 2018-2019 Tigers team, Timmerson knew he had an opportunity to play a more prominent role this season.
"I was in the gym all summer with the team. My Dad worked me out and I got in the gym lifting. I worked hard the whole offseason and I knew I could step up and be a leader on the team."
Timmerson's offseason efforts immediately paid dividends in the 2019-2020 season opener against Penn-Trafford. The 6'3" swing man burst onto the scene with a 15-point, seven-rebound performance. With 6-of-15 shooting from the field, including 3-for-5 from beyond the arc, Timmerson helped the Tigers rally from an early deficit to tie the game in the fourth quarter. While a Penn-Trafford buzzer-beater edged NA in the opener, the foundation was set for a big senior year for Timmerson.
Displaying great versatility, Timmerson was the Tigers top 3-point shooter and also finished second on the squad in rebounding. He was 47-of-119 from the perimeter, hitting at a 39.5-percent clip, and pulled down 5.2 boards per game. Overall Timmerson, led North Allegheny in scoring (13.7 ppg) and steals (40).
"I've always been a good shooter. Being versatile, guys have to guard me in different ways. It opens things up for me and my teammates as well."
Timmerson's biggest single-game performance came during a road victory at Seneca Valley on Jan. 10. On a red-hot shooting night, he poured in a career-high 27 points and buried 6-of-7 shots from 3-point land to help the Tigers roll the Raiders, 73-53.
With the help of their senior swing man, the Tigers put together a three-game winning streak to end the regular season and qualified for the WPIAL playoffs for a second consecutive year.
Timmerson's breakout year earned him second-team all-section honors from the Big 56 Conference and an invitation to play in the Roundball Classic, an annual all-star event featuring the best basketball players in the WPIAL, City League and District 10.
"It definitely means a lot," said Timmerson of his postseason accolades. "Before this year, nobody really knew who I was. I had to work for it all so it feels good to be recognized for what I can do."
While the biggest influence on Timmerson's basketball career is his father, he also shares a special bond with his younger sister, Jasmine, a freshman standout on the WPIAL champion girls' basketball team at North Allegheny. The two siblings can always be found attending the other's games.
"As long as we can be there, we're at all of each other's sporting events. We're pretty close and we're together pretty much all the time. During this quarantine, we're pretty much outside every day playing 21 or playing HORSE. We're definitely closer than a lot of siblings I would say."
While COVID-19 has affected the recruiting process, Timmerson is looking to continue his basketball career in college next season. He has received some interest from schools in NCAA Division III and NAIA. Timmerson would like to focus his studies in Business.