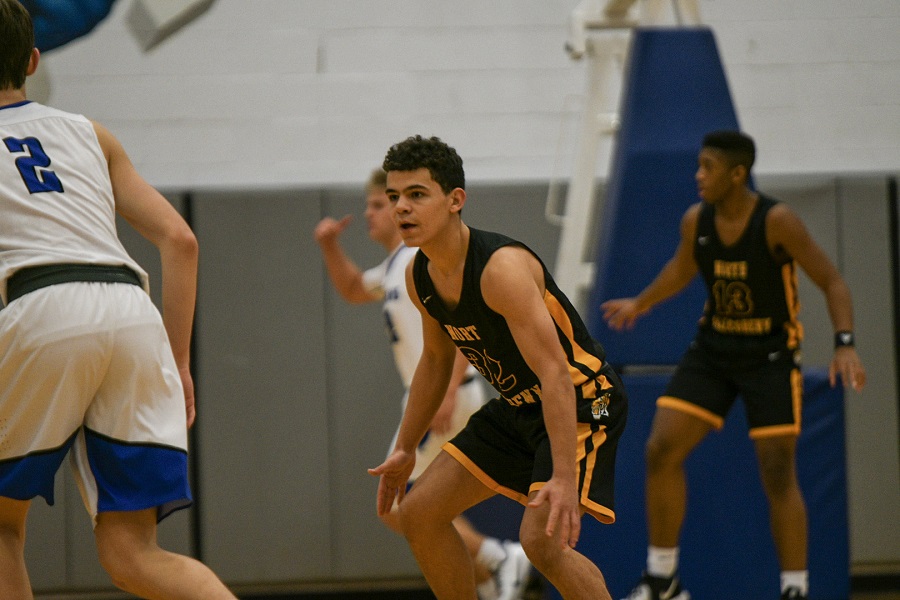 Student-Athlete Profile: Senior Guard Zach Andreykovich
Heading into the 2020 section finale against the archrival North Hills Indians, the North Allegheny boys' basketball team needed a victory to clinch a playoff berth. A loss would end the Tigers season. In a do or die contest, the Tigers rose to the occasion for a 61-40 victory.
A strong outside shooting performance from senior guard Zach Andreykovich provided the spark as NA secured a second straight appearance in the WPIAL playoffs. Andreykovich totaled 17 points in the game and poured in five 3-pointers, including a buzzer-beater to end the first quarter.
"That was a huge game," said Andreykovich. "It was really cool to play well in that situation with a lot on the line."
The playoff-clinching victory on Feb. 7 was the crescendo to the season for Andreykovich and the 2019-2020 Tigers. The sharpshooter orchestrated a superb senior campaign, finishing second on the team in 3-point percentage (.341) and 3-pointers made (46). He also averaged 9.0 points per game, third best on the squad.
By season's end, Andreykovich received all-section honorable mention laurels from the Big 56 Conference and was granted a spot to play in the Roundball Classic on April 24, an annual all-star event featuring the best basketball players in the WPIAL, City League and District 10.
"It means a lot to me. It's very special and I'm honored. All-Section is a pretty big deal and the Roundball Classic is an even bigger deal."
Following an offseason of workouts to prepare for his senior year, his accomplishments are especially gratifying.
"I was at the gym a lot this summer. I definitely put in more work than in earlier years and I wanted to have a bigger, better season as a senior."
Along with his performance in the North Hills game, another special moment for Andreykovich was a crucial late-game shot from beyond the arc in the second overtime of a 71-69 victory over eventual City League Champion, Obama Academy on Dec. 17.
As a 3-point specialist, nothing is better than making a big trey to rally his teammates.
"It's the best feeling in the world, in my opinion. You hit that big three and look over to the bench and they're all fired up. It's a great feeling."
For Andreykovich, basketball is in his blood. His grandfather, George Andreykovich, was a four-year letterman in both basketball and baseball at Allegheny High School (Class of 1956) on the North Side of Pittsburgh. His father, Andrew, was a two-year letterman for North Allegheny (Class of 1986).
One of his favorite players is former Los Angeles Laker and 5-time NBA champion, Earvin "Magic" Johnson, a player he shares the same birthday with (August 14). It's the reason why Andreykovich wears No. 32.
Moving forward, Andreykovich will not pursue basketball in college. He plans to attend Penn State University's main campus in State College. His major is undecided.