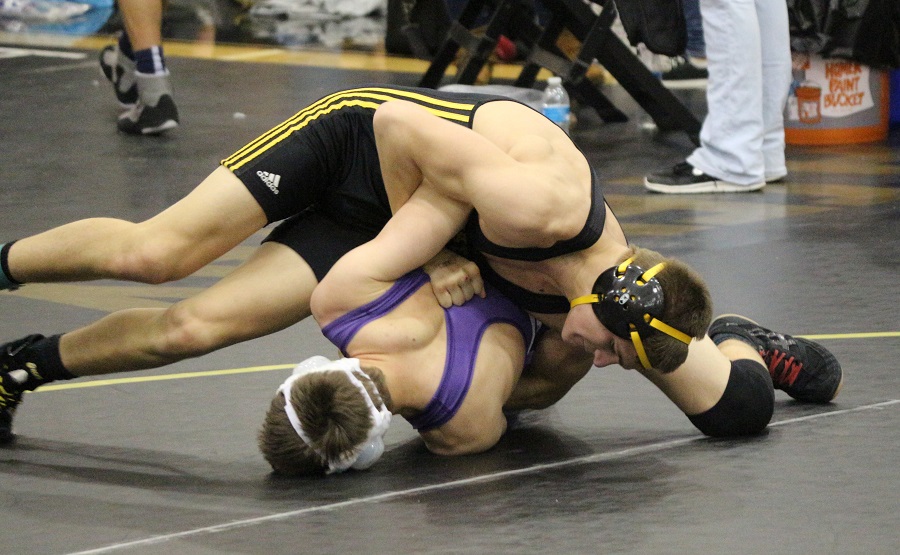 Three NA Grapplers Advance To Final Day Of State Tournament
Three Tigers continue into day three of the Class AAA PIAA wrestling tournament in Hershey. In Friday's action, senior Jake Hinkson (145) and Jake Woodley (195) picked up quarterfinal victories to advance to the semifinals in their respective weight classes. Hinkson defeated Riley Palmer of Council Rock South by a 3-2 decision, while Woodley thoroughly defeated Carson Kinney of Halzeton Area by a 25-10 tech fall.
Also advancing into the third day of the tournament was senior Eric Hong in the consolation bracket at 160 pounds. Hong pinned Cumberland Valley's Quinton Milliken in 4:01 in the second round of the consolations and followed that up with a 2-0 decision over Belle Vernon's Zachary Hartman in the third round of consolations.
Luke Landefeld (132) and Sean Hoover (170) had their runs in the PIAA tournament come to an end on Friday. A look at North Allegheny's results in Hershey can be found below.
The third and final day of the PIAA tournament begins this morning at 9:00 a.m. The Class AAA finals will begin at 7:00 p.m. You can follow all of the live action courtesy of our friends at WJPA Radio by clicking here.
PIAA Class AAA Wrestling Championships - Day Two
Friday, March 10 at Giant Center (Hershey, PA)
| Weight | Wrestlers | Score |
| --- | --- | --- |
| 132 - 2nd Consolation | Luke Landefeld (NA) dec. Tommy Traver (Tunkhannock Area) | 5-0 |
| 3rd Consolation | K.J. Fenstermacher (Northampton) dec. Luke Landefeld (NA) | 3-0 |
| | | |
| 145 - Quarterfinals | Jake Hinkson (NA) dec. Riley Palmer (Council Rock South) | 3-2 |
| | | |
| 160 - 2nd Consolation | Eric Hong (NA) pinned Quentin Milliken (Cumberland Valley) | 4:01 |
| 3rd Consolation | Eric Hong (NA) dec. Zachary Hartman (Belle Vernon) | 2-0 |
| | | |
| 170 - 2nd Consolation | Sean Hoover (NA) dec. Brinton Simington (Altoona) | 4-3 UTB |
| 3rd Consolation | Alec Shaw (Greensburg Salem) dec. Sean Hoover (NA) | 4-3 |
| | | |
| 195 - Quarterfinal | Jake Woodley (NA) tech fall Carson Kinney (Hazleton Area) | 25-10 |
| | | |