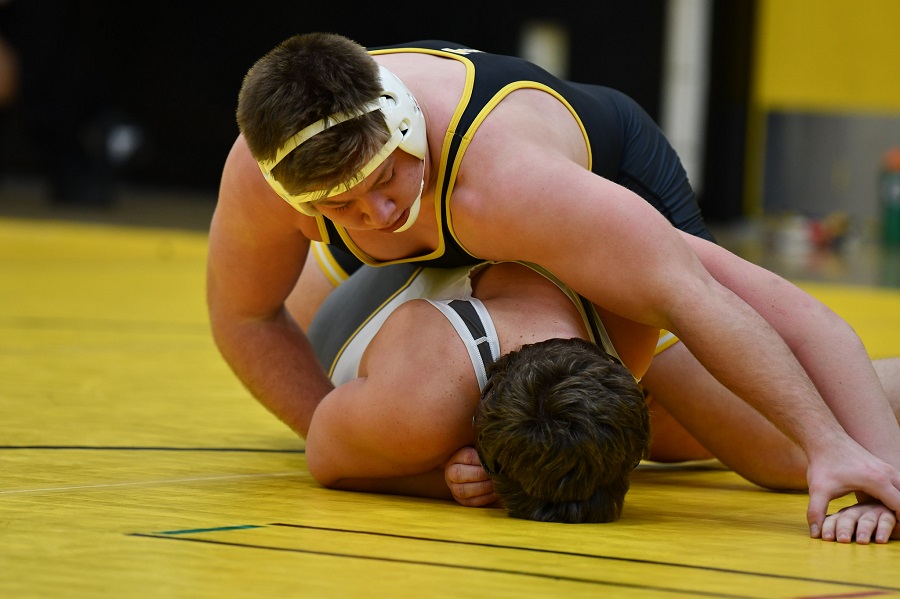 Three Tigers Crowned Champions at NA Individual Tournament
In the first major event of the 2021 winter sports season, North Allegheny hosted eight teams at the NA Individual Tournament on Saturday. The Tigers crowned three champions at the tournament, including junior Dylan Coy, senior Max Stedeford and senior Brady Leczo.
Coy defeated Hempfield's Ethan Lebin by a 6-0 decision in his championship bout at 120 pounds. Stedeford claimed gold at 145 pounds with a 6-3 decision over Hickory's Carter Gill. Leczo capped a convincing day at 215 pounds with a win by fall over Ty Banco of Trinity. For his efforts, Leczo was named the Wright Automotive Wrestler of the Match.
Senior Collin McCorkle made his North Allegheny debut on Saturday and reached the championship bout at 160. McCorkle, a transfer from Liberty High School in Arizona and a 2019 state finalist, earned a silver medal after a hard-fought OT loss to A.J. Corrado of Burrell.
There were seven Tigers that picked up third place medals, including Casey Walker (103), Nick Gorman (126), Nathan Monteparte (132), Brad Stipetich (138), A.J. Rohan (152), Travis Stipetich (172) and Luke Rumpler (285).
Placing fifth were Sam Horton (113) and Aiden Buggey (189) in their respective weight classes. Taking seventh place at 172 pounds was Brandon Weaver to round out NA's impressive season debut.
For a look at the final brackets of each weight class at the tournament, click here.
North Allegheny takes on Pine-Richland on Wednesday night in the Section 3-AAA opener from neutral site Shaler.