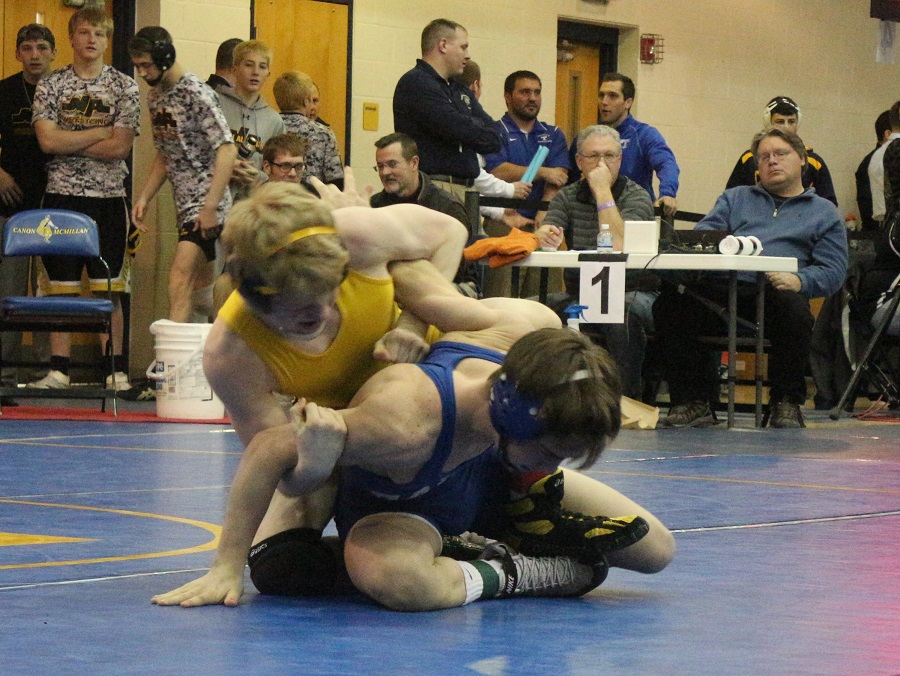 Three Tigers Medal AT WPIAL Wrestling Tournament
In 2013, then-sophomore Zach Smith narrowly missed out on a trip to states with a one point loss in the third place bout of the Class AAA WPIAL Individual Wrestling Tournament. With another chance to reach Hershey on Saturday, Smith would not be denied as he dominated Kiski Area's Chad Kuhn for a 15-0 tech fall victory and a bronze medal at 195 pounds in the 2014 Class AAA WPIAL Tournament.  Joining Smith in Hershey will be Clay Byerly and Luke Landefeld (in photo above) who also earned WPIAL medals on Saturday at Canon-McMillan High School.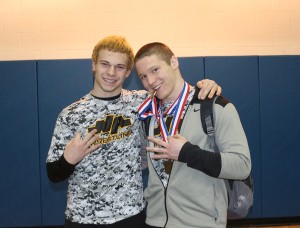 In the semifinals at 113 pounds, Landefeld picked up a 2-1 decision over Tyler Kenney of Connellsville to advance to the championship bout against undefeated Spencer Lee of Franklin Regional.   Lee pinned Landefeld but the NA freshman still claimed WPIAL silver and a trip to Hershey next week.
Byerly was tripped up in the semifinals of the 182 pound bracket, but rebounded with a 2-1 decision over Tommy Provance of Connellsville in the consolation bracket and finished off his day with a 3-2 overtime triumph over Ryan Hannon of Butler for WPIAL bronze.
Two other Tigers wrestled in third place bouts on Saturday but came up just short in their medal bid.  Scotty Stossel scored three wins in the consolation bracket at 120 pounds but was defeated for the second time in tournament by Mt. Lebanon's Kevin Kinyua, falling just shy of states.  In arguably the most competitive bracket in the WPIAL, senior Dom Forys missed out on states for the first time in his high school career as he dropped a 10-5 decision to A.C. Headlee of Waynesburg in the third place bout at 126 pounds. Forys finishes with 163 wins, the most of any North Allegheny Wrestler in school history.
A listing of NA results on Saturday are listed below.  For a look at the completed WPIAL bracket in all weight classes, click here.
WPIAL Class AAA Wrestling Championships - Day Three
Saturday, March 1 at Canon-McMillan High School
| Weight | Wrestlers | Score |
| --- | --- | --- |
| 113 - Semifinal | Luke Landefeld (NA) dec. Tyler Kenney (Connellsville) | 2-1 |
| Championship | Spencer Lee (Franklin Regional) pinned Luke Landefeld (NA) | 2:47 |
| | | |
| 120 - Consolation | Scotty Stossel (NA) dec. Kevin Miller (Norwin) | 3-0 |
| Consolation | Scotty Stossel (NA) dec. Mike Heinl (Shaler) | 3-2 |
| Consolation | Scotty Stossel (NA) dec. Shaun Wilson (Waynesburg) | 3-1 (OT) |
| 3rd Place | Kevin Kinyua (Mt. Lebanon) dec. Scotty Stossel | 2-1 |
| | | |
| 126 - Semifinal | Dalton Macri (Canon-McMillan) dec. Dom Forys (NA) | 11-5 |
| Consolation | Dom Forys (NA) pinned Mitchell Hartman (Belle Vernon) | 3:35 |
| 3rd Place | A.C. Headlee (Waynesburg) dec. Dom Forys (NA) | 10-5 |
| | | |
| 132 - Semifinal | Tyler Smith (Franklin Regional) maj. dec. Jake Hinkson (NA) | 10-1 |
| Consolation | Nino Bonaccorsi (Bethel Park) dec. Jake Hinkson (NA) | 3-1 |
| | | |
| 138 - Consolation | A.J. Boeh (NA) dec. David Kelly (Pine-Richland) | 4-2 |
| Consolation | Michael Risnear (Penn-Trafford) dec. A.J. Boeh (NA) | 5-2 |
| | | |
| 145 - Consolation | Drew Landefeld (NA) dec. Sammy Florentino (Peters Township) | 6-3 |
| Consolation | Drew Landefeld (NA) dec. David Tuzikow (North Hills) | 4-2 |
| Consolation | Tony Palumbo (Central Catholic) dec. Drew Landefeld (NA) | 4-2 |
| | | |
| 182 - Semifinal | Kellan Stout (Mt. Lebanon) maj. dec. Clay Byerly (NA) | 9-0 |
| Consolation | Clay Byerly (NA) dec. Tommy Provance (Connellsville) | 2-1 |
| 3rd Place | Clay Byerly (NA) dec. Ryan Hannon (Butler) | 3-2 (OT) |
| | | |
| 195 - Semifinal | Andrew Phipps (Norwin) dec. Zach Smith (NA) | 5-3 |
| Consolation | Zach Smith (NA) pinned Nathan Barcaskey (Moon) | 3:00 |
| 3rd Place | Zach Smith (NA) tech fall Chad Kuhn (Kiski Area) | 15-0 |