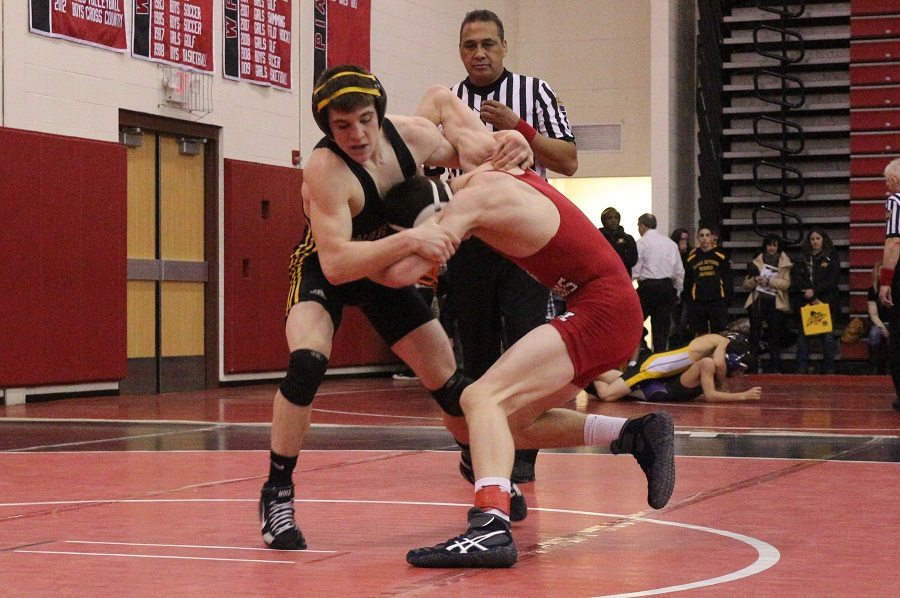 Tigers Advance To Semifinals, Forys Breaks NA Win Record
by Lee Mohn
The North Allegheny Tigers defeated Greensburg Salem, 45-15, in the first round then fought back to defeat Kiski, 32-28, in the quarterfinals of the WPIAL Team Tournament on Wednesday night.  The Tigers move on to the semifinals on Friday where they will face the top-seed Franklin Regional Panthers at 6:00 pm from Norwin High School.  
In the first match the Tigers jumped out to a 20-0 lead, highlighted by a pin from Zach Smith.  Greensburg Salem would get the next twelve points on pins but the Tigers took control by getting two more pins from Scott Stossel and Dom Forys as they moved on to victory.  Luke Landefeld was named the Wright Automotive Wrestler of the Match with his hard fought victory over Chris Eddins. 
The quarterfinal versus Kiski was a hard fought battle. Kiski jumped out to an early 7-0 lead.  In the third bout, NA's Clay Byerly fought through sickness and won, 8-4.  Kiski then built a 19-9 lead.  The Tigers received five points from Luke Landefeld to bring the score to 19-14.  Scott Stossell lost a heartbreaker in overtime and it looked like Kiski might pull away, but the Tigers seized momentum back.  Freshman Will Baierl scored four points in the second period to win 4-3, and then history happened.  Dom Forys pinned Ryan Hardaway at the 3:16 mark to record his 151st career win and put the Tigers ahead to stay.  With that victory Forys is now the all-time leader in victories for North Allegheny, surpassing 2007 grad Rob Waltko who held the old mark of 150.  
Jake Hinkson followed with a pin of his own at the 3:20 mark as the place erupted.  That set the tone for A.J. Boeh to seal the victory jumping out to a 5-1 lead and winning 7-4.  Our Wright Automotive wrestler of the night can be no one else but Dom Forys.  Congratulations to Dom for his great accomplishment and also to the Tigers Wrestling Team for an impressive victory. For a look at the Class AAA Wrestling brackets, click here.