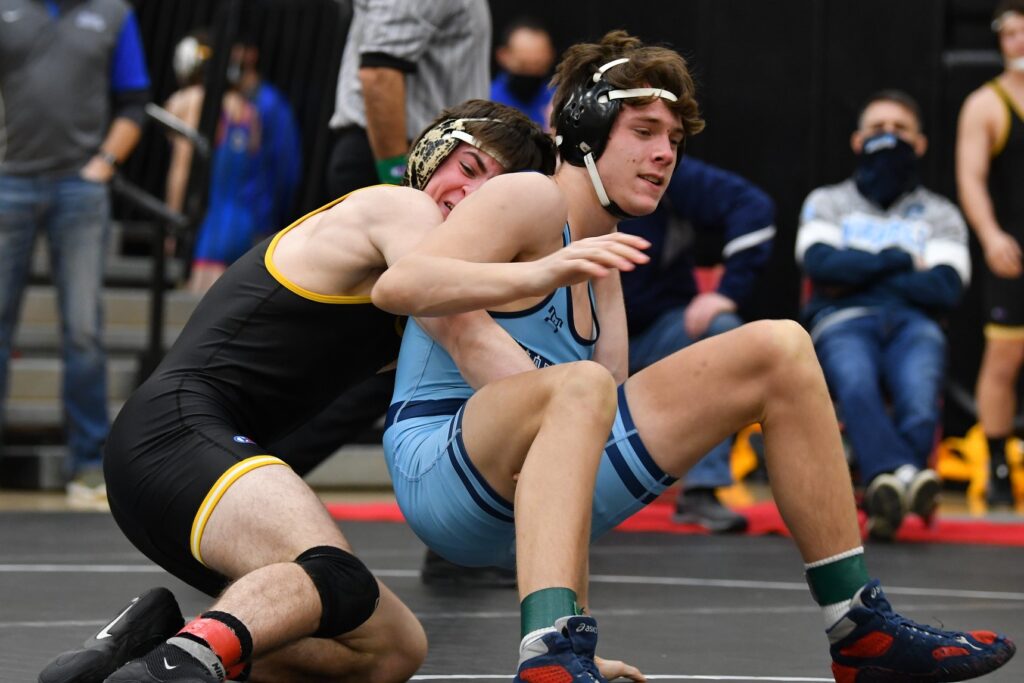 Tigers Batter Rams For Section Win, 41-19
North Allegheny knocked Pine-Richland from the ranks of the unbeaten on Wednesday night with a convincing 41-19 triumph in Section 2-AAA action.
The night started at 160 pounds and the Rams grabbed an early 3-0 lead before the Tigers won the next three bouts. Michael Hershberger tied the score at 3-3 with a sudden victory against Alex Baculic at 172 pounds. Kyran Rautenbach followed with a win by fall over Solomon Wiegand at 189 pounds and Aidan Buggey earned a 7-1 decision over Dante Cruz at 215 pounds to increase the NA advantage to 12-3. PR's Joseph Schneck trimmed the North Allegheny lead to three points with a quick pin fall at 285 pounds, setting the stage for the tide-turning moment of the meet.
Leading 12-9 after five bouts, the Tigers rattled off four consecutive victories, including pin falls by Gus Stedeford (107) and Griffen Reid (121), to take a commanding 36-9 lead. Stedeford pinned Owen Long in 1:19 and Reid earned a fall in 1:16 over Robert Hoy. With the meet well out of reach, Pine-Richland managed to win three of the final four bouts. Jayson Flener rounded North Allegheny's scoring at 145 pounds with a tech fall over Rowan Foster.
North Allegheny improves to 8-3 overall and 2-0 in Section 2-AAA. Pine-Richland falls to 3-1 overall and 1-1 in the section. The Tigers hope to continue their winning ways with an important section meet at Butler next week.
Wrestling Match Summary: NA vs. Pine-Richland
| Weight | Wrestlers | Score |
| --- | --- | --- |
| 160 | Jacob Lukez (PR) dec. Adam Rohan (NA) | 8-5 |
| 172 | Michael Hershberger (NA) dec. Alex Baculic (PR) | SV-1, 13-11 |
| 189 | Kyran Rautenbach (NA) pinned Solomon Weigand (PR) | 3:46 |
| 215 | Aidan Buggey (NA) dec. Dante Cruz (PR) | 7-1 |
| 285 | Joseph Schneck (PR) pinned Anthony Spivak | 0:29 |
| 107 | Gus Stedeford (NA) pinned Owen Long (PR) | 1:19 |
| 114 | Casey Walker (NA) wbf | |
| 121 | Griffen Reid (NA) pinned Robert Hoy (PR) | 1:16 |
| 127 | William Bentrim (NA) | |
| 133 | Anthony Ferraro (PR) dec. Nathan Monteparte (NA) | 6-0 |
| 139 | Quinn Foster (PR) dec. Sam Horton (NA) | 5-3 |
| 145 | Jayson Flener (NA) tech fall Rowan Foster (PR) | 18-2, 5:45 |
| 152 | MacLane Miller (PR) maj. dec. Kellen Buggey (NA) | 11-2 |