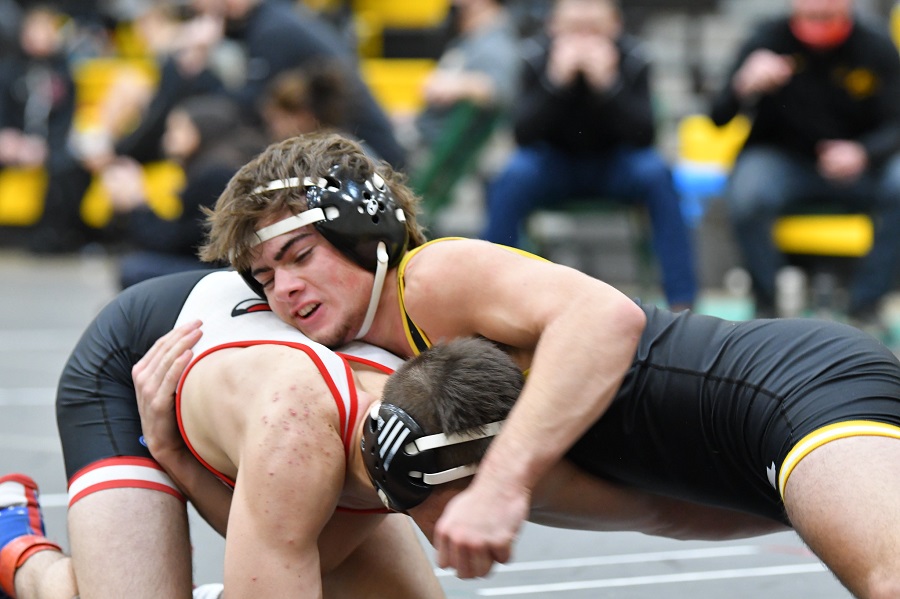 Tigers Batter Rams In Section Opener, 44-20
The North Allegheny wrestling team opened its section schedule on Wednesday night and picked up a 44-20 victory over Pine-Richland at neutral site Shaler High School.
Starting at 152 pounds, the Tigers fell behind 10-3 in first three bouts. However, North Allegheny dominated the dual meet from that point on and won eight of the next 10 bouts to cruise to the victory.
Earning wins by fall was senior Brady Leczo (215), freshman Casey Walker (106), sophomore Nicholas Gorman (126) and sophomore Nathan Monteparte. Senior Max Stedeford picked up bonus points at 145 pounds with a tech fall victory over Esswien Zach to cap the victory.
With the season opening win, North Allegheny looks to continue its winning ways on Saturday. The Tigers will host a quad-match with Central Catholic, Chartiers Valley and Southmoreland beginning at 9:00 a.m. from NAI. The quad match will be video streamed by the North Allegheny Sports Network.
Wrestling Match Summary: NA vs. Pine-Richland
| Weight | Wrestlers | Score |
| --- | --- | --- |
| 152 | Adam Rohan (NA) dec. Jeremy Kanter (PR) | 6-3 |
| 160 | Cole Spencer (PR) maj. dec. Collin McCorkle (NA) | 10-1 |
| 172 | Jacob Lukez (PR) pinned Brandon Weaver (NA) | 0:55 |
| 189 | Aidan Buggey (NA) dec. Zachary Kost (PR) | 3-1 |
| 215 | Brady Leczo (NA) pinned Cole Wilson (PR) | 1:32 |
| 285 | Luke Rumpler (NA) dec. Joseph Schneck (PR) | 4-3 |
| 106 | Casey Walker (NA) pinned Shane Simpson (PR) | 5:46 |
| 113 | Anthony Ferraro (PR) pinned Sam Horton (NA) | 3:11 |
| 120 | Dylan Coy (NA) wbf | |
| 126 | Nicholas Gorman (NA) pinned Mark Paluselli (PR) | 0:38 |
| 132 | Nathan Monteparte (NA) pinned Jeremy Kanter (PR) | 5:19 |
| 138 | Kelin Laffey (PR) maj. dec. Bradley Stipetich (NA) | 11-1 |
| 145 | Max Stedeford (NA) tech fall Esswein Zach (PR) | 16-1 |