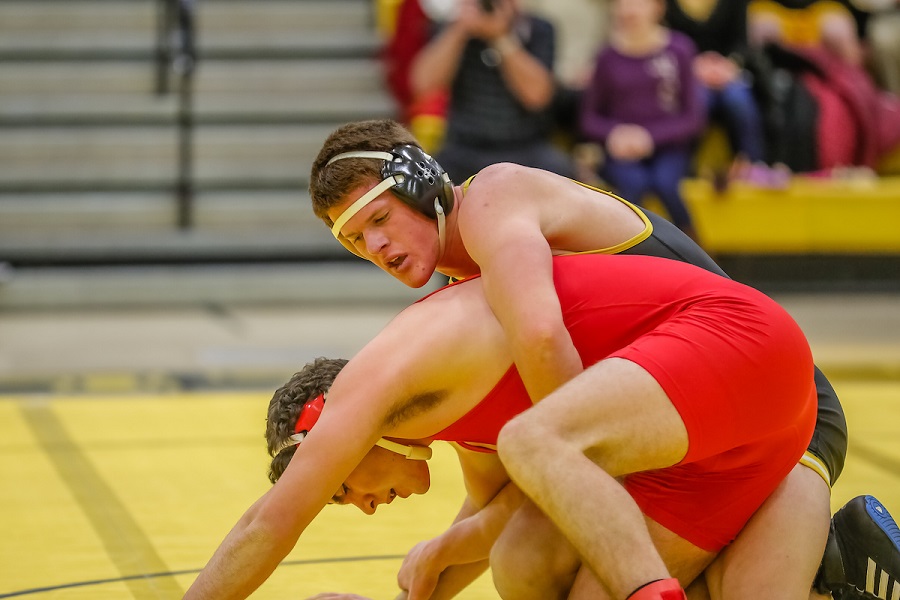 Tigers Claw Past Panthers For Trip To States
For the fifth time in the last six seasons, the North Allegheny wrestling team is headed to the PIAA Team Tournament. The Tigers defeated the Franklin Regional Panthers, 32-25, in the WPIAL third-place consolations after narrowly falling to Canon-McMillan in the WPIAL semifinals, 34-28.
Against the Panthers, NA led 28-15 before Franklin Regional cut the score to 28-25 with one bout remaining. With a trip to states on the line, senior Zach Stedeford earned a 13-2 major decision over James O'Neill to extend the North Allegheny's season.
The Tigers received one win by fall courtesy of senior Eric Hong who quickly disposed of Stave Yaniga in 46 seconds. For his effort, Hong was named the Wright Automotive Wrestler of the Match. The Tigers also received victories from Jacob Downing (113), Nick Marcenelle (126), Jake Hinkson (152), Jacob Fritsch (195), and Derek Devine (285).
Against Canon-McMillan in the semifinals, the Tigers led 25-19 with four bouts to go. However, the Big Macs earned three consecutive victories, two of which by fall, to claim the win and advance to the WPIAL finals to face Kiski Area. The Cavaliers won the WPIAL title by defeating Canon-McMillan, 41-21, for their first WPIAL title since 2003.
By defeating Franklin Regional in the WPIAL third-place consolation, the Tigers earn the right to face the Carrick Raiders, the Pittsburgh City League champions, in the preliminary round of the PIAA tournament on Monday night at 6:00 p.m. For a look at the Class AAA PIAA bracket, click here.
Wrestling Match Summary: NA vs. Franklin Regional
| Weight | Wrestlers | Score |
| --- | --- | --- |
| 152 | Jake Hinkson (NA) dec. Max McCann (FR) | 8-2 |
| 160 | Dan Contraguerro (FR) dec. Jon Hoover (NA) | 1-0 |
| 170 | Eric Hong (NA) pinned Steve Yaniga (FR) | 0:46 |
| 182 | Peter Klein (FR) dec. Jared Kramer (NA) | 4-2 |
| 195 | Jacob Fritsch (NA) maj. dec. Safan Rahim (FR) | 8-0 |
| 220 | Jake Woodley (NA) wbf | |
| 285 | Derek Devine (NA) dec. Eric Festa (FR) | 7-0 |
| 106 | Mason Spears (FR) dec. Frederick Junko (NA) | 7-5 |
| 113 | Jacob Downing (NA) dec. Zach McCann (FR) | 4-3 |
| 120 | Colton Camacho (FR) wbf | |
| 126 | Nick Marcenelle (NA) dec. Mark Prucnal (FR) | 3-0 |
| 132 | Nate Smith (FR) maj. dec. Will Baierl (NA) | 13-4 |
| 138 | Spencer Lee (FR) wbf | |
| 145 | Zach Stedeford (NA) maj. dec. | 13-2 |
*************
Wrestling Match Summary: NA vs. Canon-McMillan
| Weight | Wrestlers | Score |
| --- | --- | --- |
| 145 | Jake Hinkson (NA) maj. dec. Dimitri Pihiou (CM) | 12-3 |
| 152 | Gerrit Nijenhuis (CM) wbf | |
| 160 | Jon Hoover (NA) dec. Stefen Richer (CM) | 6-3 |
| 170 | Eric Hong (NA) wbf | |
| 182 | Blaze Kansco (CM) maj. dec. Jared Kramer (NA) | 12-3 |
| 195 | Bryan Milligan (CM) dec. Jacob Fritsch (NA) | 9-3 |
| 220 | Jake Woodley (NA) wbf | |
| 285 | Brendan Furman (CM) pinned Derek Devine (NA) | 4:34 |
| 106 | Frederick Junko (NA) dec. Jacob Gardner (CM) | 5-0 |
| 113 | Jacob Downing (NA) dec. Ken Hayman (CM) | 6-1 |
| 120 | Logan Macri (CM) pinned Jiatian Qu (NA) | 2:41 |
| 126 | Anthony Matrangelo (CM) dec. Nick Marcenelle (NA) | 2-0 |
| 132 | Matt O'Block (CM) pinned Will Baierl (NA) | 3:18 |
| 138 | Zach Stedeford (NA) dec. Tim Hritsko (CM) | 6-2 |