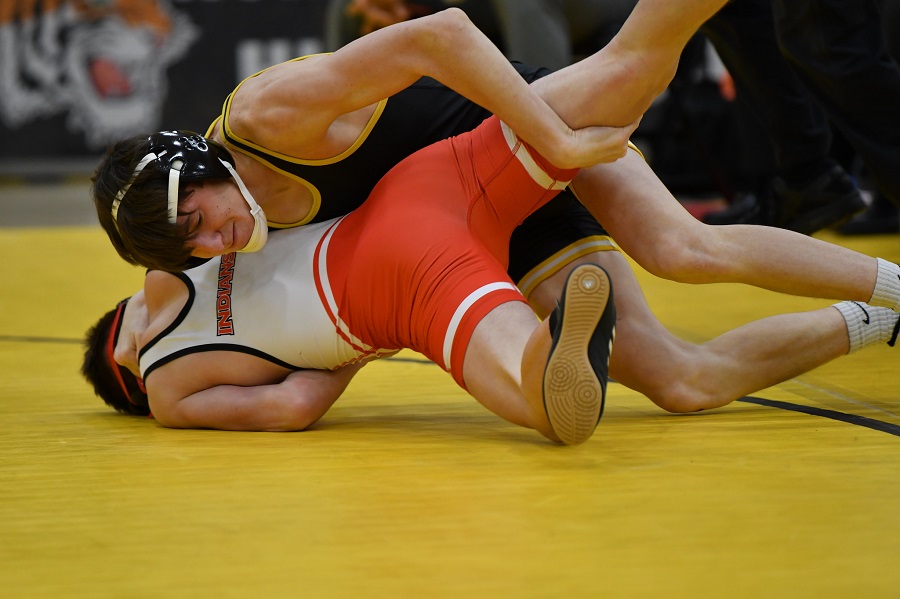 Tigers Clinch First Place In Subsection 3B-AAA
The North Allegheny wrestling team clinched first place in Class AAA Subsection 3-B by earning a section sweep on Wednesday night against Shaler, Mars and North Hills.
The Tigers opened the night with a 72-3 triumph over a shorthanded Titans team. With only five wrestlers available for Shaler, NA picked up eight wins by forfeit and dominated the few bouts that took place. Nick Gorman (126), Nathan Monteparte (132), Max Stedeford (145) and Casey Walker (106) all earned wins by fall. For his pinfall of Brad Yeager in 2:41, Casey Walker was named the Wright Automotive Wrestler of the Match.
The one-sided action continued in the next contest for North Allegheny. The Tigers jumped to a 21-0 lead in the first five bouts and rolled to a 52-9 victory over the Mars Planets. There were only two wins by forfeit in this matchup, but NA gained control with wins by fall courtesy of Dylan Coy (120), Stedeford (145), Collin McCorkle (160) and Aiden Buggey (189). At 138 pounds, senior Brad Stipetich delivered a hard-fought 9-6 decision over Jonathan Grieco and earned the Wright Automotive Wrestler of the Match Award.
With two team victories under their belt, the Tigers capped the night with a 63-11 triumph over the North Hills Indians. This contest was never in doubt as NA stormed to a 34-0 lead through the first six bouts. Along with five wins by forfeit, the Tigers received pin fall victories from Gorman (126), Adam Rohan (152), Buggey (189) and Brady Leczo (215). With the win at hand for the Tigers, the evening concluded with an impressive tech fall win by senior Brady Walker, giving him Wright Automotive Wrestler of the Match honors.
North Allegheny improves to 7-0 overall and 4-0 in section action. The Tigers return to action on Saturday at the NA Individual Tournament beginning at 8:30 a.m.
Wrestling Match Summary: NA vs. Shaler Area
| Weight | Wrestlers | Score |
| --- | --- | --- |
| 113 | Brady Walker (NA) wbf | |
| 120 | Dylan Coy (NA) wbf | |
| 126 | Nicholas Gorman (NA) pinned Jacob Cable (SA) | 0:45 |
| 132 | Nathan Monteparte (NA) wbf | |
| 138 | Bradley Stipetich (NA) wbf | |
| 145 | Max Stedeford (NA) pinned Callun Montgomery (SA) | 3:00 |
| 152 | Adam Rohan (NA) pinned Ethan Gross (SA) | 2:46 |
| 160 | Collin McCorkle (NA) wbf | |
| 172 | Michael Ulery (SA) dec. Brandon Weaver (NA) | 5-0 |
| 189 | Aidan Buggey (NA) wbf | |
| 215 | Brady Leczo (NA) wbf | |
| 285 | Luke Rumpler (NA) wbf | |
| 106 | Casey Walker (NA) pinned Brad Yeager (SA) | 2:41 |
---
Wrestling Match Summary: NA vs. Mars
| Weight | Wrestlers | Score |
| --- | --- | --- |
| 120 | Dylan Coy (NA) pinned Griffin Frazier (M) | 1:52 |
| 126 | Nicholas Gorman (NA) dec. Rocco Darocy (M( | 10-3 |
| 132 | Nathan Monteparte (NA) dec. Brandon Krul (M) | 9-4 |
| 138 | Bradley Stipetich (NA) dec. Jonathan Grieco (M) | 9-6 |
| 145 | Max Stedeford (NA) pinned Connor Hartle (M) | 0:50 |
| 152 | Christian Scheller (M) pinned Adam Rohan (NA) | 4:26 |
| 160 | Collin McCorkle (NA) pinned Eli Wright (M) | 3:36 |
| 172 | Keith Brubach (M) dec. Travis Stipetich (NA) | 14-9 |
| 189 | Aidan Buggey (NA) pinned Shane Klinefelter (M) | 1:50 |
| 215 | Brady Leczo (NA) maj. dec. Enzo Grieco (M) | 16-3 |
| 285 | Luke Rumpler (NA) dec. Riley Lefcakis (M) | 8-3 |
| 106 | Casey Walker (NA) wbf | |
| 113 | Brady Walker (NA) wbf | |
---
Wrestling Match Summary: NA vs. North Hills
| Weight | Wrestlers | Score |
| --- | --- | --- |
| 126 | Nicholas Gorman (NA) pinned Ivan Suto (NH) | 0:55 |
| 132 | Nathan Monteparte (NA) wbf | |
| 138 | Bradley Stipetich (NA) maj. dec. Scott Ross (NH) | 12-0 |
| 145 | Max Stedeford (NA) wbf | |
| 152 | Adam Rohan (NA) pinned Sebastian Lopez (NH) | 1:01 |
| 160 | Collin McCorkle (NA) wbf | |
| 172 | Ethan Mikovitz (NH) pinned Brandon Weaver (NA) | 3:18 |
| 189 | Aidan Buggey (NA) pinned Andrew Szymczak (NH) | 1:25 |
| 215 | Brady Leczo (NA) pinned Lucas Palermo (NH) | 3:05 |
| 285 | Luke Rumpler (NA) wbf | |
| 106 | Giavonie Schipani (NH) tech fall Casey Walker (NA) | 16-1, 4:00 |
| 113 | Sam Horton (NA) wbf | |
| 120 | Brady Walker (NA) tech fall Ben Schneider (NH) | 19-4, 3:10 |