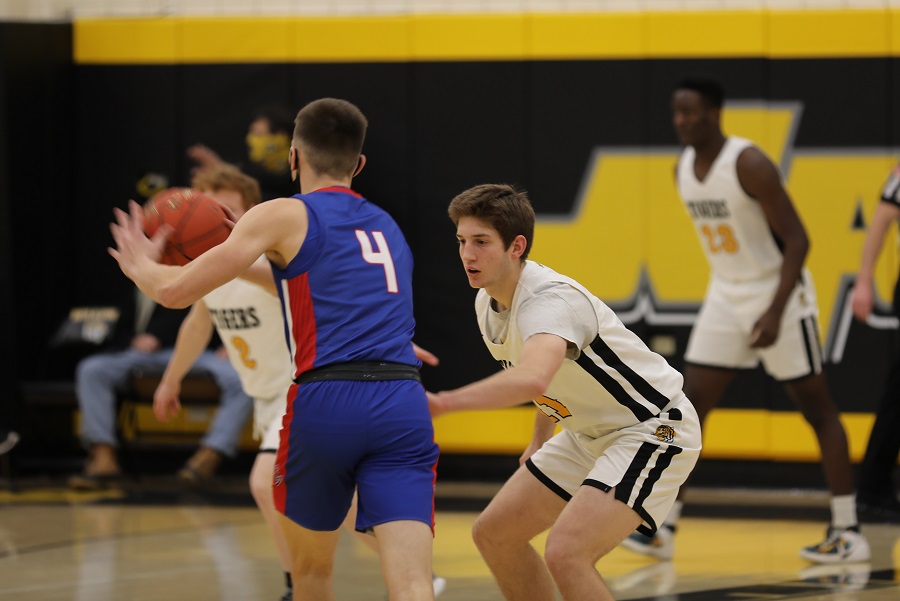 Tigers Comeback Bid Falls Just Short Against Chartiers Valley
For the second straight night, the North Allegheny boys' basketball team staged a dramatic fourth quarter rally. However, Saturday night's comeback bid fell just short as the undefeated Chartiers Valley Colts staved off the Tigers for an 88-81 victory.
Chartiers Valley, the third-ranked team in Class 5A, was scorching hot from beyond the arc and knocked down 16 3-pointers on the night. Seven different players hit at least one 3-pointer, led by senior Socrates Boulis who was 5-of-6 from the perimeter and finished with 19 points. Senior Brayden Reynolds, who recently surpassed the 1,000-point plateau earlier in the week, paced the Colts stampede with a team-high 25 points and nine rebounds as CV built a 74-61 lead early in the fourth quarter.
Displaying the same resilience they had shown in a comeback win over Pine-Richland the night before, the Tigers chipped away at the deficit and closed to within four points of the Colts in the late stages of the fourth quarter. Junior Matt McDonough demonstrated that CV wasn't the only team who could hit treys and converted on 6-of-6 attempts from beyond the arc on his way to a game-high 36-point effort. McDonough was 13-for-15 from the field and 5-for-6 from the free-throw line, collecting the Wright Automotive Player of the Game award for the second straight night.
Despite sitting much of the second quarter and the entire third quarter in foul trouble, senior forward Greg Habib joined in the comeback efforts in the fourth period and netted 19 points on the evening. Junior Robby Jones reached double figures with 12 points.
Three different times the Tigers cut the deficit to four points in the fourth quarter. With 30 seconds remaining, McDonough's sixth trey of the night cut Colts lead to 85-81. Unfortunately, NA could come no closer as Chartiers Valley's strength on the offensive glass helped the Colts survive the rally and close out an 88-81 win.
North Allegheny falls to 3-2 overall with the loss, while Chartiers Valley maintains an unblemished record at 6-0. The Tigers will host McDowell from District 10 on Tuesday evening at 6:00 p.m. The contest will be video streamed by the North Allegheny Sports Network.
Boys Basketball vs. Chartiers Valley, 1-16-21
| GAME SUMMARY | | | | | |
| --- | --- | --- | --- | --- | --- |
| SCORE BY QUARTERS | 1 | 2 | 3 | 4 | FINAL |
| Chartiers Valley | 17 | 28 | 22 | 21 | 88 |
| North Allegheny | 21 | 21 | 15 | 24 | 81 |