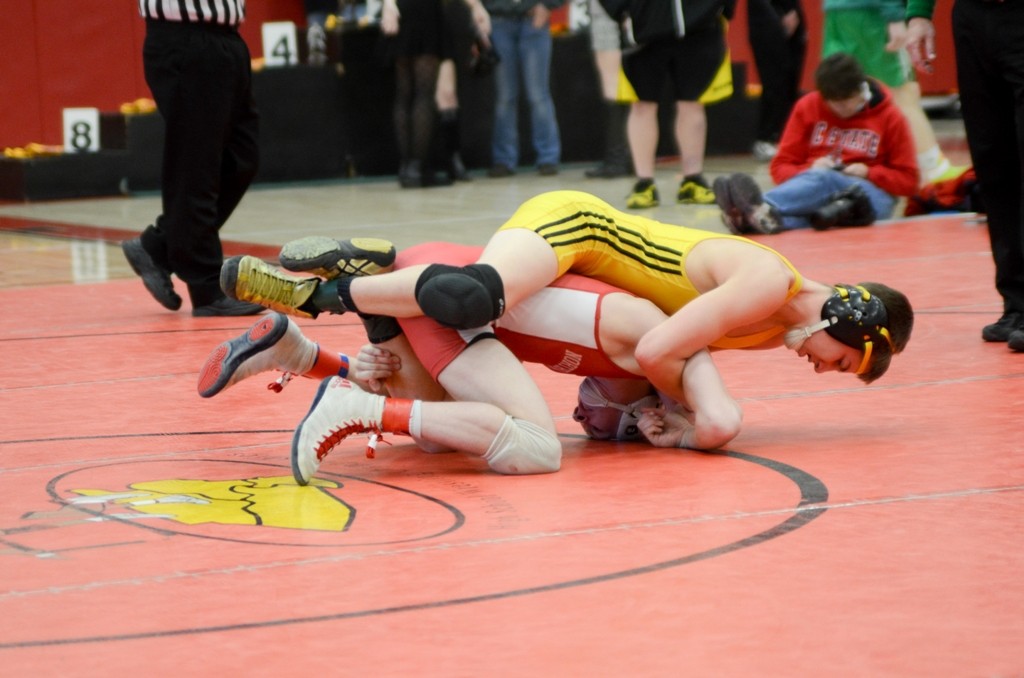 Tigers Compete At St. Edward Duals
The North Allegheny wrestling team competed at the St. Edward Duals over the weekend. Against two outstanding teams from outside the WPIAL, the Tigers fell to Elder, 51-15, and to St. Edward, 49-13.
Against Elder, North Allegheny received three victories, two of which by fall. Luke Landefeld pinned Tanner Perdue in 1:42 at 132 pounds and Jacob Downing pinned Jackson Geiser in 1:01 at 113 pounds. Jake Woodley also earned a 5-2 decision over Antonio McCloud at 220 pounds.
In the matchup with St. Edward, the Tigers picked up three wins. Jon Hoover pinned Bryan Cundiff at 152 pounds, Zach Stedeford earned an 11-2 major decision over Michael Garcar at 138, and Jake Hinkson defeated Nico Russo by a 7-4 decision at 145 pounds.
North Allegheny returns to section action this Wednesday with a visit to Shaler to face the Titans. Both teams are 3-0 in Section 3B. The match will be broadcast live via the internet on the North Allegheny Sports Network.
Wrestling Match Summary: NA vs. Elder
| Weight | Wrestlers | Score |
| --- | --- | --- |
| 220 | Jake Woodley (NA) dec. Antonio McCloud (E) | 5-2 |
| 285 | Alec Moore-Nash (E) pinned Derek Devine (NA) | 2:29 |
| 106 | William Doepker (E) dec. Freddy Junko (NA) | 3-1 |
| 113 | Jacob Downing (NA) pinned Jackson Geiser (E) | 1:01 |
| 120 | Jack Collins (E) wbf | |
| 126 | Chucky Lipps (E) dec. Nick Marcenelle (NA) | 6-1 |
| 132 | Luke Landefeld (NA) pinned Tanner Perdue (E) | 1:42 |
| 138 | Jake Meredith (E) pinned Zach Stedeford (NA) | 5:07 |
| 145 | Austin Murphy (E) dec. Jake Hinkson (NA) | 10-4 |
| 152 | Connor Craig (E) dec. Jon Hoover (NA) | 8-5 |
| 160 | Ti' Ric Evans (E) pinned Jacob Smalley (NA) | 2:16 |
| 170 | Austin Belcher (E) pinned Jimmy Turici (NA) | 5:58 |
| 182 | Charles Sanders (E) dec. Jacob Fritsch (NA) | 8-6 |
| 195 | Will Ellerhorst (E) wbf | |
***************
Wrestling Match Summary: NA vs. St. Edward
| Weight | Wrestlers | Score |
| --- | --- | --- |
| 106 | Hudson Pool (SE) dec. Freddy Junko (NA) | 5-3 |
| 113 | Scott Richter (SE) dec. Jacob Downing (NA) | 1-0 |
| 120 | Bryce Hepner (SE) wbf | |
| 126 | Matthew Kazimir (SE) pinned Nick Marcenelle (NA) | 0:16 |
| 132 | Allan Hart (SE) dec. Luke Landefeld (NA) | 9-3 |
| 138 | Zach Stedeford (NA) maj. dec. Michael Garcar (SE) | 11-2 |
| 145 | Jake Hinkson (NA) dec. Nico Russo (SE) | 7-4 |
| 152 | Jon Hoover (NA) pinned Bryan Cundiff (SE) | 3:21 |
| 160 | Mike Carpenter (SE) pinned Jacob Smalley (NA) | 3:37 |
| 170 | Vittorio Santillo (SE) pinned Jimmy Turici (NA) | 1:50 |
| 182 | Tyler Stepic (SE) maj. dec. Jacob Fritsch (NA) | 12-4 |
| 195 | Cody Howard (SE) wbf | |
| 220 | Jared Campbell (SE) dec. Jake Woodley (NA) | 5-0 |
| 285 | Luca Santillo (SE) dec. Derek Devine (NA) | 3-2 |