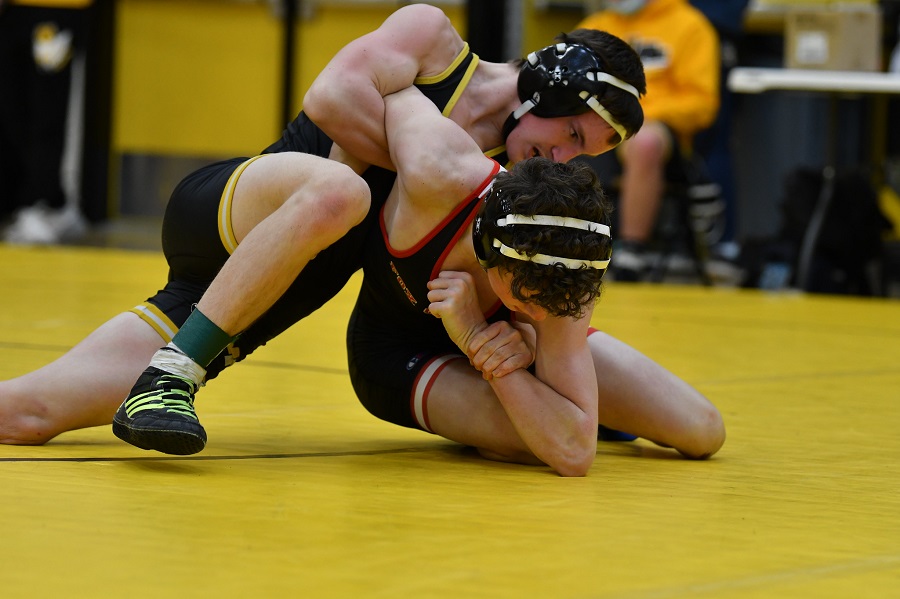 Tigers Crush Competition at Quadrangular
North Allegheny hosted a wrestling quadrangular from NA Intermediate High School on Saturday morning and earned a sweep of Central Catholic, Southmoreland and Chartiers Valley.
The Tigers opened the session with Central Catholic and won all 13 bouts en route to a 72-0 shutout of the Vikings. In one of the most exciting matches in the dual with the Vikings, senior Brandon Weaver earned a 7-5 decision over Steven Costa at 172 pounds. For his efforts, Weaver was named the Wright Automotive Wrestler of the Match.
It was another one-sided contest for North Allegheny against Southmoreland as the Tigers used eight pin falls to roll to a 70-0 whitewash of the Scotties. In a competitive match at 189 pounds, freshman Aiden Buggey picked up a 7-4 decision over Josh Thoma to earn Wright Automotive Wrestler of the Match honors.
In the finale of the day, North Allegheny coasted to a 60-16 win against Chartiers Valley. The Tigers wrangled the Colts with five wins fall, including one at 160 pounds by senior Collin McCorkle over Christopher Beatty at the 4:53 mark. McCorkle was selected as the Wright Automotive Wrestler of the Match for his efforts in the triumph over CV.
A full listing of all three matches are below.
Following the day's events, North Allegheny improved to 4-0 overall. The Tigers will try to continue their winning ways on Wednesday night against Shaler, North Hills and Mars in Section 3-AAA action. It will be video streamed live by the North Allegheny Sports Network.
Wrestling Match Summary: NA vs. Central Catholic
| Weight | Wrestlers | Score |
| --- | --- | --- |
| 106 | Casey Walker (NA) dec. Charlie Colantonio (CC) | 4-2 |
| 113 | Sam Horton (NA) wbf | |
| 120 | Dylan Coy (NA) pinned Andrew Price (CC) | 0:54 |
| 126 | Nicholas Gorman (NA) pinned Prosper Gross (CC) | 1:00 |
| 132 | Nathan Monteparte (NA) pinned Marco Perri (CC) | 0:51 |
| 138 | Bradley Stipetich (NA) pinned Jake Meyers (CC) | 4:17 |
| 145 | Max Stedeford (NA) pinned Thomas Muha (CC) | 1:05 |
| 152 | Adam Rohan (NA) dec. Maxwell Kimbrough (CC) | 0:30 |
| 160 | Collin McCorkle (NA) pinned Jaden Brown (CC) | 2:23 |
| 172 | Brandon Weaver (NA) dec. Steven Costa (CC) | 7-5 |
| 189 | Aidan Buggey (NA) pinned Matthew Best (CC) | 0:30 |
| 215 | Brady Leczo (NA) pinned Chris Aluise (CC) | 1:59 |
| 285 | Luke Rumpler (NA) pinned Parker Drexler (CC) | 0:30 |
---
Wrestling Match Summary: NA vs. Southmoreland
| Weight | Wrestlers | Score |
| --- | --- | --- |
| 106 | Casey Walker (NA) pinned Logan Clawiter (SM) | 0:54 |
| 113 | Sam Horton (NA) pinned Makayla Slack (SM) | 1:20 |
| 120 | Dylan Coy (NA) pinned Kashton Bish (SM) | 3:57 |
| 126 | Nicholas Gorman (NA) wbf | |
| 132 | Nathan Monteparte (NA) wbf | |
| 138 | Bradley Stipetich (NA) dec. Andrew Johnson (SM) | 3-0 |
| 145 | Max Stedeford (NA) pinned Tristan Ice (SM) | 0:59 |
| 152 | Adam Rohan (NA) pinned Austin Hunker (SM) | 0:39 |
| 160 | Collin McCorkle (NA) maj. dec. Bryson Robinson (SM) | 16-5 |
| 172 | Travis Stipetich (NA) pinned Brendan Moore (SM) | 1:58 |
| 189 | Aidan Buggey (NA) dec. Josh Thoma (SM) | 7-4 |
| 215 | Brady Leczo (NA) pinned Anthony Govern (SM) | 4:30 |
| 285 | Luke Rumpler (NA) pinned Mason Neiderhiser (SM) | 1:53 |
---
Wrestling Match Summary: NA vs. Chartiers Valley
| Weight | Wrestlers | Score |
| --- | --- | --- |
| 106 | Casey Walker (NA) wbf | |
| 113 | Brady Joling (CV) pinned Sam Horton (NA) | 3:56 |
| 120 | Dylan Coy (NA) wbf | |
| 126 | Nicholas Gorman (NA) pinned Ashton Sadowski (CV) | 1:22 |
| 132 | Nathan Monteparte (NA) pinned Anthony Trout (CV) | 1:30 |
| 138 | Dylan Evans (CV) maj. dec. Bradley Stipetich (NA) | 3-0 |
| 145 | Max Stedeford (NA) pinned Akhmad Kakhramanov (CV) | 1:17 |
| 152 | Adam Rohan (NA) wbf | |
| 160 | Collin McCorkle (NA) pinned Christopher Beatty (CV) | 4:53 |
| 172 | Brandon Weaver (NA) wbf | |
| 189 | Aidan Buggey (NA) pinned Kevin Beatty (CV) | 0:31 |
| 215 | Josh Sarasnick (CV) pinned Brady Leczo (NA) | OT, 6:20 |
| 285 | Luke Rumpler (NA) wbf | |