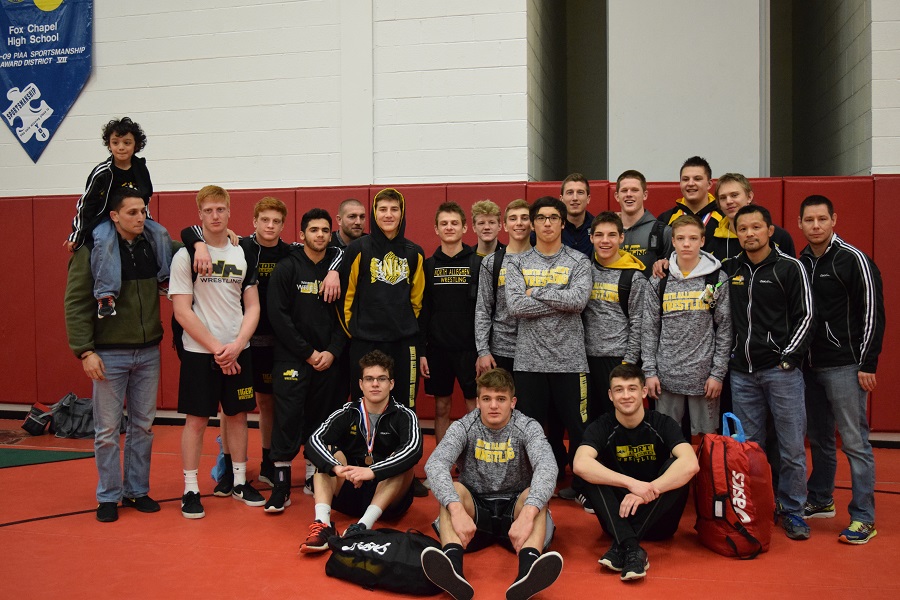 Tigers Dominate Section Tournament, 5 NA Grapplers Win Gold
Five North Allegheny wrestlers won gold at the Section 3-AAA individual wrestling tournament on Saturday at Fox Chapel High School. The Tigers had eight more medalists as a total of 13 NA grapplers qualified for the WPIAL individual wrestling tournament which begins on Friday at Canon-McMillan. Additionally, head coach Sunny Abe was named the Section 3 Coach of the Year and assistant coach Dan Heckert was awarded the section's Assistant Coach of the Year.
Taking first place honors in Section 3 were Jake Hinkson, Eric Hong, Sean Hoover, Jake Woodley and Derek Devine. Hinkson took the title at 145 pounds with a 9-4 decision over Seneca Valley's Alex Fischer. In the championship bout at 160 pounds, Hong defeated Butler's Caleb Baxter by a 12-2 major decision. Hoover earned a 4-1 decision over Nathan Mankey of North Hills for first place at 170 pounds. Woodley delivered a 21-8 major decision over Jacob Stotz of North Hills at 195 pounds. In the title bout at 285, Devine defeated Sean Bright of North Hills by a 1-0 decision.
Luke Landefeld (132) and Zach Stedeford (138) reached the championship bouts in their respective weight classes and earned silver medals. Jacob Downing (113), Gabe Falo (120) and Jon Hoover (152) all nabbed bronze medals in their weight classes. Fifth-place consolation winners included Freddy Junko (106), Nick Marcennelle (126) and Jared Kramer (182). For a complete look at the Section 3-AAA brackets, click here.