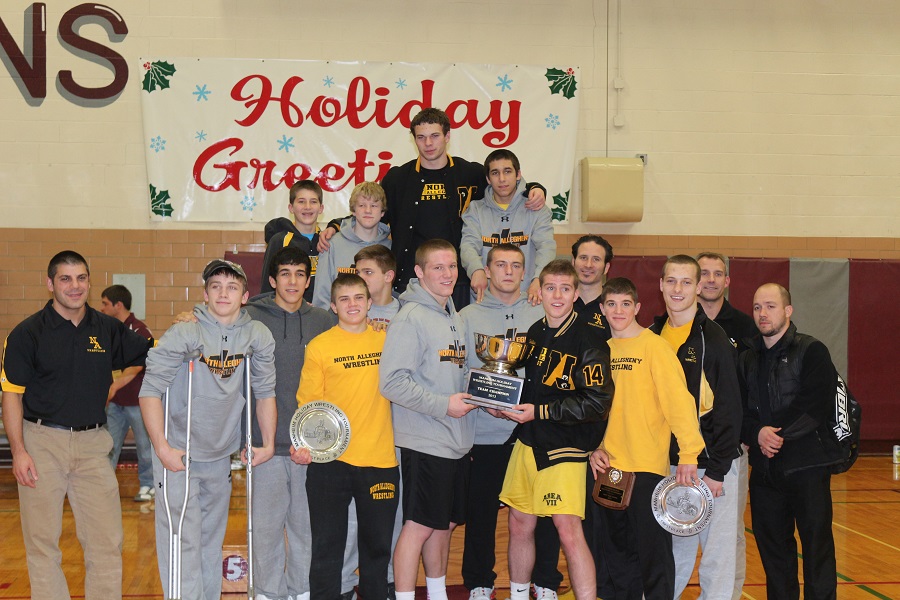 Tigers Earn First Place At Manheim Invitational
At the annual Manheim Invitational Wrestling Tournament, the North Allegheny Tigers claimed first place amongst some of the best competition in the state. The Tigers had nine wrestlers medal, including two first place finishers, on their way to a team score of 179. Of the grapplers who brought home gold, senior Scotty Stossel defeated Matt Marino of Garnet Valley by major decision, 14-3, at 120 pounds.  Senior Dom Forys handed another wrestler from Garnet Valley a defeat in a championship match, earning a fall at 3:09 over Michael Marino at 126 pounds.  
Taking home silver medals were A.J. Boeh at 132 pounds, Clay Byerly at 182 pounds, and Zach Smith at 195 pounds. Earning a bronze was Luke Landefeld at 113 pound with a 6-2 decision over Shikellamy's Tyler Hepler in the third place consolation match. At 220 pounds, junior Layne Skundrich finished in fourth place, while Blynn Shideler and Colton Byerly ended the tournament with sixth place laurels at 152 pounds and 170 pounds, respectively.
North Allegheny returns to section mat action on Friday night with a visit to Butler to take on the Golden Tornado.  Start time is slated for 7:00 pm.
Maheim Invitational (Dec. 27-28, 2013)
| Manheim Invite Results | | |
| --- | --- | --- |
| PLACE | TEAM | SCORE |
| 1 | NORTH ALLEGHENY | 179 |
| 2 | Kiski Area | 169.5 |
| 3 | James W. Robinson (VA) | 160 |
| 4 | Reynolds (PA) | 140 |
| 5 | Spring Ford (PA) | 136.5 |