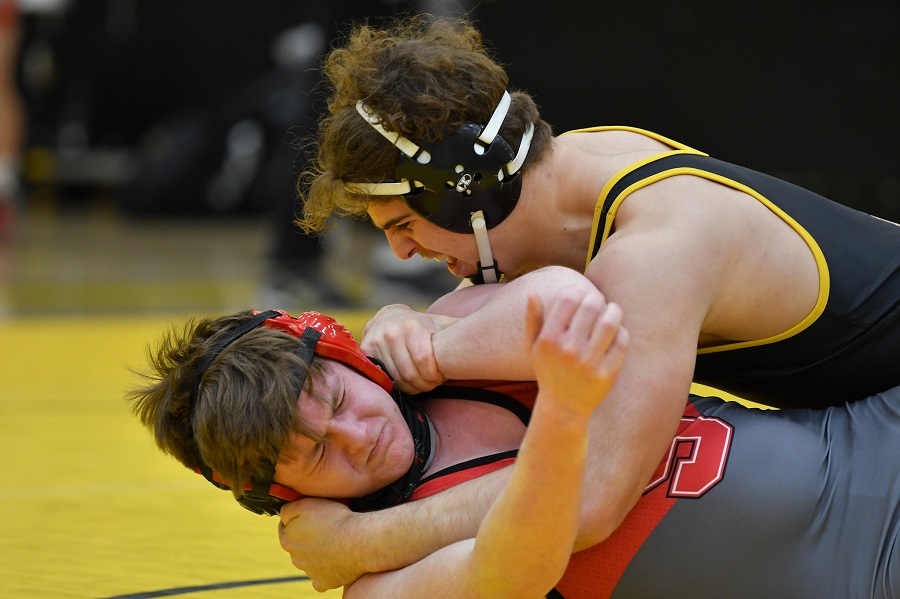 Tigers Earn Split With Connellsville, Penn-Trafford
The North Allegheny boys' wrestling team earned a split on Tuesday night in a non-section tri-meet with Connellsville and Penn-Trafford.
In the opener, the Tigers dropped a 54-9 final to the visiting Falcons. In what was a convincing win for Connellsville, the NA bright spot was provided by senior Dylan Coy as the University of Wisconsin commit scored a 2-0 decision over Gabriel Ruggieri at 126 pounds to earn Wright Automotive Wrestler of the Match honors. Sophomore Casey Walker also picked up a win by forfeit at 106 pounds for NA's only other victory in the meet with Connellsville.
North Allegheny bounced back in the night cap with a 40-28 triumph against Penn-Trafford. The Tigers jumped out to a 22-0 lead thanks in part to pinfalls by Coy and junior Nathan Monteparte (132), as well as a major decision by junior Jayson Flener (136). The Warriors rallied with wins in the next four bouts to trim the NA advantage to 22-16.
With Penn-Trafford surging, a key victory was delivered by sophomore Aidan Buggey at 215 pounds with a win by fall over Scott Coy in 54 seconds. The win increased the NA lead to 28-16 and swung the pendulum back toward the Tigers. For his efforts, Buggey was named the Wright Automotive Wrestler of the Match.
Despite a PT win by Joe Enick at 285 pounds, which again cut the NA advantage to six points, the Tigers put the meet out of reach with a win by forfeit for Walker at 106 and a win by fall courtesy of William Bentrim at 113 pounds over Draven Hanford in 37 seconds to bring the score to 40-22. A final victory by the Warriors at 120 pounds closed out a 40-28 win by North Allegheny.
With the evening's split, North Allegheny moves to 8-2 overall on the season. The NA grapplers will next compete at the Section 3-AAA individual wrestling tournament on Saturday, February 26.
Wrestling Summary: NA vs. Connellsville
| Weight | Wrestlers | Score |
| --- | --- | --- |
| 113 | Evan Petrovich (CA) tech fall William Bentrim (NA) | 16-1 |
| 120 | Jacob Layton (CA) tech fall Sam Horton (NA) | 16-0 |
| 126 | Dylan Coy (NA) dec. Gabriel Ruggieri (CA) | 2-0 |
| 132 | Chad Ozias (CA) maj. dec. Nathan Monteparte (NA) | 18-4 |
| 138 | Lonzy Vielma (CA) pinned Jayson Flener (NA) | 3:16 |
| 145 | Chad Jesko (CA) dec. Krist Vizcarra (NA) | 6-1 |
| 152 | Ethan Ansell (CA) maj. dec. Kellen Buggey (NA) | 12-0 |
| 160 | Jared Keslar (CA) pinned Adam Rohan (NA) | 0:36 |
| 172 | Nicholas Rohal (CA) pinned Nick Caruso (NA) | 3:59 |
| 189 | George Schultz (CA) pinned Tyler Magorien (NA) | 0:59 |
| 215 | Dennis Nichelson (CA) dec. Aidan Buggey (NA) | 5-1 |
| 285 | Tyler Gallis (CA) pinned Joseph Booth (NA) | 2:00 |
| 106 | Casey Walker (NA) wbf | |
---
Wrestling Summary: NA vs. Penn-Trafford
| Weight | Wrestlers | Score |
| --- | --- | --- |
| 126 | Dylan Coy (NA) pinned Hayden Coy (PT) | 2:32 |
| 132 | Nathan Monteparte (NA) pinned Nate Hernandez (PT) | 1:21 |
| 138 | Jayson Flener (NA) maj. dec. Brett Hampton (PT) | 13-0 |
| 145 | Krist Vizcarra (NA) wbf | |
| 152 | Tasso Whipple (PT) dec. Kellen Buggey (NA) | 11-6 |
| 160 | Wesley Stull (PT) dec. Adam Rohan (NA) | 8-5 |
| 172 | Paul Darragh (PT) maj. dec. Nick Caruso (NA) | 13-4 |
| 189 | Owen Ott (PT) pinned Tyler Magorien (NA) | 1:37 |
| 215 | Aidan Buggey (NA) pinned Scott Coy (PT) | 0:54 |
| 285 | Joe Enick (PT) pinned Joseph Booth (NA) | 0:47 |
| 106 | Casey Walker (NA) wbf | |
| 113 | William Bentrim (NA) pinned Draven Hanford (PT) | 0:37 |
| 120 | Troy Hohman (PT) pinned Sam Horton (NA) | 0:20 |