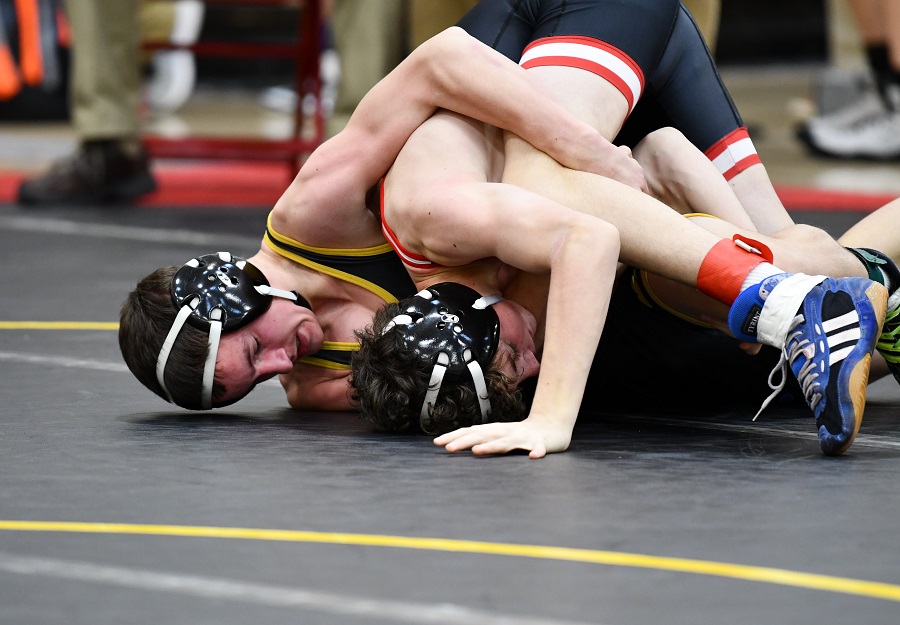 Tigers Earn Top Spot In Subsection With Sweep At Mars
The North Allegheny wrestling team secured the top spot in Subsection 3B-AAA with a pair of victories on Wednesday night at Mars. The Tigers defeated Shaler 58-9 in the opener and followed with a 66-6 triumph over the host Planets to cap the sweep.
North Allegheny started the night with the Shaler Titans and jumped out to a 22-0 lead in the first four bouts. Jaysen Flener earned a 17-4 major decision over Jacob Cable at 138 pounds to start the dual meet, followed by a win by fall courtesy of Travis Stipetich against Liam Berret at 145 pounds. Back-to-back pins by Kellen Buggey (152) and Adam Rohan (160) solidified NA's 22-0 start.
Shaler had brief success with a win by fall from Michael Ulery at 172 pounds and a 7-3 decision in favor of Ethan Gross at 189, cutting the NA advantage to 22-9. Those two wins would be the first and last time Shaler was heard from for the rest of the night. A win by fall for Sam Horton at 120 pounds, and wins by forfeit for Aidan Buggey (215), Casey Walker (106), William Bentrim (113), Dylan Coy (126) and Nathan Monteparte (132) capped the 58-9 win.
Against the host Planets, the Tigers once again pounced on their opponent and raced to an 18-0 lead with wins by fall courtesy of Stipetich (145), Kellen Buggey (152) and Rohan (160).
Mars temporarily halted NA's momentum thanks to a win by fall from Christian Scheller at 172 pounds, which trimmed the Tigers advantage to 18-6. From that point on, the meet belonged to NA. The Tigers earned four pin falls down the stretch to pull away in convincing fashion for a 66-6 victory.  Tyler Magorien (189), Bentrim (113), Coy (126) and Flener (139) all earned pins as NA locked up the No. 1 spot in the subsection.
North Allegheny improves to 4-0 overall and in the subsection. The Tigers will take part in the Allegheny County Tournament this weekend ahead of the Section 3-AAA Team Tournament on Jan. 26. The section team tournament will be broadcast live by the North Allegheny Sports Network.
Wrestling Match Summary: NA vs. Shaler
| Weight | Wrestlers | Score |
| --- | --- | --- |
| 138 | Jayson Flener (NA) maj. dec. Jacob Cable (SA) | 17-4 |
| 145 | Travis Stipetich (NA) pinned Liam Berret (SA) | 1:13 |
| 152 | Kellen Buggey (NA) pinned Callum Montgomery (SA) | 4:20 |
| 160 | Adam Rohan (NA) pinned Matthew Suppa (SA) | 1:46 |
| 172 | Michael Ulery (SA) pinned Nick Caruso (NA) | 1:59 |
| 189 | Ethan Gross (SA) dec. Anthony Spivak (NA) | 7-3 |
| 215 | Aidan Buggey (NA) wbf | |
| 285 | Double Forfeit | |
| 106 | Casey Walker (NA) wbf | |
| 113 | William Bentrim (NA) wbf | |
| 120 | Sam Horton (NA) pinned Nevio DeLeonibus (SA) | 2:19 |
| 126 | Dylan Coy (NA) wbf | |
| 132 | Nathan Monteparte (NA) wbf | |
Wrestling Match Summary: NA vs. Mars
| Weight | Wrestlers | Score |
| --- | --- | --- |
| 145 | Travis Stipetich (NA) pinned Griffin Frazier (MA) | 1:10 |
| 152 | Kellen Buggey (NA) pinned Jaden Fotta (MA) | 1:03 |
| 160 | Adam Rohan (NA) pinned Cooper Courson (MA) | 1:50 |
| 172 | Christian Scheller (MA) pinned Nick Caruso (NA) | 0:29 |
| 189 | Tyler Magorien (NA) pinned Ethan Wolf (MA) | 1:03 |
| 215 | Aidan Buggey (NA) wbf | |
| 285 | Double Forfeit | |
| 106 | Casey Walker (NA) wbf | |
| 113 | William Bentrim (NA) pinned Miles Frazier (MA) | 0:51 |
| 120 | Sam Horton (NA) wbf | |
| 126 | Dylan Coy (NA) pinned Brandon Frantz (MA) | 1:09 |
| 132 | Nathan Monteparte (NA) wbf | |
| 138 | Jayson Flener (NA) pinned Nicholas Veneris (MA) | 0:39 |