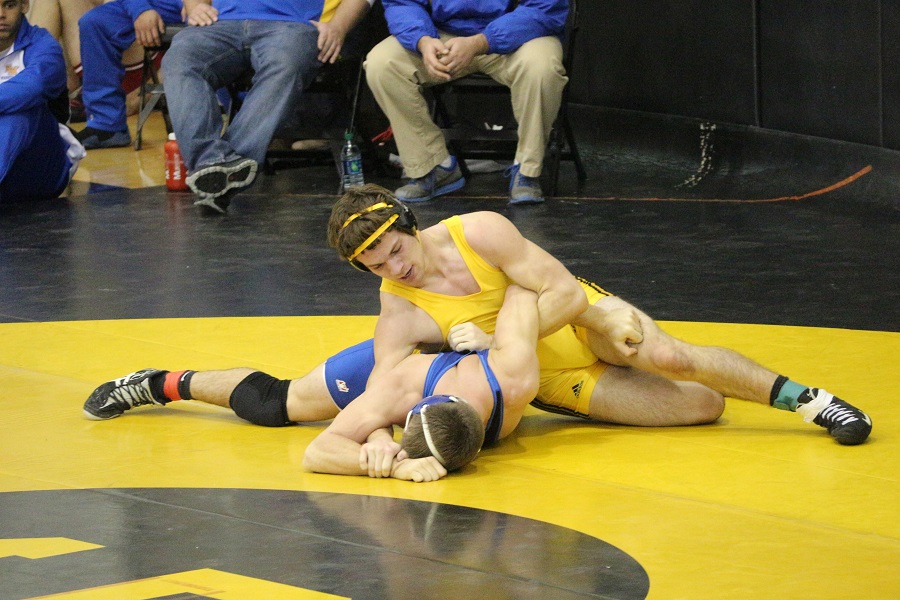 Tigers Edge Cumberland Valley In PIAA 1st Round Upset
To reach the PIAA Team Wrestling Tournament, North Allegheny needed a dramatic one-point victory over the reigning state champions last weekend. In the First Round of the state tournament at the Giant Center in Hershey on Thursday night, the Tigers pulled out another dramatic one-point win, this time over District 3 champion Cumberland Valley, 29-28.
Down 28-20 with two bouts remaining, Colton Byerly pinned Brendon Rigney at 182 pounds to cut the deficit to 28-26 and his brother Clay Byerly earned a 4-2 decision over Brad Drabenstadt to advance NA to the PIAA quarterfinals.
In a match where every point mattered, Zach Smith earned a fall at 220 pounds and Dom Forys collected a tech fall win at 126 pounds. Others collecting wins by decision included Luke Landefeld (113), Scotty Stossel (120), and Jake Hinkson (132).
The Tigers will face Parkland, the runner-up in District 11, this afternoon at 2:00 in the PIAA quarterfinals. If NA wins, they'll advance to the semifinals at 8:00 tonight.  A loss would send the Tigers to the second round of the consolation bracket for a 6:00 pm matchup.
Wrestling Match Summary: NA vs. Cumberland Valley
PIAA 1st Round
| Weight | Wrestlers | Score |
| --- | --- | --- |
| 220 | Zach Smith (NA) pinned Jake Black (CV) | 1:10 |
| 285 | Jackson Stanford (CV) pinned David Probert (NA) | 1:30 |
| 106 | William Kaldes (CV) dec. Zack Stedeford (NA) | 12-7 |
| 113 | Luke Landefeld (NA) dec. Wyatt Long (CV) | 7-0 |
| 120 | Scotty Stossel (NA) dec. Cal Reichart (CV) | 8-5 |
| 126 | Dom Forys (NA) tech fall Saurab Faruque (CV) | 17-2 |
| 132 | Jake Hinkson (NA) dec. Alex Wolfe (CV) | 5-3 |
| 138 | Patrick Duggan (CV) maj. dec. A.J. Boeh (NA) | 15-6 |
| 145 | Felix Belga (CV) maj. dec. Drew Landefeld (NA) | 8-0 |
| 152 | T.C. Warner (CV) maj. dec. Blynn Shideler (NA) | 14-3 |
| 160 | Brandon Rudy (CV) dec. Jake Woodley (NA) | 3-2 |
| 170 | Dayne Ross (CV) maj. dec. David Tallman (NA) | 11-3 |
| 182 | Colton Byerly (NA) pinned Brendan Rigney (CV) | 3:29 |
| 195 | Clay Byerly (NA) dec. Brad Drabenstadt (CV) | 4-2 |