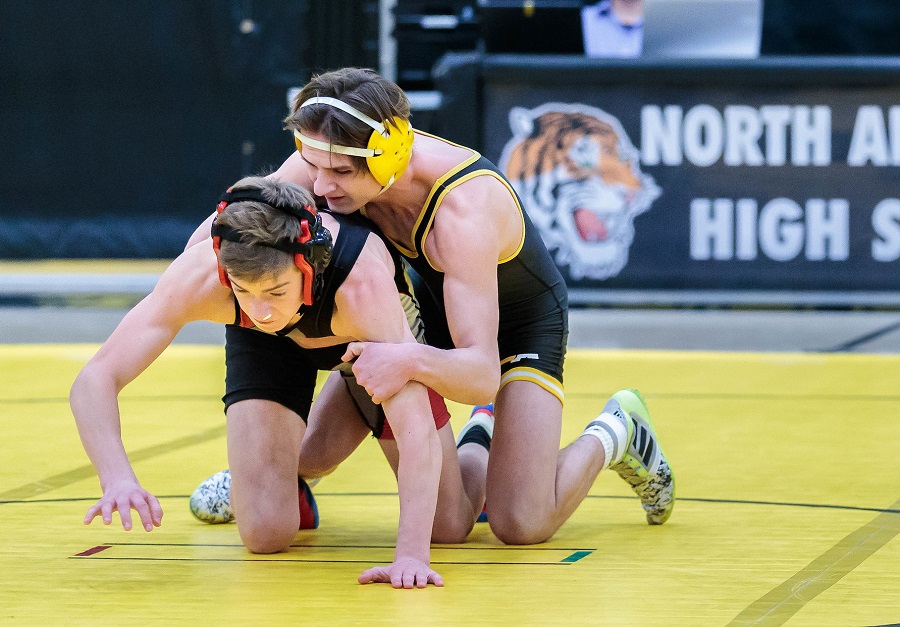 Tigers Edged By Greensburg Salem In WPIAL First Round, 35-33
by Lee Mohn
The North Allegheny wrestling team suffered a 35-33 defeat to Greensburg Salem on Wednesday night in the first round of the WPIAL Team Wrestling Tournament.  The night started off strong for the Tigers, winning the first two matches.  Jacob Downing picked up a tech fall win over Mason Jobe, 16-1, then Gabe Falo pinned Colt Rubrecht in the first period to give the Tigers an early 11-0 lead.
After three consecutive victories for Greensburg Salem put the Golden Lions ahead 13-11, the Tigers answered back with 7-3 win by Jon Hoover over Luke Ewing at 160 pounds for a 14-13 lead. Greensburg Salem tallied three straight wins, including two by forfeit, for a 29-14 advantage.
With their backs to the wall, the Tigers clawed their way back and Ben Grafton started the rally with a 15-2 major decision over William Gongaware at 220 pounds. For his efforts, Grafton was named the Wright Automotive Wrestler of the Match.
The victory by Grafton sparked a comeback as the Tigers scored back-to-back pin falls from Derek Devine (285) and Max Stedeford (106) to take a 30-29 lead with two bouts remaining.
Unfortunately for the Tigers, another win by forfeit for Greensburg Salem at 113 pounds proved to be too much to overcome. With the Golden Lions leading 35-30, the Tigers needed a win by fall from Freddy Junko in the final bout at 120 pounds. Junko delivered a 7-3 decision but the victory left the Tigers just two points short, 35-33.
North Allegheny falls to 5-3 on the season following the WPIAL first round loss. The Tigers will host Bethel Park in a dual meet next Wednesday night.
Wrestling Match Summary: NA vs. Greensburg Salem
| Weight | Wrestlers | Score |
| --- | --- | --- |
| 126 | Jacob Downing (NA) tech fall Mason Jobe (GS) | 16-1 |
| 132 | Gabe Falo (NA) pinned Colt Rubrecht (GS) | 0:51 |
| 138 | Tyler Hughes (GS) maj. dec. Andrew Wang (NA) | 11-4 |
| 145 | Dujuahn Hertzog (GS) dec. Nick Marcenelle (NA) | 4-2 |
| 152 | Joey Williams (GS) pinned Manuel Bautista (NA) | 0:47 |
| 160 | Jon Hoover (NA) dec. Luke Ewing (GS) | 7-3 |
| 170 | Sage Parsley (GS) wbf | |
| 182 | Jesse Quatse (GS) maj. dec. Jimmy Turici (NA) | 14-4 |
| 195 | John Meyers (GS) wbf | |
| 220 | Ben Grafton (NA) maj. dec. William Gongaware (GS) | 15-2 |
| 285 | Derek Devine (NA) pinned Trent Patrick (GS) | 1:27 |
| 106 | Max Stedeford (NA) pinned Cody Kaufman (GS) | 4:40 |
| 113 | Riley Stoner (GS) wbf | |
| 120 | Freddy Junko (NA) dec. Nico Williams (GS) | 7-3 |