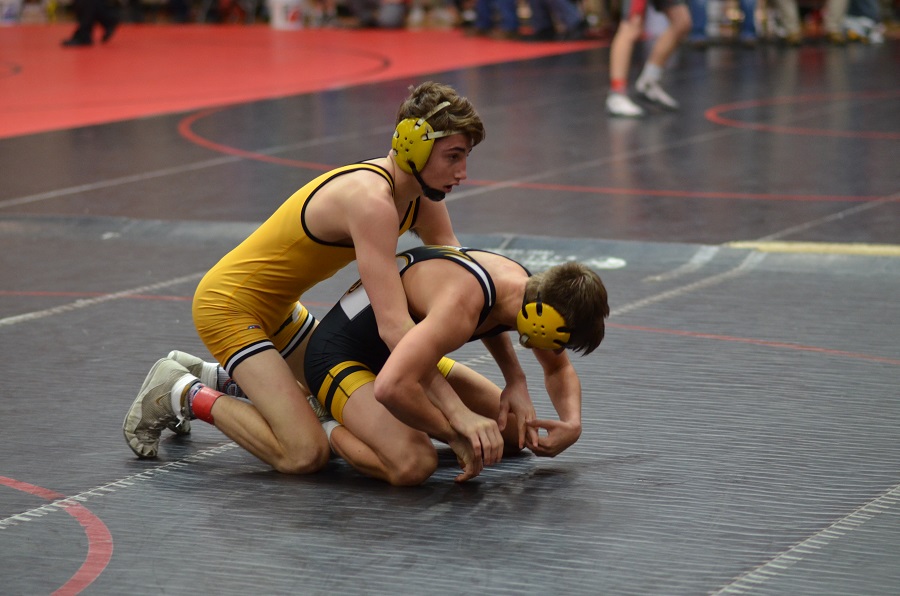 Tigers Fall To Greater Latrobe, 45-21
The North Allegheny wrestling team took on the Greater Latrobe Wildcats on Wednesday night and dropped a 45-21 decision in the final dual meet of the season.
North Allegheny trailed most of the evening but posted some terrific individual performances. At 182 pounds, Nick Marcenelle picked up a tech fall victory over Corey Boerio and Nicholas Gorman delivered an 11-3 major decision over Lucio Angelicchio at 113 pounds.
Earning win by fall were Ben Grafton and Max Stedeford. Grafton pinned Colton Zimmerman in 1:19 at 285 pounds. At 138 pounds, Stedeford pinned Connor Johnson in 3:37.
North Allegheny ends the team portion of its season with a 7-4 record. Latrobe improves to 8-3 with the win. The Tigers will take part in the Section 1-AAA individual tournament on Saturday, Feb. 22.
Wrestling Match Summary: NA vs. Greater Latrobe
| Weight | Wrestlers | Score |
| --- | --- | --- |
| 160 | Mitch Tyron (GL) dec. Andrew Hart (NA) | 6-2 |
| 170 | Logan Zitterbart (GL) pinned Nick Caruso (NA) | 1:47 |
| 182 | Nick Marcenelle (NA) tech fall Corey Boerio (GL) | 16-1 |
| 195 | Tyler Lynch (GL) pinned Cameron Fries (NA) | 0:35 |
| 220 | Tyler Ross (GL) dec. Luke Rumpler (NA) | 7-2 |
| 285 | Ben Grafton (NA) pinned Colton Zimmerman (GL) | 1:19 |
| 106 | Vincent Kilkeary (GL) pinned Brady Walker (NA) | 0:53 |
| 113 | Nicholas Gorman (NA) maj. dec. Lucio Angelicchio (GL) | 11-3 |
| 120 | Nate Roth (GL) dec. Dylan Coy (NA) | 9-3 |
| 126 | Enzo Angelicchio (GL) pinned Dom Hogan (NA) | 0:38 |
| 132 | Gabe Willochell (GL) pinned A.J. Rohan (NA) | 0:39 |
| 138 | Max Stedeford (NA) pinned Connor Johnson (GL) | 3:37 |
| 145 | Ricky Armstrong (GL) dec. Freddy Junko (NA) | 3-2 |
| 152 | Jake Pletcher (GL) Ian Branstetter (NA) | 3-1 |