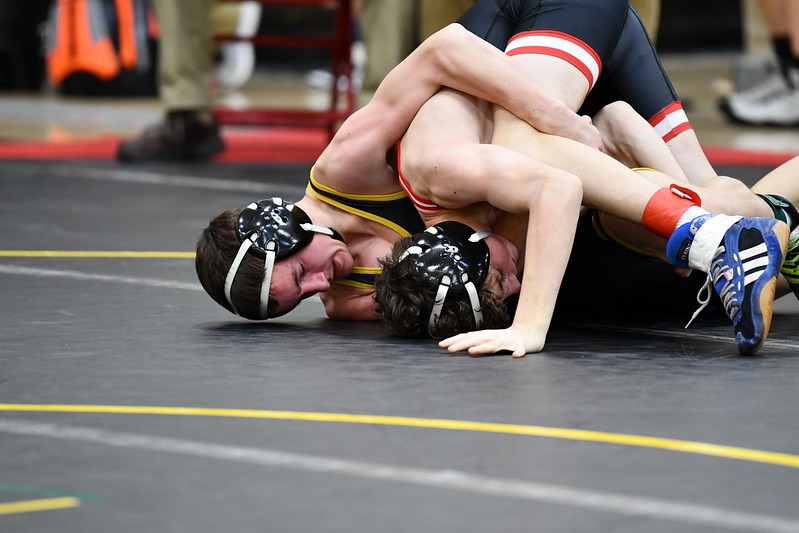 Tigers Host Some of Area's Best At NA Invitational
For the second time this season, the North Allegheny wrestling team hosted a major invitational with some of the best athletes in the area taking part. For the host squad, the Tigers crowned one champion and had four wrestlers reached the title bout in their respective weight classes.
At 120 pounds, junior Dylan Coy was NA's lone champion on the day with a win by fall over Lucio Angelicchio of Greater Latrobe. Coy was named the Wright Automotive Wrestler of the Match for his convincing performance.
Other Tigers who reached the finals in their weight divisions were Nick Gorman (126), Nathan Monteparte (132), Max Stedeford (145) and Brady Leczo (215). All took home silver medals for their performance.
At 138 pounds, senior Brad Stipetich earned an 11-3 major decision over Norwin's Colton Minerva for a third-place finish. Senior Collin McCorkle also took third place at 160 pounds with a 20-7 victory against Evan Bell of Trinity. At 172 pounds, freshman Travis Stipetich took a 1-0 decision against Ethan Mikovitz of North Hills for another NA bronze medal.
Coming through for a fourth-place showing was senior Luke Rumpler at 285 pounds, and freshman Aiden Buggey took fifth place with an 8-3 decision against Andrew Szynczak at 189 pounds.
Round robin competition was held at 106, 113 and 152 pounds. At 106, Casey Walker and Will Bentrim both went 3-2 in their five bouts. At 113, Sam Horton split his two matches, going 1-1. At 152, A.J. Rohan was impressive 4-1 in five bouts.
North Allegheny will have the week off before the NA Duals on Saturday, January 30 at 8:30 a.m. The duals will be video streamed by the North Allegheny Sports Network.