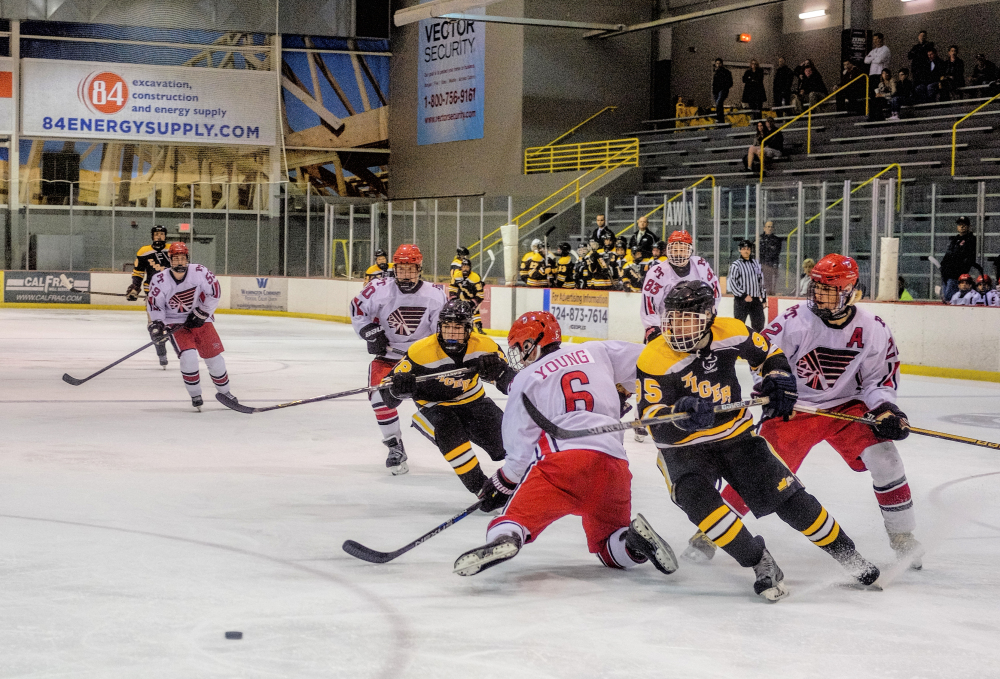 Tigers Outlast Raiders For 3-1 Win
In a battle between two of the top teams in Class AAA, the North Allegheny Tigers set aside the Seneca Valley Raiders with a 3-1 triumph at the Baierl Ice Complex on Monday night. It was the fourth win in a row for the NA ice hockey team, pulling the Tigers into a first place tie atop the standings with the Raiders.
After a scoreless first period, North Allegheny garnered a 1-0 lead on a goal by Dawson Richard, assisted by Tyler Duderstadt, midway through the second period. The Tigers added on in the third period when Cameron Sunseri lit the lamp at the 3:13 mark of the period for a 2-0 advantage.
Following a holding penalty on Tyler Wilson, Seneca Valley cashed in for a power-play goal by Tyler Murphy to cut the score to 2-1, Tigers, with 7:33 left in regulation. The Raiders last-ditch effort to tie the game came up short and North Allegheny put the contest away thanks to a John Parks goal with just six seconds remaining to bring the final score to 3-1, North Allegheny.
In a tightly-played game dictated by defense, North Allegheny outshot Seneca Valley, 18-14. Goalie Ryan Heil made 13 saves for the Tigers to earn the win.
North Allegheny improves to 6-1-1 on the season, while Seneca Valley sits at 6-3-1 on the year. The Tigers will host Armstrong on Monday, December 5.