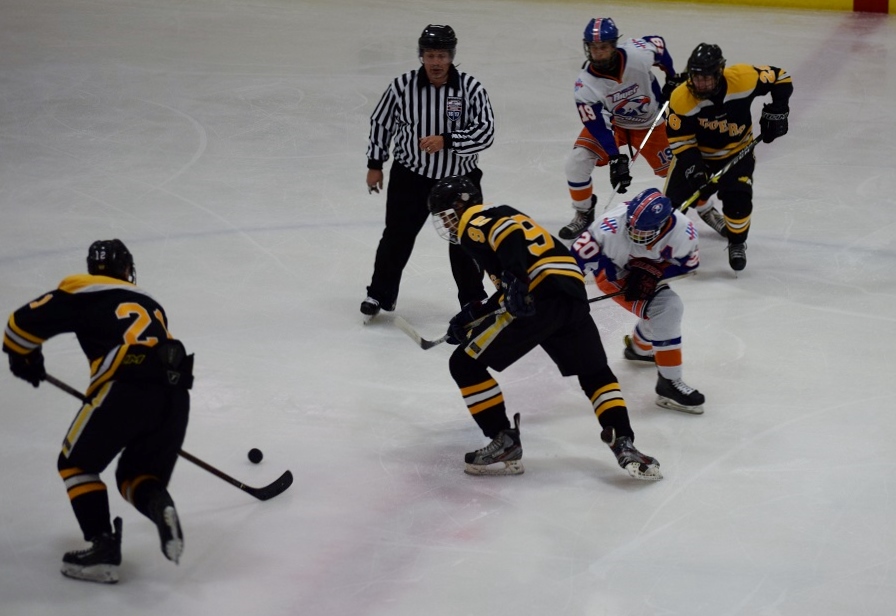 Tigers Play To 3-3 Draw With Butler
The North Allegheny ice hockey team played to a 3-3 tie with the Butler Golden Tornado on Monday night. The Tigers held a 3-2 lead in the third period before Butler's Garet Banner tied the score with 5:54 remaining in regulation. From that point on, NA goalie Ryan Heil and Butler net minder Nicholas Farmerie did not allow another goal. Heil and Farmerie made 23 and 26 saves, respectively.
Most of the scoring took place in the first period and Ronan Miller gave Butler a 1-0 lead just 1:27 into the game. North Allegheny responded with back-to-back goals by Matthew Morrison and Erik Chidester less than a minute apart to grab a 2-1 advantage midway through the first period.  The Golden Tornado evened the score at the 10:49 mark of the period courtesy of a power play goal by Benjamin Rodgers.
After a scoreless second period, the Tigers regained the lead on a power play tally by John Parks at the 6:48 mark of the third period which brought the score to 3-2, North Allegheny. Banner tied the game for Butler late in the third to help force the game into a 3-3 draw.
North Allegheny sits at 11-4-2 following the tie, while Butler moves to 6-8-2. The Tigers will visit Bethel Park on Thursday, February 9 at 9:00 p.m.
Ice Hockey Summary vs. Butler, 1-30-17
| GAME SUMMARY | | | | | |
| --- | --- | --- | --- | --- | --- |
| SCORE BY PERIODS | 1 | 2 | 3 | OT | FINAL |
| North Allegheny | 2 | 0 | 1 | 0 | 3 |
| Butler | 2 | 0 | 1 | 0 | 3 |
Ice Hockey Individual Scoring vs. Butler
| INDIVIDUAL STATS | | |
| --- | --- | --- |
| FIRST PERIOD | | |
| Butler | Ronan Miller (Jerome Oliver Jr.) | 1:27 |
| North Allegheny | Matthew Morrison (Justin Kidd) | 6:45 |
| North Allegheny | Erik Chidester (Cameron Sunseri, Tyler Duderstadt) | 7:43 |
| Butler | Benjamin Rodgers (Samuel Gross, Miller) - PP | 10:49 |
| SECOND PERIOD | | |
| | NO SCORING | |
| THIRD PERIOD | | |
| North Allegheny | John Parks (Dawson Richard, Tyler Wilson) - PP | 6:48 |
| Butler | Garet Banner (Connor Bachman, Gross) | 11:06 |
| OVERTIME | | |
| | NO SCORING | |