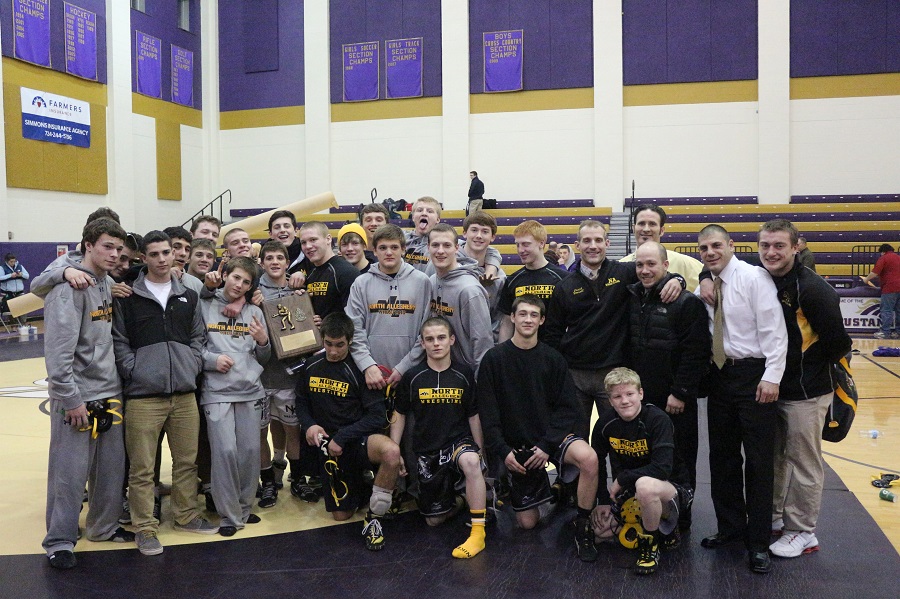 Tigers Punish North Hills, Butler For Section 3-AAA Crown
The North Allegheny Wrestling Team won its second straight WPIAL Section 3-AAA title in convincing fashion by dominating the North Hills Indians, 44-12, and Butler Golden Tornado, 52-15, at Plum High School on Wednesday night. It's the 12th time in 13 years the Tigers have won or shared a section title.
The Tigers opened the night with the Indians, a familiar foe who NA defeated just weeks earlier, 48-16. Like the previous meeting, North Allegheny handled North Hills for a comfortable victory and was aided by three Indian forfeits. With the Tigers leading 6-3, freshman Jake Woodley pinned Valente Caruso at 152 pounds with 41 seconds remaining in the second period to lift NA to a 12-3 advantage after three bouts. The win by fall helped spark the Tigers in the early going and Woodley was named the Wright Automotive Wrestler of the Match for his efforts.
After Jonathon Avon cut the NA lead to 12-6 with a 10-4 decision at 160 pounds, North Allegheny rolled off victories in five of the next six bouts en route to the win. At 113 pounds, freshman Luke Landefeld nearly knocked off unbeaten Gage Curry, but the Indians sophomore managed a two-point reversal with 33 seconds left in the bout to earn a 2-0 decision and improve his individual record to 25-0.  Curry's win pulled NH to within 30-12, but the Tigers swept the remaining three bouts for a 44-12 win to advance to the Section Championship to face Butler.
In the section finals, the Tigers whipped Butler by a 55-12 final courtesy of three pins and five tech falls. Woodley claimed his second fall of the night by pinning Zachary Raible at 160 pounds, Landefeld picked up a first period fall over Max Stalnaker at 113 pounds, and Richie Boeh earned a quick pin over his opponent at 145 pounds. Earning tech falls were Clay Byerly (182), Zach Smith (195), Zach Stedeford (106), Dom Forys (126) and Jake Hinkson (132). Garnering Wright Automotive Wrestler of the Match honors was junior Layne Skundrich for a hard fought 2-1 overtime decision over Will Bortmas at 220 pounds.
North Allegheny improves to 10-0 overall and will await the WPIAL Team Tournament Brackets to be unveiled following the WPIAL Committee meeting.  
Wrestling Match Summary: NA vs. North Hills
| Weight | Wrestlers | Score |
| --- | --- | --- |
| 138 | A.J. Baeh (NA) wbf | |
| 145 | David Tuzikow (NH) dec. Richie Boeh (NA) | 6-3 (OT) |
| 152 | Jake Woodley (NA) pinned Valente Caruso (NH) | |
| 160 | Jonathan Avon (NH) maj. dec. Blynn Shideler (NA) | 10-4 |
| 170 | Colton Byerly (NA) tech fall Justin Helfferich (NH) | 7-4 |
| 182 | Clay Byerly (NA) dec. Elliot King (NH) | 6-5 |
| 195 | Zach Smith (NA) wbf | |
| 220 | Layne Skundrich (NA) dec. Mike Bonsmann (NH) | 3-0 |
| 285 | Eli Swain (NH) dec. David Probert (NA) | 5-2 |
| 106 | Zack Stedeford (NA) dec. John MacPherson (NH) | 7-2 |
| 113 | Gage Curry (NH) dec. Luke Landefeld (NA) | 2-0 |
| 120 | Scotty Stossel (NA) wbf | |
| 126 | Dom Forys (NA) tech fall Keagan Lawson (NH) | |
| 132 | Jake Hinkson (NA) dec. David Badamo (NH) | 7-1 |
*******************
Wrestling Match Summary: NA vs. Butler
Section 3-AAA Championship
| Weight | Wrestlers | Score |
| --- | --- | --- |
| 145 | Richie Boeh (NA) pinned n/a (BUT) | |
| 152 | Jeremiah Bortmas (BUT) inj. default Blynn Shidler (NA) | |
| 160 | Jake Woodley (NA) pinned Zachary Raible (BUT) | |
| 170 | Ryan Hannon (BUT) dec. Colton Byerly (NA) | 5-2 |
| 182 | Clay Byerly (NA) tech fall Justin Johnson (BUT) | |
| 195 | Zach Smith (NA) tech fall Alex White (BUT) | |
| 220 | Layne Skundrich (NA) dec. Will Bortmas (BUT) | 2-1 (OT) |
| 285 | John Bojanac (BUT) pinned David Probert (NA) | |
| 106 | Zack Stedeford (NA) tech fall Hugh O'Neil (BUT) | |
| 113 | Luke Landefeld (NA) pinned Max Stalnaker (BUT) | |
| 120 | Scotty Stossel (NA) dec. Scott Dietrich (BUT) | 13-6 |
| 126 | Dom Forys (NA) tech fall Connor Foust (BUT) | |
| 132 | Jake Hinkson (NA) tech fall Mason Kauffman (BUT) | |
| 138 | A.J. Baeh (NA) dec. Cody Houston (BUT) | 8-3 |