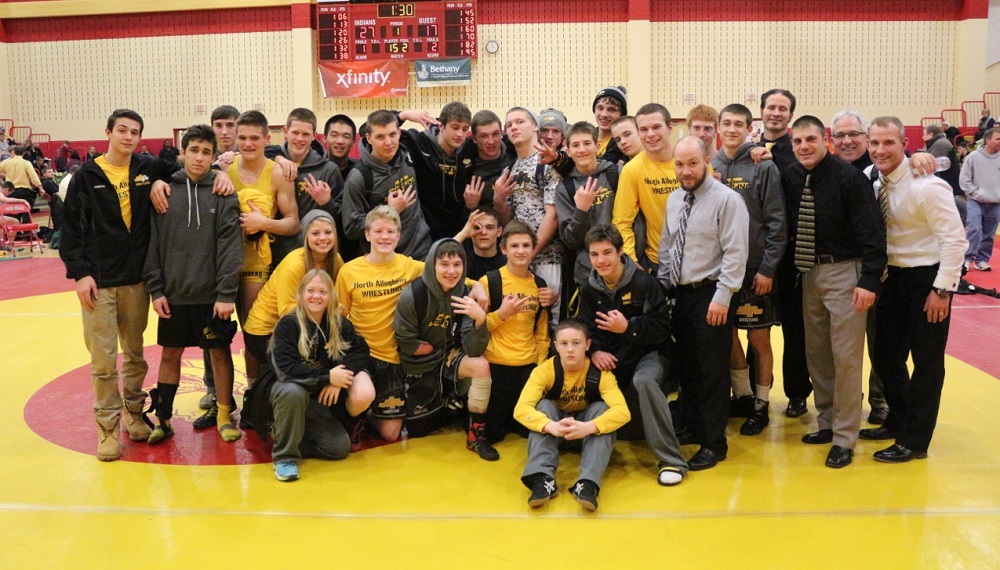 Tigers Reach PIAA Team Tournament With Win Over Latrobe
For the fourth consecutive season, the North Allegheny wrestling team is headed to the PIAA Team Tournament.  The Tigers nearly defeated the reigning WPIAL champion Franklin Regional Panthers in the semifinals but fell by a narrow 32-30 decision.  In the WPIAL consolations, the Tigers topped Latrobe, 35-29, to earn a berth in the state tournament.
With a trip to the PIAA Team Tournament on the line, North Allegheny won the first four bouts to take a 15-0 lead in the WPIAL concolations.  Latrobe won three in a row to cut the team score to 15-12, but the Tigers claimed three straight to balloon the lead to 32-12. While Latrobe won four of the last five bouts, it wasn't enough as NA prevailed, 35-29.
The difference in the matchup with Latrobe was NA's ability to pick up bonus points, earning three pin falls, a technical fall, and a win by injury default. Luke Landefeld pinned Trey Carr at 126 pounds, Clay Byerly pinned Colton Thompson at 182 pounds, and Zach Smith pinned Dylan Davis at 220 pounds.  At 120 pounds, Zach Stedeford picked up a tech fall over Joe Russo by a 15-0 decision. NA's injury default victory came at 132 pounds where Jake Hinkson earned the victory over Joel Cawoski.
In the preceding match against Franklin Regional in the WPIAL semifinals, the Tigers earned three falls courtesy of Hinkson (132), Jeff Clemens (195) and Smith (220), but ultimately it wasn't enough as the Panthers edged NA by two points, 32-30.
Last season, North Allegheny beat Canon-McMillan in the third place consolation and ultimately reached the PIAA semifinals before falling to Cumberland Valley, 31-28.  The PIAA Team Tournament begins on Monday night as the Tigers will compete in the Preliminary Round against the champions from District 8.  For the PIAA Class AAA wrestling bracket, click here.
Wrestling Match Summary: NA vs. Latrobe
WPIAL Class AAA Consolations
| Weight | Wrestlers | Score |
| --- | --- | --- |
| 106 | Brady Shields (L) pinned Jake Downing (NA) | 5:09 |
| 113 | Tyler Hughes (L) dec. Gabe Falo (NA) | 4-0 |
| 120 | Zach Stedeford (NA) tech fall Joe Russo (L) | 15-0 |
| 126 | Luke Landefeld (NA) pinned Trey Carr (L) | 1:38 |
| 132 | Jake Hinkson (NA) inj. default Joel Cawoski (L) | 2:53 |
| 138 | Luke Pletcher (L) maj. dec. A.J. Boeh (NA) | 18-8 |
| 145 | Jake Willochell (L) dec. Sean Kalmeyer (NA) | 6-2 |
| 152 | Ethan Smith (L) maj. dec. Sean Hoover (NA) | 18-8 |
| 160 | Jake Woodley (NA) dec. Ethan Stas (L) | 6-2 |
| 170 | Jake Shaffer (L) wbf | |
| 182 | Clay Byerly (NA) pinned Colton Thompson (L) | 1:14 |
| 195 | Jeff Clemens (NA) dec. Travis Schmeling (L) | 11-7 |
| 220 | Zach Smith (NA) pinned Dylan Davis (L) | 3:47 |
| 285 | Tyler Means (L) dec. Layne Skundrich (NA) | 3-2 |
**************
Wrestling Match Summary: NA vs. Franklin Regional
WPIAL Class AAA Semifinals
| Weight | Wrestlers | Score |
| --- | --- | --- |
| 106 | Gabe Falo (NA) dec. Mark Prucnal (FR) | 5-4 |
| 113 | Devin Brown (FR) wbf | |
| 120 | Spencer Lee (FR) pinned Zack Stedeford (NA) | 4:25 |
| 126 | Gus Solomon (FR) dec. Luke Landefeld (NA) | 2-0 |
| 132 | Jake Hinkson (NA) pinned Ryan Krause (FR) | 3:21 |
| 138 | Dom Giannangeli (FR) dec. A.J. Boeh (NA) | 6-3 |
| 145 | Sean Kalmeyer (NA) dec. Danny Contraguerro (FR) | 4-0 |
| 152 | Michael Kemerer (FR) maj. dec. Sean Hoover (NA) | 13-5 |
| 160 | Josh Macura (FR) maj. dec. Jake Woodley (NA) | 19-7 |
| 170 | Josh Shields (FR) pinned Jacob Fritch (NA) | 1:22 |
| 182 | Clay Byerly (NA) dec. Max Kubas (FR) | 3-2 |
| 195 | Jeff Clemens (NA) pinned Ted Wohlin (FR) | 2:00 |
| 220 | Zach Smith (NA) pinned Jeremy Nestor (FR) | 0:50 |
| 285 | Layne Skundrich (NA) dec. Jake Pickup (FR) | 3-1 |