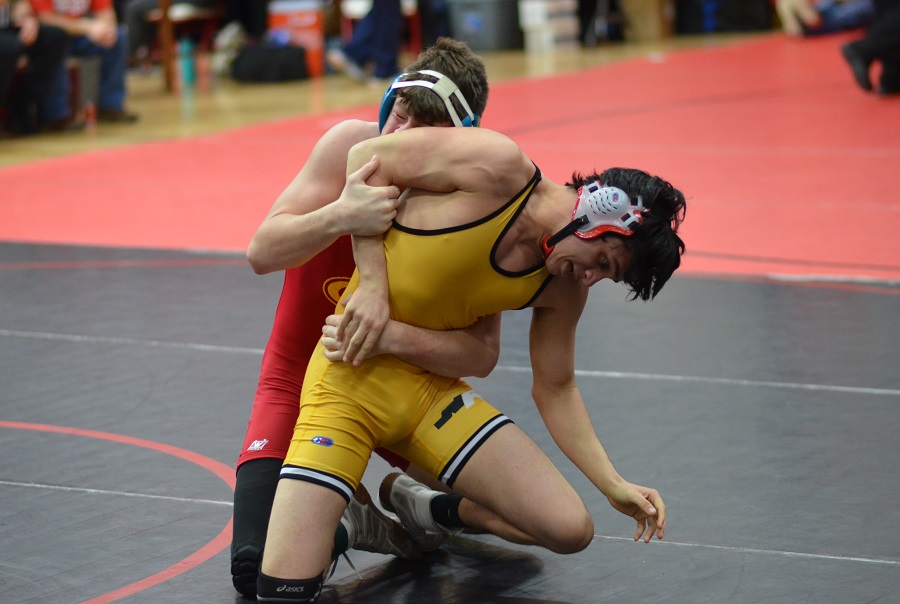 Tigers Reach Section 3-AAA Finals, Fall To Seneca Valley
The North Allegheny wrestling team reached the Section 3-AAA finals on Wednesday night but fell to the Seneca Valley Raiders, 40-24. With the meet tied 24-24, Seneca Valley won the final four bouts for its third straight section crown.
Against the Raiders, the meet began at 160 pounds where Grant MacKay earned a win by fall over Michael Adamson in just 32 seconds for a 6-0 lead. Following a win by SV at 170 pounds, North Allegheny took a 15-6 lead on the strength of a 5-0 decision by Bobby Snyder at 182 pounds and a win by fall courtesy of Nick Marcenelle at 195 pounds.
A win by fall for the Raiders at 220 pounds trimmed the NA lead to 15-12 but senior Ben Grafton responded with a pin fall of Davin Beahm at 285 to improve the advantage to 21-12. For his efforts, Grafton was named the Wright Automotive Wrestler of the Match.
Despite the nine-point lead, Seneca Valley rattled off wins in 7 of the last 8 bouts to take the section title with a 40-24 victory.
To reach the Section 3-AAA championship, North Allegheny started the night with a 57-15 triumph over the Butler Golden Tornado. The GT managed only three wins in the meet as the Tigers rolled to the victory. Eight Tigers earned wins by fall, including Ian Branstetter (152), MacKay (160), Marcenelle (195), Luke Rumpler (220), Grafton, Sam Horton (106), Dylan Coy (120) and Max Stedeford (138).
In his bout at 220, Rumpler pinned Jacob Pomykata at the 4:34 mark to earn Wright Automotive Wrestler of the Match honors.
For the entire Section 3-AAA team bracket, click here.
North Allegheny sits at 6-1 on the season following the Section 3-AAA tournament. The Tigers will take part in the WPIAL Team Tournament next week.
Section 3-AAA Semifinal: NA vs. Butler
| Weight | Wrestlers | Score |
| --- | --- | --- |
| 152 | Ian Branstetter (NA) pinned Steven Green (BUT) | 1:21 |
| 160 | Grant MacKay (NA) pinned Nathaniel McDonald (BUT) | 1:45 |
| 170 | Cooper Baxter (BUT) pinned Bobby Snyder (NA) | 1:45 |
| 182 | Hunter Neff (BUT) pinned Cameron Fries (NA) | 3:04 |
| 195 | Nick Marcenelle (NA) pinned Caleb Hartung (BUT) | 5:01 |
| 220 | Luke Rumpler (NA) pinned Jacob Pomykata (BUT) | 4:34 |
| 285 | Ben Grafton (NA) pinned Tyler Soldati (BUT) | 0:35 |
| 106 | Sam Horton (NA) pinned Aiden Plopi (BUT) | 0:36 |
| 113 | Levi Donnel (BUT) dec. Nicholas Gorman (NA) | 5-2 |
| 120 | Dylan Coy (NA) pinned Nicholas Schaukowitsch (BUT) | 1:59 |
| 126 | Nathan Monteparte (NA) dec. Clayton Dressler (BUT) | 9-7 |
| 132 | A.J. Rohan (NA) dec. Colton Spohn (BUT) | 1-0 |
| 138 | Max Stedeford (NA) pinned Cade Savochka (BUT) | 1:36 |
| 145 | Freddy Junko (NA) dec. Nathan McMaster (BUT) | 8-2 |
***********
Section 3-AAA Championship: NA vs. Seneca Valley
| Weight | Wrestlers | Score |
| --- | --- | --- |
| 160 | Grant MacKay (NA) pinned Michael Adamson (SV) | 0:33 |
| 170 | Liam Volk-Klos (SV) pinned Nick Caruso (NA) | 1:11 |
| 182 | Bobby Snyder (NA) dec. Patrick Johnson (SV) | 5-0 |
| 195 | Nick Marcenelle (NA) pinned Conor Hayes (SV) | 1:54 |
| 220 | Nick Funovits (SV) pinned Luke Rumpler (NA) | 3:25 |
| 285 | Ben Grafton (NA) pinned Davin Beahm (SV) | 2:59 |
| 106 | Tyler Chappell (SV) dec. Nicholas Gorman (NA) | 2-1 |
| 113 | Hunter Swedish (SV) pinned Sam Horton (NA) | 1:44 |
| 120 | Dylan Chappell (SV) dec. Dylan Coy (NA) | 7-1 |
| 126 | Nathan Monteparte (NA) dec. Evan Vetter (SV) | 7-1 |
| 132 | Alejandro Herrera-Rondon (SV) pinned A.J. Rohan (NA) | 1:32 |
| 138 | Chanz Shearer (SV) dec. Max Stedeford (NA) | 6-4 |
| 145 | Antonio Amelio (SV) dec. Freddy Junko (NA) | 5-0 |
| 152 | Drew Vlasnik (SV) dec. Ian Branstetter (NA) | 9-2 |