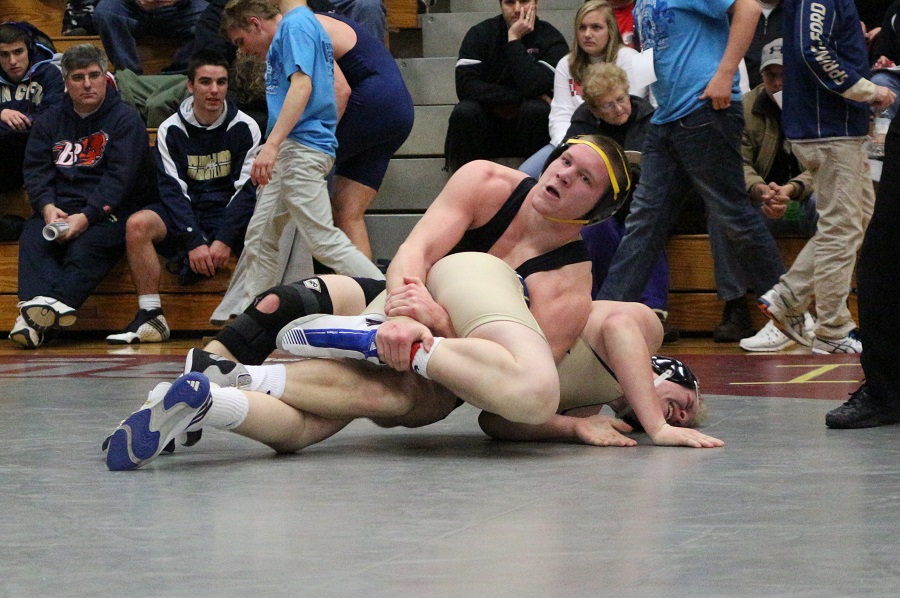 NA's Run Ends In State Consolation Semifinals, 31-28
In the consolation semifinals of the PIAA Team Wrestling Tournament, the Tigers had a rematch with the District 3 champion Cumberland Valley Eagles, a team NA upset in the first round of the tournament on Thursday night. In the second meeting between the two quads on Saturday morning in Hershey, the Eagles earned a measure of revenge with a 31-28 win.
North Allegheny jumped out to a 17-10 lead over Cumberland Valley behind a pinfall by Zach Smith (220), a tech fall by Dom Forys (126), and decisions by Luke Landefeld (113) and Scotty Stossel (120). However, the Eagles collected victories in the next five bouts to take what proved to be an insurmountable 31-17 advantage.  The Tigers' Jake Woodley (170) and Colton Byerly earned wins by decision and rounded out the day with a win by forfeit for Clay Byerly to bring the final score to 31-28, Eagles.
The NA grapplers finish the team portion of their schedule with a 16-3 record. North Allegheny will send representatives to the Section 3-AAA Individual Wrestling Championships on Saturday, February 22 at 9:30 am.  
Wrestling Match Summary: NA vs. Cumberland Valley
PIAA Consolation Semifinals
| Weight | Wrestlers | Score |
| --- | --- | --- |
| 220 | Zach Smith (NA) pinned Jake Black (CV) | 0:20 |
| 285 | Jackson Stanford (CV)pinned David Probert (NA) | 4:25 |
| 106 | William Kaldes (CV) maj. dec. Zack Stedeford (NA) | 15-4 |
| 113 | Luke Landefeld (NA) dec. Wyatt Long (CV) | 5-0 |
| 120 | Scotty Stossel (NA) ded. Cal Reichart (CV) | 5-2 |
| 126 | Dom Forys (NA) tech fall Saurab Faruque (CV) | 16-1 |
| 132 | Alex Wolfe (CV) dec. Jake Hinkson (NA) | 3-0 |
| 138 | Patrick Duggan (CV) pinned A.J. Boeh (NA) | 2:50 |
| 145 | Felix Belga (CV) dec. Drew Landefeld (NA) | 4-3 |
| 152 | T.C. Warner (CV) pinned Sean Kalmeyer (NA) | 2:43 |
| 160 | Brandon Rudy (CV) dec. Blynn Shideler (NA) | 5-0 |
| 170 | Jake Woodley (NA) dec. Dayne Ross (CV) | 10-4 |
| 182 | Colton Byerly (NA) dec. Brandon Rigney (CV) | 9-2 |
| 195 | Clay Byerly (NA) wbf | |