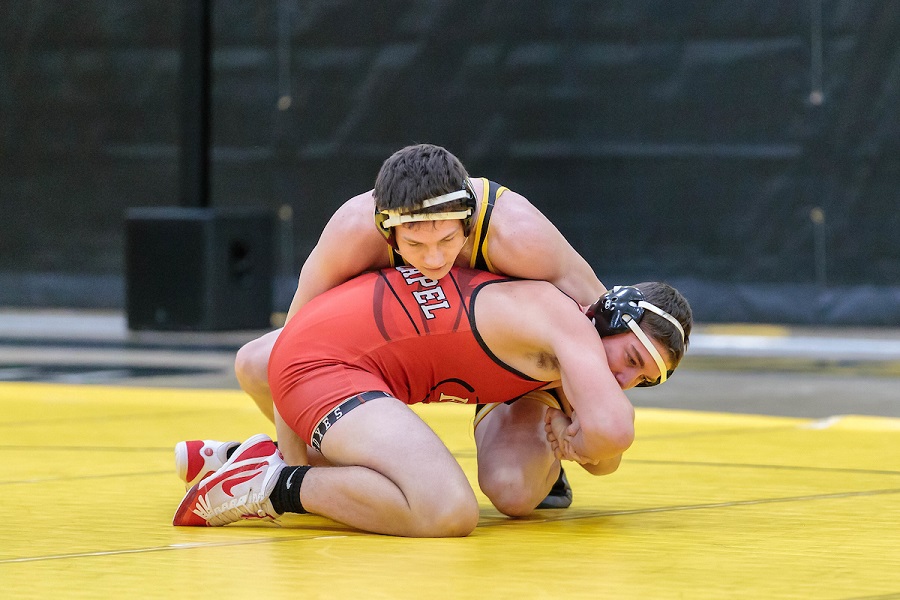 Tigers Slam Shaler In Section Finale, 42-31
The North Allegheny wrestling team secured a spot in the Section 3-AAA Team Tournament next week with a 42-31 victory over the Shaler Titans on Thursday night. In a critical section finale, the Tigers fell behind 22-6 before winning six of the last eight bouts to earn the win. North Allegheny will take on Seneca Valley on Wednesday in the section tournament. Hampton will host the tournament and will take on Mars in the semifinals. For a look at the entire bracket, click here.
The evening began at 113 pounds and Shaler earned wins in five of the first six bouts to garner a 22-6 advantage. Freddy Junko had the only win for the Tigers in the first six bouts with a win by fall over Hunter Petchar at 120 pounds.
Despite the early deficit, the Tigers rattled off four straight wins to take a 30-22 lead. Bobby Snyder pinned Torin June at 152 pounds, followed by forfeit victories for Manuel Batista and Jon Hoover at 160 and 170 pounds, respectively. With the Tigers riding a wave of momentum, senior Jacob Smalley earned a win by fall in the first period of his bout at 182 pounds with Chase Lynd to give the Tigers an eight-point advantage. For his convincing victory, Smalley was named the Wright Automotive Wrestler of the Match.
Shaler refused to go away, however, as Cole Siford picked a win by fall in overtime at 195 pounds and Joey Kremer picked up a 6-1 decision at 220 pounds to pull Shaler ahead, 31-30.
With two bouts remaining, the Tigers closed out the victory thanks to a win by fall from Derek Devine over Adam Willard at 285 pounds and a forfeit victory at 106 for Max Stedeford to round out a 42-31 triumph.
With the win, North Allegheny improved to 4-1 in Subsection 3B-AAA. Shaler dips to 3-2 and will face Butler in the section fifth place qualifier on Wednesday.
Wrestling Match Summary: NA vs. Shaler
| Weight | Wrestlers | Score |
| --- | --- | --- |
| 113 | Ryan Sullivan (SA) wbf | |
| 120 | Freddy Junko (NA) pinned Hunter Petchar (SA) | 1:14 |
| 126 | Dylan Winters (SA) dec. Jacob Downing (NA) | 3-2 |
| 132 | Garrett Reinsfelder (SA) maj. dec. Gabe Falo (NA) | 13-5 |
| 138 | Ellis Popiolkowski (SA) pinned Andrew Wang (NA) | 1:33 |
| 145 | Ian Sarberry (SA) dec. Nick Marcenelle (NA) | 2-1 |
| 152 | Bobby Snyder (NA) pinned Torin June (SA) | 2:53 |
| 160 | Manuel Batista (NA) wbf | |
| 170 | Jon Hoover (NA) wbf | |
| 182 | Jacob Smalley (NA) pinned Chase Lynd (SA) | 1:19 |
| 195 | Cole Siford (SA) pinned Pier Ferrara (NA) | 6:39 |
| 220 | Joey Kremer (SA) dec. Ben Grafton (NA) | 6-2 |
| 285 | Derek Devine (NA) pinned Adam Willard (SA) | 0:29 |
| 106 | Max Stedeford (NA) wbf | |