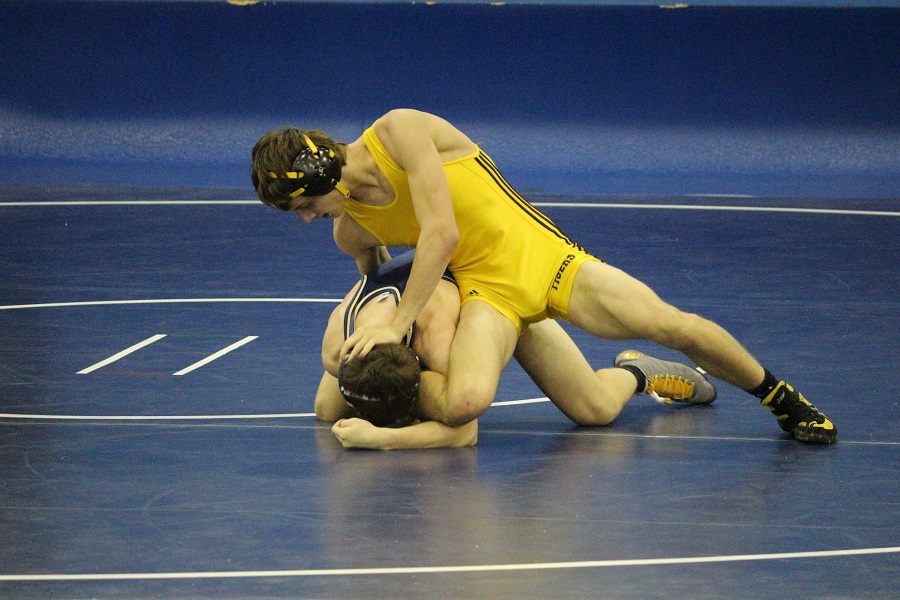 Tigers Slay Dragons In PIAA Preliminary Round, 56-12
The North Allegheny wrestling team throttled the Allderdice Dragons on Monday night in the Preliminary Round of the PIAA Team Wrestling Tournament, 56-12.
The Tigers used six falls to breeze by the City League champions for a convincing victory.  Jacob Downing (106), Jacob Fritch (170), Clay Byerly (182), Jeff Clemens (195), Layne Skundrich (220), and Zach Smith (285) all collected pins for North Allegheny. Jiatian Qu (126) and Sean Kalmeyer (145) added wins by major decision in their respective weight classes.
With the win, the Tigers advance to the Hershey on Thursday night to face the District 3 champion Cumberland Valley Eagles.  For the PIAA bracket, click here.
Wrestling Match Summary: NA vs. Allderdice
PIAA Class AAA Preliminary Round
| Weight | Wrestlers | Score |
| --- | --- | --- |
| 106 | Jacob Downing (NA) pinned Jamil Prude (AD) | 1:31 |
| 113 | Jared Prude (AD) pinned Devin Lasch (NA) | 2:24 |
| 120 | Tanner Jacobson (AD) dec. Harley Hartle (NA) | 4-2 |
| 126 | Jiatian Qu (NA) maj. dec. Shaan Cheema (AD) | 16-7 |
| 132 | Jake Hinkson (NA) wbf | |
| 138 | Will Baierl (NA) dec. Joshua Zinkovsky (AD) | 5-0 |
| 145 | Sean Kalmeyer (NA) maj. dec. Anunaquai Withrow-Davis (AD) | 9-0 |
| 152 | Sean Hoover (NA) dec. Samuel Nelson (AD) | 6-2 |
| 160 | Cameron Jacobson (AD) dec. Jake Woodley (NA) | 6-5 |
| 170 | Jacob Fritch (NA) pinned Khalil Jarrett (AD) | 5:51 |
| 182 | Clay Byerly (NA) pinned Landon Harper (AD) | 1:57 |
| 195 | Jeff Clemens (NA) pinned Nick Brucker (AD) | 1:46 |
| 220 | Layne Skundrich (NA) pinned Anthony Langford (AD) | 0:57 |
| 285 | Zach Smith (NA) pinned Marcle Slater (AD) | 0:15 |