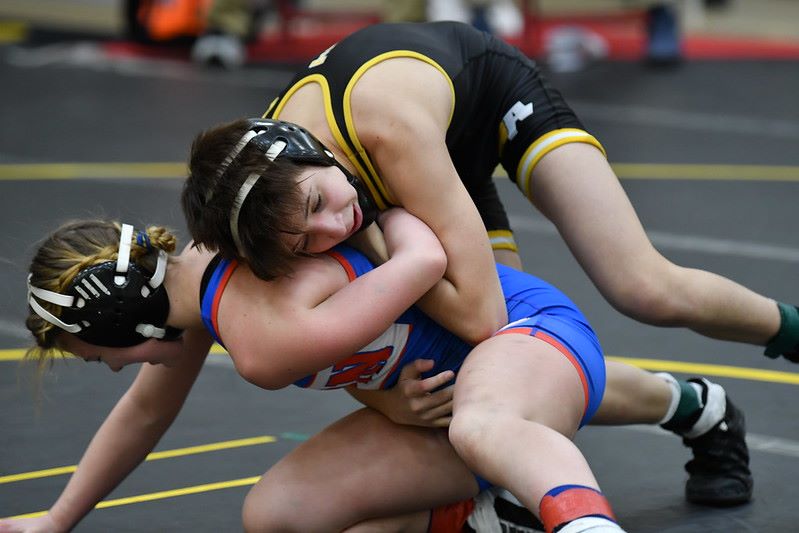 Tigers Take 13th Place At Mid-Winter Mayhem
The North Allegheny boys' wrestling team took 13th place (96.5 points) at the annual Mid-Winter Mayhem Tournament at the Kovalchick Convention Center at Indiana University of Pennsylvania. Individually, senior Adam Rohan (160) and freshman Gus Stedeford (107) both medaled with fifth-place finishes in their respective weight classes.
Rohan pinned William Steele of Troy High School in his first bout and followed with a 6-4 sudden victory against Logan Augenbaugh of Curwensville. After a loss in the quarterfinal round, Rohan bounced back with a win by fall over Evan Brokenshire of Benton and continued his winning ways with a 10-0 major decision against Brookeville's Coyha Brown before dropping a bout in the consolation semifinals. Qualifying for the fifth-place consolation bout, Rohan picked up a 4-3 decision over McDowell's Caleb Butterfield to earn a tournament medal.
Stedeford's run through the 107-pound bracket began with a win by fall against Leo Flores of West Chester Rustin and followed with a 3-2 decision over Marion Center's Griffith Tinsman. Despite a loss in the quarterfinals, Stedeford was undeterred and picked up a 15-0 tech fall triumph over Cade Stern of West Allegheny. Stedeford earned a win by fall over Manny Stoltzfus of Montgomery in 1:50 before falling in the consolation semifinals. To claim the fifth-place medal, Stedeford topped Penn-Trafford's Dylan Barrett by a 4-2 decision.
Freshman Griffen Reid delivered an impressive showing at 121 pounds with a 5-2 performance to reach the fifth round of the consolation bracket. Senior Nathan Monteparte (133) and junior Casey Walker (114) won four matches in their respective weight classes. Junior William Bentrim went 3-2 at 127 pounds. Sam Horton, Kellen Buggey, Mason Hartung, Charlie LaQuatra, Jayson Flener and Michael Hershberger all took part in the tournament and represented North Allegheny well.
For a look at North Allegheny's results from the Mid-Winter Mayhem Tournament, click here.
North Allegheny returns to section action on Wednesday night with a matchup against the Seneca Valley Raiders. The contest will be broadcast live by the North Allegheny Sports Network.