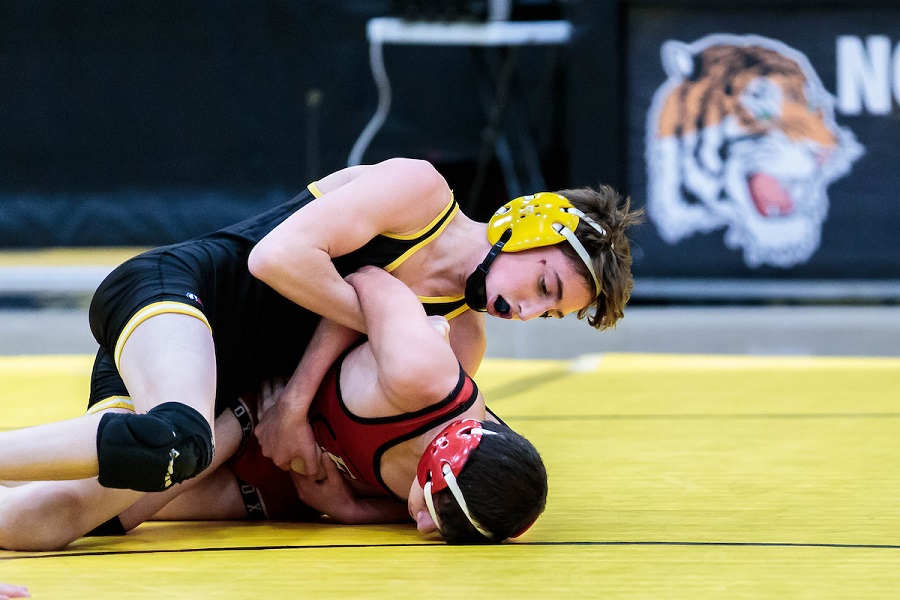 Tigers Claim 3rd Place at Section 3-AAA Team Tournament
The North Allegheny wrestling team recovered from a semifinal defeat to Seneca Valley to take third place in the Section 3-AAA team tournament on Wednesday night. The evening began with a 52-15 loss to the Raiders but ended with a 43-21 triumph over the Mars Planets in the section consolation match. Seneca Valley won its first section crown since 2001 by defeating Hampton in the championship.
Against Seneca Valley, the Tigers managed only three victories with a 5-3 decision by Ben Grafton over Nick Funovits at 220 pounds, a win by fall by Derek Devine over Kevin Meeder at 285 pounds, and a win by fall by Jon Hoover over Conor Hayes at 160 pounds. Hoover was named the Wright Automotive Wrestler of the Match for his pin at 49 seconds in the first period.
The third place consolation match with Mars controlled by the Tigers. North Allegheny won four of the first five bouts and jumped out to an early 21-3. Jacob Smalley (182) and Devine (285) collected wins by fall, Grafton (220) picked up a win by forfeit and Max Stedeford (106) earned a 6-4 decision over Jeffrey DeSantes for the early 18-point advantage. In the 106 pound bout, Stededord scored five points in the final 15 seconds of the match to claim the win. For his efforts, Stedeford was named the Wright Automotive Wrestler of the Match.
Following a win by forfeit for Mars at 113 pounds to cut the NA lead to 21-9, the Tigers won four consecutive bouts to increase the lead to 37-9 and lock up a third-place finish in the Section 3-AAA team tournament. Freddy Junko (120) earned a major decision over Charlie Luedtke, Mohammaad Khatami (126) picked up a win by forfeit, Jacob Downing (132) earned a 3-0 decision over Aidan Leshinsky and Gabe Falo (138) edged Max Lamm for a 6-5 decision.
After clinching the third-place match, the Tigers won two of the last four bouts to bring the final score to 43-21. Nick Marcenelle (152) and Jon Hoover (160) put the finishing touches on the night with wins by decision in their respective weight classes.
North Allegheny sits at 5-2 overall on the season and will take part in the WPIAL Team Tournament on Wednesday, January 31.
Wrestling Match Summary: NA vs. Seneca Valley
| Weight | Wrestlers | Score |
| --- | --- | --- |
| 170 | Tyler Gross (SV) tech fall Jacob Smalley (NA) | 16-0 |
| 182 | Pat Johnson (SV) dec. Jimmy Turici (NA) | 2-1 (OT) |
| 195 | John Siwiak (SV) wbf | |
| 220 | Ben Grafton (NA) dec. Nick Funovits (SV) | 5-3 |
| 285 | Derek Devine (NA) pinned Kevin Meeder (SV) | 4:34 |
| 106 | Alejandro Herrea (SV) dec. Max Stedeford (NA) | 4-0 |
| 113 | Dylan Chappell (SV) wbf | |
| 120 | Louis Newell (SV) tech fall Freddy Junko (NA) | 17-2 |
| 126 | Roman Oshea (SV) dec. Jacob Downing (NA) | 5-1 |
| 132 | Antonio Amelio (SV) dec. Gabe Falo (NA) | 4-2 |
| 138 | Drew Vlasnik (SV) pinned Andrew Wang (NA) | 1:07 |
| 145 | Nick Montalbano (SV) pinned Nick Marcenelle (NA) | 1:07 |
| 152 | Michael Adamson (SV) pinned Manuel Bautista (NA) | 1:09 |
| 160 | Jon Hoover (NA) pinned Conor Hayes (SV) | 0:49 |
*************
Wrestling Match Summary: NA vs. Mars
| Weight | Wrestlers | Score |
| --- | --- | --- |
| 182 | Jacob Smalley (NA) pinned Kevin Soergel (M) | 1:29 |
| 195 | Anthony Grieco (M) dec. Jimmy Turici (NA) | 3-1 |
| 220 | Ben Grafton (NA) wbf | |
| 285 | Derek Devine (NA) pinned Jeff DeSantes (M) | 3:26 |
| 106 | Max Stedeford (NA) dec. Noah Hunkele (M) | 6-4 |
| 113 | Anthony Maiure (M) wbf | |
| 120 | Freddy Junko (NA) maj. dec. Davis Luedtke (M) | 9-1 |
| 126 | Mohammaad Khatami (NA) wbf | |
| 132 | Jacob Downing (NA) dec. Aidan Leshinksy (M) | 3-0 |
| 138 | Gabe Falo (NA) dec. Max Lamm (M) | 6-5 |
| 145 | Alex Hornfeck (M) pinned Andrew Wang (NA) | 1:02 |
| 152 | Nick Marcenelle (NA) dec. Mitchell McMarlin (M) | 1-0 |
| 160 | Jon Hoover (NA) dec. Jake Richardson (M) | 5-1 |
| 170 | Sean McElhinny (M) wbf | |