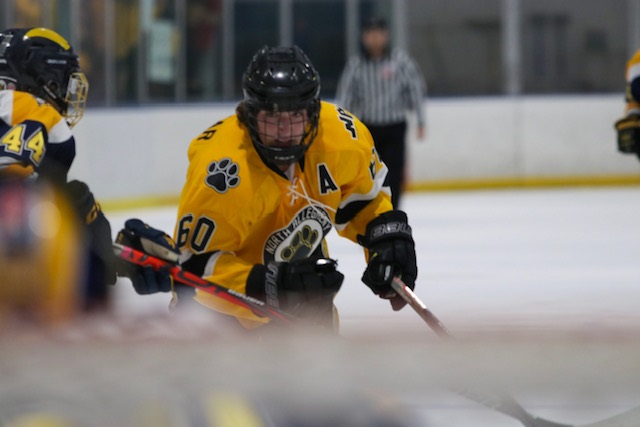 Tigers Take Penguins Cup Final Rematch to Open Season, 3-2
North Allegheny and Mt. Lebanon met in the 2020-2021 Penguins Cup Final with the Tigers winning 4-1. There was no revenge for Mt. Lebanon on Thursday night as North Allegheny was able to upend the Blue Devils once again, winning 3-2 at the Baierl Ice Complex.
North Allegheny came out physical to start the season and immediately got on the board five minutes in when Matt Irvin found Nolan Colinear and the Tigers immediately jumped out to a 1-0 lead. The remainder of the period was back and forth but no one was able to score and North Allegheny led 1-0 after a period of play.
The second stanza was all North Allegheny for the first sixteen minutes with the Tigers out shooting Mt. Lebanon 13-5 in the period but in the final minute, on a delayed penalty, the Blue Devils were able to even the score when Ryan Patrick found the back of the net and the score was 1-1 heading into the final frame.
Mt. Lebanon controlled play early in the third period but Connor Chi got North Allegheny into the zone, Will Mensch took a shot from the blue line. Luke Washabaugh got a piece of the puck on the way in and the Tigers took a 2-1 lead with eight minutes remaining. 39 seconds later, Colinear scored again, with assists from Shane O'Neil and Trey Gallo to make the game 3-1. For his efforts, Colinear was named the Wright Automotive Player of the Game. The Blue Devils made it interesting scoring with a little over a minute remaining in the game, but the Tigers hung on for a 3-2 opening night victory.
Andrew Long got the win in his varsity debut stopping 21 of 23 shots. Austin Martin made 29 saves in the loss.
North Allegheny starts the season 1-0-0. Mt. Lebanon falls to 1-1-0. The Tigers are back in action next Thursday when they head to Bethel Park to take on the Black Hawks at 9 p.m.
Ice Hockey Summary vs. Mt. Lebanon, 10-7-21
| GAME SUMMARY | | | | |
| --- | --- | --- | --- | --- |
| SCORE BY PERIODS | 1 | 2 | 3 | FINAL |
| Mt. Lebanon | 0 | 1 | 1 | 2 |
| North Allegheny | 1 | 0 | 2 | 3 |