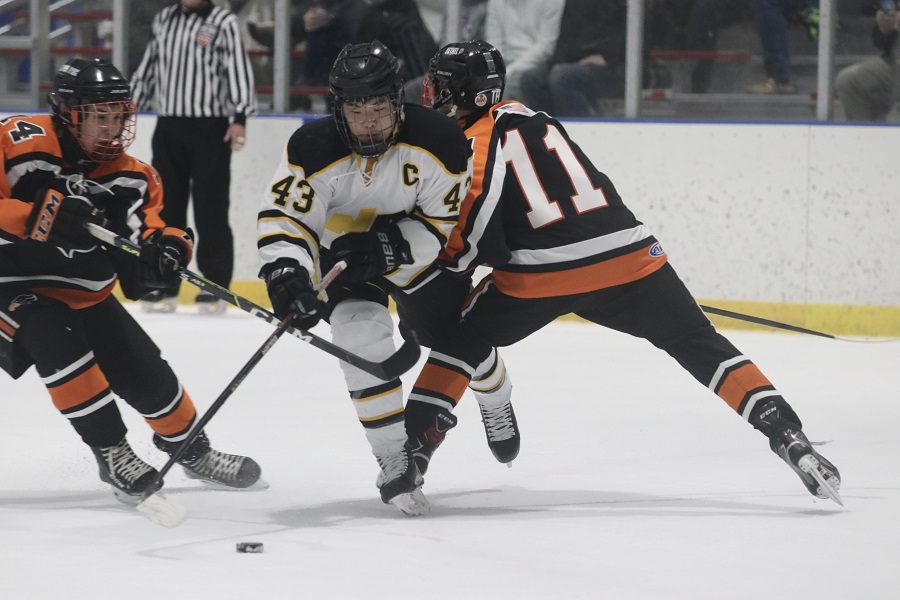 Tigers Throttle Black Hawks, 8-1, in PIHL Quarterfinals
Top-seeded North Allegheny Ice Hockey took care of business in the PIHL Class 3A quarterfinals, topping eight-seeded Bethel Park, 8-1, at the Baeirl Ice Complex for the Tiger's third consecutive win over the Black Hawks this season.
NA stormed out of the gates early with plenty of energy in the opening minutes of the game. Just about seven minutes into the contest, junior forward Nate Spak blocked a shot in the defensive end, and then was the recipient of a lead pass up the middle of the rink into the offensive zone. Spak turned the 2-on-1 opportunity into the first goal of the game, assisted by fellow junior Matt Irvin.  Just a few minutes later, senior captain Connor Chi lit the lamp, rifling a shot in the slot off of a rebound to make it 2-0, Tigers. Irvin also assisted on the second tally.
The Tigers dominated the second period, as Irvin scored a goal of his own, assisted by junior Trey Gallo. Chi capitalized on the Tigers' second power play chance of the night, assisted by senior defenseman Kyle Holmes. After a Bethel Park Goalie change, Chi completed the hat trick and extending the lead to 5-0, scoring off of a bad giveaway deep in the Bethel zone. Junior Lorenzo Colaizzi added a sixth Tigers tally with less than a minute to go in the frame, assisted by Evan Kaminski.
The Black Hawks finally cracked the score sheet in the third as senior Matt Lucido netted a power play goal. Chi scored his fourth of the night with less than five minutes to play in the game, and junior Brett Baker scored the first varsity goal of his career with less than two minutes left. Baker tapped in a goal in the blue paint, after Bethel Park's goalie Luke Duda made the initial save off the faceoff, but the puck popped into the air and landed in the back of the net.
Junior goalie Rylan Murphy looked strong between the pipes, stopping 10 of 11 shots he faced.
Chi earned Wright Automotive Player of the Game honors for his four-goal performance.
With the win, North Allegheny faces No. 5 Seneca Valley in the PIHL Semifinals Monday night at the RMU Island Sports Complex. That game will be broadcast on the NA Sports Network.