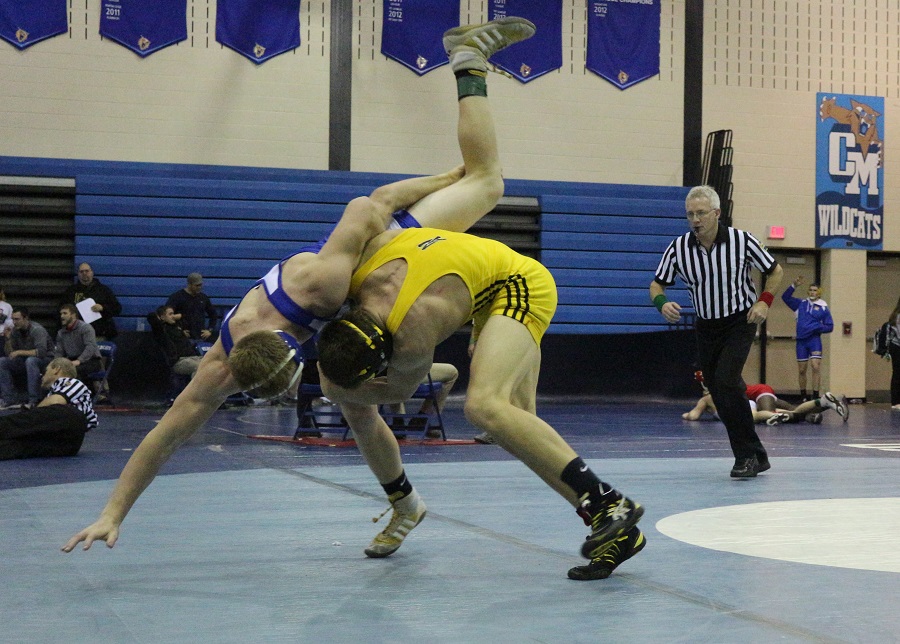 Tigers Top Mifflin County In PIAA 1st RD Consolations
In a role reversal from last night's PIAA opening round defeat to Cumberland Valley, the North Allegheny wrestling team rallied from behind for a convincing 39-22 win over Mifflin Country in in the First Round of the PIAA Consolations. The Tigers earned numerous bonus point victories and won six of the last seven bouts to advance to the second round.
Beginning at 120 pounds, the Tigers fell behind 4-0 but quickly tied the score with a 9-0 major decision by Luke Landefeld at 126 pounds over Jonah Kile.  North Alegheny grabbed a brief 8-4 lead following an 8-0 major decision by Jake Hinkson over Logan Wise at 132 pounds.  Mifflin County responded by winning the next four bouts to take a 19-8 lead.
Facing a nine-point deficit, North Allegheny rolled off six straight wins to take the lead and ice the victory.  Jake Woodley earned a 10-1 major decision at 170 pounds, Clay Byerly accepted a win by forfeit at 182 pounds, and Jeff Clemens seized a 7-1 decision at 195 pounds.  Layne Skundrich and Zach Smith followed with back-to-back pin falls to clinch the meet and Jacob Downing added a win by forfeit at 106 pounds to bring the team score to 33-19, Tigers.  Mifflin County's Kyle Smith brought the final score to 33-22, Tigers, with a 3-0 decision at 113 pounds.
The Tigers improve to 16-4 overall on the season and will await their next opponent in the second round of the consolation bracket.  That meet will take place later this afternoon at the Giant Center in Hershey.
Wrestling Match Summary: NA vs. Mifflin County
PIAA Class AAA Consolations 1st RD
| Weight | Wrestlers | Score |
| --- | --- | --- |
| 120 | Noah Myers (MC) maj. dec. Zack Stedeford (NA) | 9-1 |
| 126 | Luke Landefeld (NA) maj. dec. | 9-0 |
| 132 | Jake Hinkson (NA) maj. dec. Logan Wise (MC) | 8-0 |
| 138 | Trent Hidlay (MC) dec. A.J. Boeh (NA) | 2-1 |
| 145 | Hayden Hidlay (MC) pinned Will Baierl (NA) | 1:41 |
| 152 | Isaac Underhill (MC) dec. Sean Hoover (NA) | 5-3 |
| 160 | Jacob Fritch (NA) dec. Noah Stewart (MC) | 4-0 |
| 170 | Jake Woodley (NA) maj. dec. Keith Corson (MC) | 10-1 |
| 182 | Clay Byerly (NA) wbf | |
| 195 | Jeff Clemens (NA) dec. Brandon Wilson (MC) | 7-1 |
| 220 | Layne Skundrich (NA) pinned Wyatt Renninger (MC) | 4:55 |
| 285 | Zach Smith (NA) pinned Gavin Erb (MC) | 0:39 |
| 106 | Jacob Downing (NA) wbf | |
| 113 | Kyle Smith (MC) dec. Gabe Falo (MC) | 3-0 |