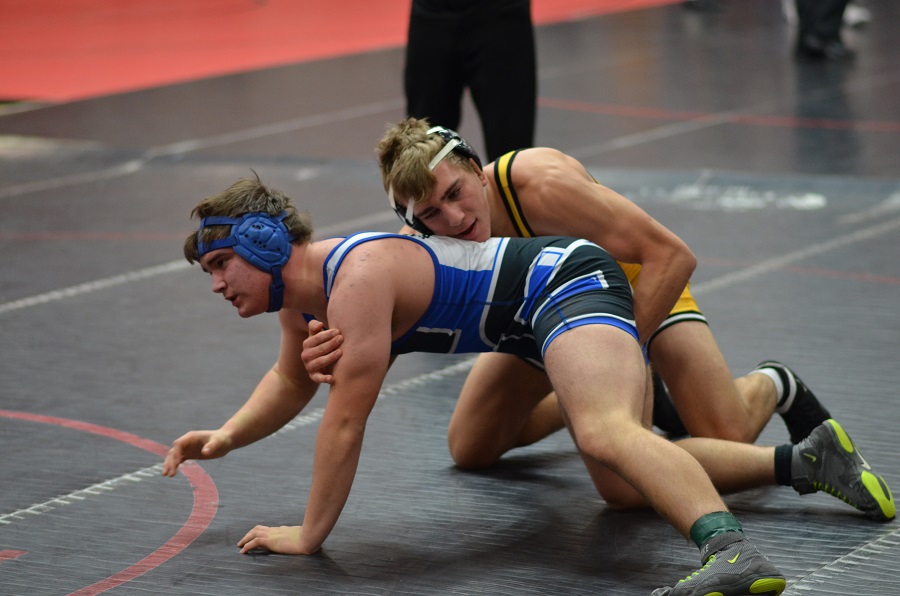 Tigers Top Talbots For First Place In Section 3B-AAA
The North Allegheny wrestling team defeated the Hampton Talbots on Wednesday night, 51-25, to finish in first place in Section 3B-AAA. Leading 27-25 with four bouts remaining, the Tigers rolled off three straight wins by fall and claimed a forfeit in the final bout. A.J Rohan (132), Max Stedeford (138) and Freddy Junko (145) earned the decisive three pins to propel the Tigers to victory.
The night began at 160 pounds where Grant MacKay opened with a win by fall over Gage Galuska for a 6-0 lead. Hampton responded with a major decision and pin fall to take a 10-6 lead.
At 195 pounds, Nick Marcenelle collected a pin fall at 4:22 cover Conrad Herold to give NA the lead back, 12-10. With the victory, Marcenelle was named the Wrestler of the Match by the North Allegheny Sports Network.
The lead changed hands in the next bout when Hampton's Justin Hart picked up an 8-5 decision at 220 pounds, giving the Talbots a 15-13 advantage.
North Allegheny answered back with a 5-0 decision by Ben Grafton at 285 pounds over Dawson Dietz for a 16-15 Tigers lead.
The next three bouts ended in forfeit, with the Tigers taking 2 out of 3 for a 27-19 lead. Hampton pulled to within 27-25 thanks to a win by fall from Zachary Wright at 126 pounds. However, it turned out to be the Talbots last win of the evening as Rohan, Stedeford and Junko followed with three straight pin falls to clinch the NA victory.
After beating Hampton, North Allegheny leaps to 5-0 on the season and will take part in the Section 3-AAA Team Tournament on Wednesday, Jan. 22. The tournament will be broadcast live via the internet by the North Allegheny Sports Network.
Wrestling Match Summary: NA vs. Hampton
| Weight | Wrestlers | Score |
| --- | --- | --- |
| 160 | Grant MacKay (NA) pinned Gage Galuska (H) | 2:54 |
| 170 | Tyler Kocak (H) maj. dec. Bobby Snyder (NA) | 14-4 |
| 182 | Corey Scherer (H) pinned Cameron Fries (NA) | 5:45 |
| 195 | Nick Marcenelle (NA) pinned Conrad Harold (H) | 4:23 |
| 220 | Justin Hart (H) dec. Luke Rumpler (NA) | 8-5 |
| 285 | Ben Grafton (NA) dec. Dawson Dietz (H) | 5-0 |
| 106 | Sam Horton (NA) wbf | |
| 113 | Cameron Rakar (H) wbf | |
| 120 | Dylan Coy (NA) wbf | |
| 126 | Zachary Wright (H) pinned Nathan Monteparte (NA) | 3:44 |
| 132 | A.J. Rohan (NA) pinned Ryan Olszewski (H) | 3:23 |
| 138 | Max Stedeford (NA) pinned Jon Maguire (H) | 2:36 |
| 145 | Freddy Junko (NA) pinned Alan Wolfe (H) | 2:54 |
| 152 | Ian Branstetter (NA) wbf | |