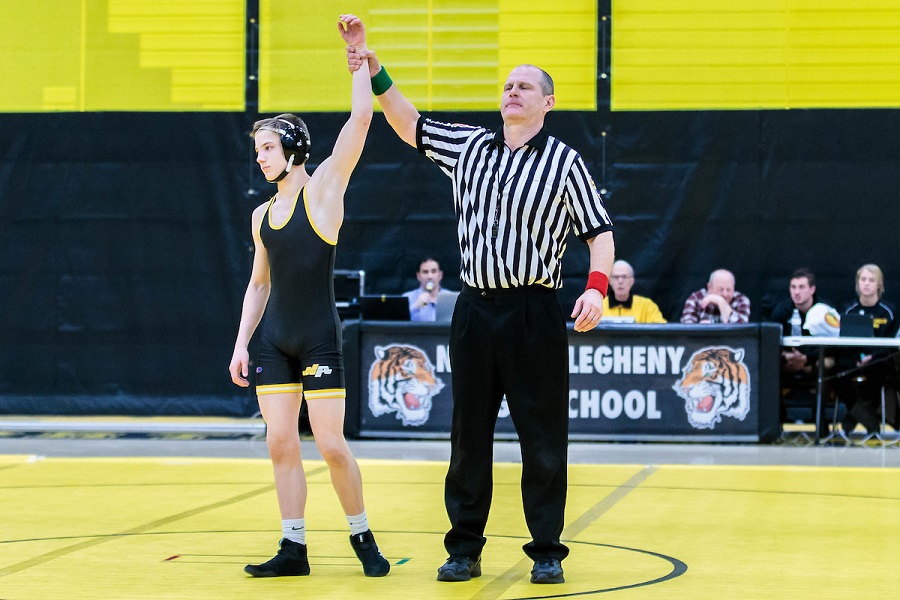 Tigers Top Titans For Section Win, 57-24
The North Allegheny wrestling team prevailed over the Shaler Titans on Wednesday night, 57-24, in the WPIAL Class-AAA Section 3-B opener. Leading 16-12 through five bouts, the Tigers picked up four consecutive victories to pull away for the win.
The Tigers jumped out to a quick 10-0 lead thanks to a win by forfeit from Massima Curry (120) and 17-5 major decision by Freddy Junko (126) over Dustin Lenkner.
After a win by fall for Shaler's Andrew D'Agostino (132) cut the NA lead to 10-6, the Tigers answered right back with a win by fall courtesy of Ian Branstetter (138) over Hunter Petchar for a 16-6 advantage.
Shaler's Ian Scarberry (145) earned a pin fall to again trim the NA lead to four, 16-12. From there, the Tigers gained command of the meet with four consecutive victories.
Bobby Snyder (152) collected a win by forfeit and Nick Marcenelle (160) followed with a pinfall over Jake Pollak for a 28-12 lead. The Tigers extended the advantage to 39-12 with a tech fall by Brady Leczo (170) and a win by forfeit for Jon Hoover (182).
The Tigers staved off the Titans the rest of the way courtesy pin falls from Ben Grafton (220), Dylan Coy (106) and a win by forfeit by Brad Stipetich (113).
With the win, North Allegheny improves to 1-0 in subsection 3B. Shaler slips to 0-1. The Tigers will take part in the Panther Holiday Classic at Mount Aloysius College over the weekend.
Wrestling Match Summary: NA vs. Shaler
| Weight | Wrestlers | Score |
| --- | --- | --- |
| 120 | Massima Curry (NA) wbf | |
| 126 | Freddy Junko (NA) maj. dec. Hunter Petchar (SA) | 17-5 |
| 132 | Andrew D`Agostino (SA) pinned Jack Gilliland (NA) | 0:27 |
| 138 | Ian Branstetter (NA) pinned Hunter Petchar (SA) | 3:40 |
| 145 | Ian Scarberry (SA) pinned Brandon Weaver (NA) | 1:01 |
| 152 | Bobby Snyder (NA) wbf | |
| 160 | Nick Marcenelle (NA) pinned Jake Pollak (SA) | 1:38 |
| 170 | Brady Leczo (NA) tech fall Cole Siford (SA | 19-2 |
| 182 | Jon Hoover (NA) wbf | |
| 195 | Joey Kremer (SA) pinned Norman Bernardi (NA) | 4:30 |
| 220 | Ben Grafton (NA) pinned Zachary Valentine (SA) | 0:45 |
| 285 | Jeff Bonnette (SA) pinned Austin Huebner (NA) | 0:18 |
| 106 | Dylan Coy (NA) pinned Bradley Yeager (SA) | 0:31 |
| 113 | Brad Stipetich (NA) wbf | |