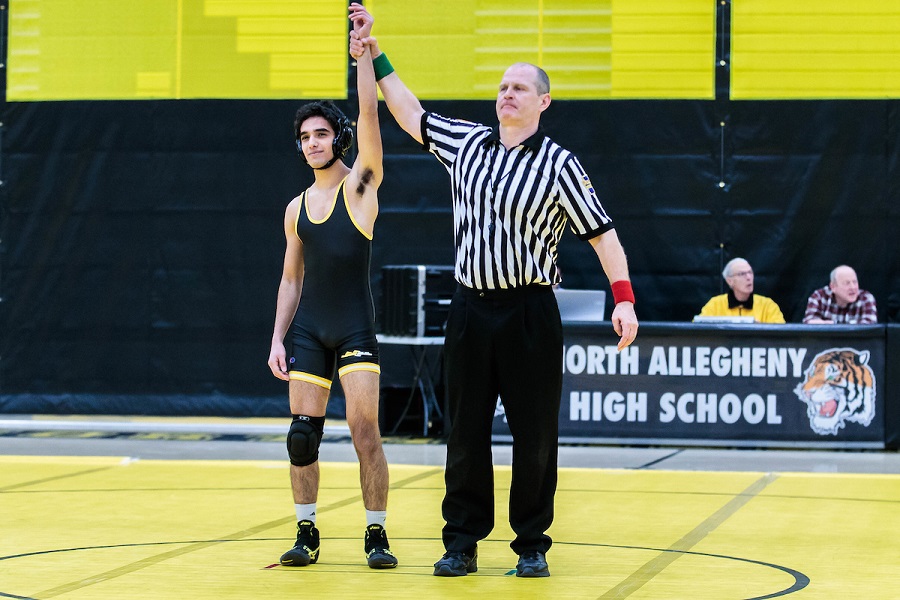 Tigers Triumphant In Non-Section Meeting With Bethel Park
The North Allegheny wrestling team built a 36-0 lead and cruised to a 45-32 win over the Bethel Park Black Hawks on Thursday night. The Tigers used two pin falls and four wins by forfeit to construct an insurmountable lead.
Seniors Derek Devine (285) and Mohammaad Khatami (120) collected wins by fall during the opening surge for the Tigers. Sophomore Nick Marcenelle added a pin fall over Justin Metzmaier at 145 pounds and junior Jon Hoover earned an 8-3 decision over Luke Montgomery at 160 pounds.
North Allegheny improves to 6-3 overall with the win and will host Thomas Jefferson on Tuesday at 7:00 p.m.
Wrestling Match Summary: NA vs. Bethel Park
| Weight | Wrestlers | Score |
| --- | --- | --- |
| 285 | Derek Devine (NA) pinned William Rooney (BP) | 1:50 |
| 106 | Max Stedeford (NA) wbf | |
| 113 | Freddy Junko (NA) wbf | |
| 120 | Mohammaad Khatami (NA) pinned Zuri Lane Griffore (BP) | 0:11 |
| 126 | Jacob Downing (NA) wbf | |
| 132 | Gabe Falo (NA) wbf | |
| 138 | Parker Loera (BP) dec. Andrew Wang (NA) | 6-0 |
| 145 | Nick Marcenelle (NA) pinned Justin Metzmaier (BP) | 2:50 |
| 152 | Hunter Kernan (BP) tech fall Manuel Bautista (NA) | 18-2 |
| 160 | Jon Hoover (NA) dec. Luke Montgomery (BP) | 8-3 |
| 170 | Nicholas Putt (BP) wbf | |
| 182 | Jason Montgomery (BP) pinned Jimmy Turici (NA) | 1:53 |
| 195 | Noah Seeberger (BP) wbf | |
| 220 | Riley O'Mara (BP) wbf | |