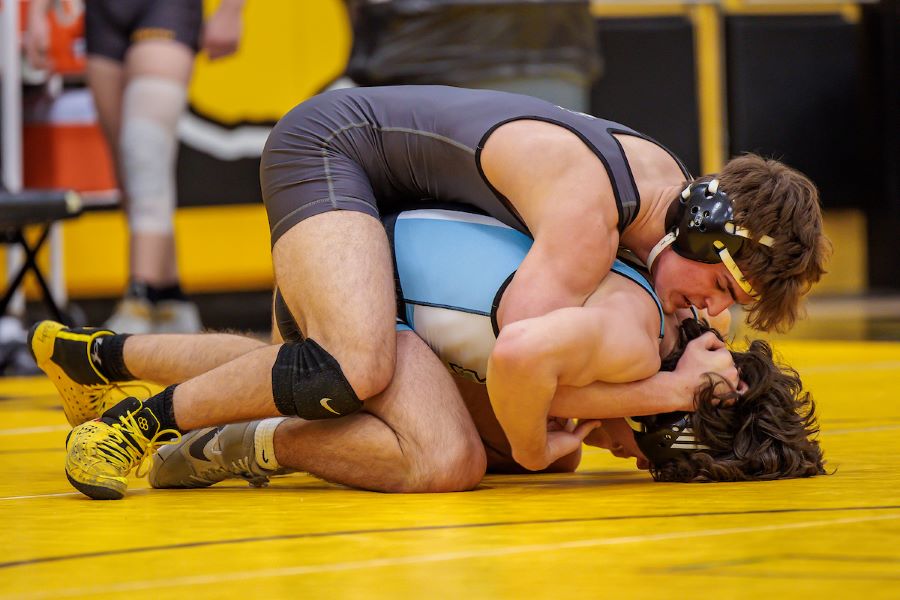 Tigers Upended by Mustangs In WPIAL 1st Round
by Jared Barton
The North Allegheny Boys' Wrestling Team started the match close, but ultimately lost to Plum 32-22 in the first round of the WPIAL 3A Team Tournament at Waynesburg Central High School Wednesday night.
After a Plum opening decision in the 139-pound weight class, Senior Jayson Flener earned a 6-0 decision over Charlie Campbell to tie the match at 3. The Tigers also responded to a pin in the 152-pound weight class with a 16-7 major decision win for senior Adam Rohan over Julien Sepelyak in the 160 pound match. The Mustangs led the dual 9-7 at that point.
Following a Plum tech fall in the 172 bout and another Mustang pin in the 189-pound match, Tigers junior Aidan Buggey pinned fellow senior Andrew Claassen in 51 seconds during the 215 bout trimming the deficit to 20-13.
Plum won the next four matches on decisions before junior William Bentrim toughed out a close 1-0 decision over Carson Yocca. Plum led 32-16.
The match ended with a forfeit win for senior Nathan Monteparte in the 133-pound weight class.
Aidan Buggey earned Wright Automotive Wrestler of the Match laurels for his quick pin. The victory improves his season individual record to 23-6 on the season.
The loss eliminates the Tigers from the 3A Team Tournament with a 10-5 overall record this season.
Wrestling Match Summary: NA vs. Plum
| Weight | Wrestlers | Score |
| --- | --- | --- |
| 139 | Trent Reese (Plum) dec. Sam Horton (NA) | 3-0 |
| 145 | Jayson Flener (NA dec. Charlie Campbell (Plum) | 6-0 |
| 152 | Dakoda Pisano (Plum) pinned Kellen Buggey (NA) | 1:50 |
| 160 | A.J. Rohan (NA) maj. dec. Julien Sepelyak (Plum) | 16-7 |
| 172 | Antonio Walker (Plum) tech fall Michael Hershberger (NA) | 20-5, 4:00 |
| 189 | Jack Tongel (Plum) pinned Mason Hartung (NA) | 2:40 |
| 215 | Aidan Buggey (NA) pinned Andrew Claasen (Plum) | 0:51 |
| 285 | Frank Macioce (Plum) dec. Joseph Booth (NA) | 8-4 |
| 107 | Owen Campbell (Plum) dec. Gus Stedeford (NA) | 2-0 |
| 114 | Rylen Campbell (Plum) dec. Casey Walker (NA) | 6-2 |
| 121 | Sam Snyder (Plum) dec. Griffen Reid (NA) | 7-2 |
| 127 | William Bentrim (NA) dec. Carson Yocca (Plum) | 1-0 |
| 133 | Nathan Monteparte (NA) wbf | |