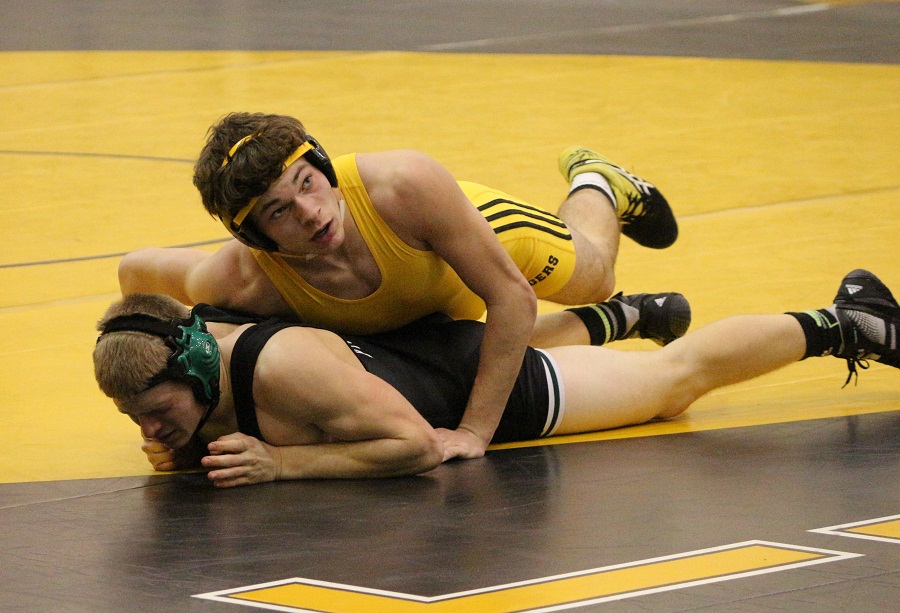 Tigers Use 4 Pins To Punish Raiders, 55-9
The North Allegheny Wrestling Team punished the Seneca Valley Raiders on Wednesday night with a 55-9 victory in their Section 3 opener. Senior Scotty Stossel (120), freshman Jake Hinkson (132), and juniors Clay Byerly (182) and David Probert (220) all collected pin falls in the victory over the Raiders. Senior Dom Forys earned an impressive tech fall over Nick Zoria at 126 pounds.
North Allegheny starts out the season at 1-0 and will take part in the Iron Man Invitational this weekend. Seneca Valley falls to 3-2 overall and 0-1 in the section.  The Raiders visit Mars on Wednesday in their second section meet of the season.  
Wrestling Match Summary: NA at Seneca Valley
| Weight | Wrestlers | Score |
| --- | --- | --- |
| 106 | Alex Lynch (SV) dec. Zack Stedeford (NA) | 6-0 |
| 113 | Luke Landefeld (NA) maj. dec. Ben Lynch (SV) | 11-0 |
| 120 | Scotty Stossel (NA) pinned Alex Fisher (SV) | 3:18 |
| 126 | Dom Forys (NA) tech fall Nick Zoria (SV) | |
| 132 | Jake Hinkson (NA) pinned Gavin Funovits (SV) | 2:14 |
| 138 | Jesse Rodgers (NA) maj. dec. Zain Skalos (SV) | 13-4 |
| 145 | Richie Boeh (NA) dec. Seth Schiever (SV) | 5-0 |
| 152 | Blynn Shidler (NA) dec. Brennan O'Shea (SV) | 3-0 |
| 160 | Jake Woodley (NA) dec. Steve Rudolph (SV) | 9-3 |
| 170 | Colton Byerly (NA) dec. Brad Hensler (SV) | 7-1 |
| 182 | Clay Byerly (NA) pinned John Proper (SV) | 0:34 |
| 195 | Zach Smith (NA) wbf | |
| 220 | David Probert (NA) pinned Brandon Nulph (SV) | 0:26 |
| 285 | Brady Moore (SV) pinned Mark Littlefield (NA) | 2:45 |