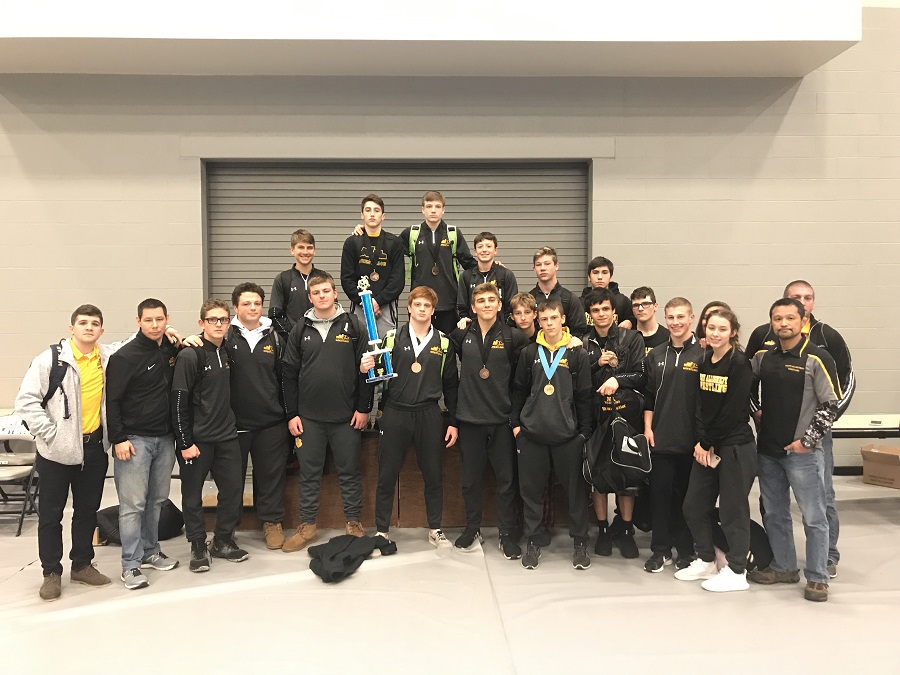 Tigers Win Tournament Title At Panther Holiday Classic
The North Allegheny Tigers traveled to Mt. Aloysius College over the weekend and earned a team championship at the Panther Holiday Classic. The Tigers totaled a team score of 163, edging out Saint Joseph's Catholic Academy by eight points.
The Tigers had seven place-winners, the most of any team in the tournament. NA also crowned one individual champion as freshman Dylan Coy garnered gold at 106 pounds. Coy collected three wins by fall and a 2-0 decision over Suds Dubler of Glendale in the finals. Dubler was the sixth-ranked wrestler in Class AA in Pennsylvania. 

Senior Jon Hoover earned bronze at 170 pounds, defeating fourth-ranked Cole Sossong of Portage Area by a 1-0 decision in the third-place bout. Hoover picked up four falls on his way to a 6-1 showing. His only loss was to Derek Brown of Penn Cambria, the top-ranked wrestler at 170 in Class AA in the state.

Three different Tigers won fourth-place medals at the tournament, including Max Stedeford (120), Freddy Junko (126) and Nick Marcenelle (160). Stedeford went 5-2, earning one win by fall and two tech falls in the 120-pound bracket. Stedeford defeated Amonn Ohl of Saint Joseph's Catholic Academy, ranked third in PA, in the consolation semifinals, 8-2.
Junko went 6-2 at the tournament with his only two losses to Hunter Tibbetts of Westfield, VA, a returning Class 6A state medalist in Virginia. Junko tallied two wins by fall and defeated 12th-ranked Liam Logue of Father Judge in the consolation semifinals.
Marcenelle was 4-2 at the tournament, posting two major decisions and one win by fall at 160 pounds. He earned a 13-2 major decision over Josh MacNamara of Cumberland Valley, the 23rd ranked wrestler in PA, in the quarterfinals.
At 113 pounds, sophomore Brad Stipetich earned a seventh-place medal with a 5-2 showing and two wins by fall. His only two losses were to 11th-ranked Mikey Myers of Williams Valley.
Junior Ian Branstetter was an eighth-place finisher at 138 pounds, going 5-3 with one fall and one major decision.
At 220 pounds, junior Ben Grafton went 2-2 with two falls, falling just one win short of placing. Grafton was edged by third-ranked Nate Simmers of Altoona in the quarterfinals.
Other Tigers who competed at the Panther Classic included Dom Hogan (132), Brandon Weaver (145), Bobby Snyder (160) and Austin Huebner (285). Snyder and Huebner both were 3-2 in their respective weight classes. For a look at the complete list of brackets from the Panther Classic, click here.
Following a title win at the Panther Holiday Classic, the North Allegheny wrestling team will visit North Hills for a section matchup on Wednesday night.