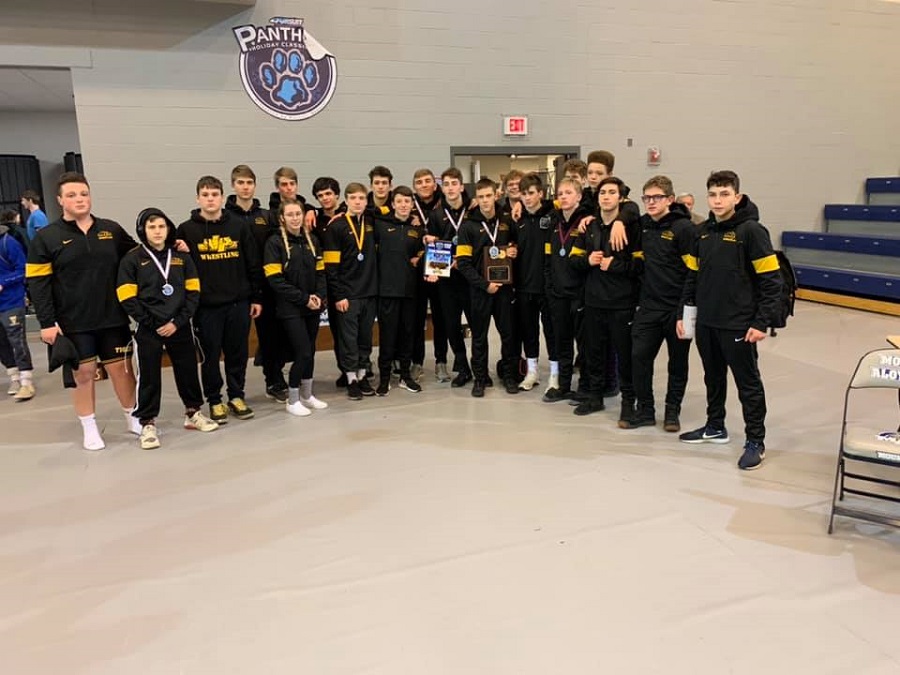 Tigers Win Title At Panther Holiday Classic
Competing in their first tournament of the season, the North Allegheny Tigers won the Panther Holiday Classic at Mount Aloysius College this weekend. The Tigers claimed first place with a team score of 232.5 points, well ahead of second-place Glendale's 181 points.
Eight Tigers medaled at the Panther Holiday Classic and three garnered gold in their respective weight classes. Freshman Nick Gorman (106), sophomore Dylan Coy (120) and freshman Grant Mackay (156) all took first place. Gorman earned a 15-0 tech fall over Heath Smyser of Spring Grove. Coy picked up a 9-0 major decision over Samuel Congleton of Woodbridge, Virginia. In a hard-fought bout, Mackay defeated Dallastown's Brooks Gable by a 4-3 decision.
Earning silver medals at the tournament were Max Stedeford (138) and Ben Grafton (285), reaching the title bout in their respective weight classes.
Senior Nick Marcenelle defeated Jeremy Garthwaite of Saint Mary's to win bronze at 195 pounds. Senior Freddy Junko came through for a fourth-place finish at 145 pounds and freshman Nathan Monteparte took sixth place at 126 pounds.
For detailed results of all medal bouts, click here.
Following NA's championship at the Panther Holiday Classic, the Tigers will host North Hills on Wednesday night at 7:00 p.m. The section match will be broadcast live via the internet by the North Allegheny Sports Network.