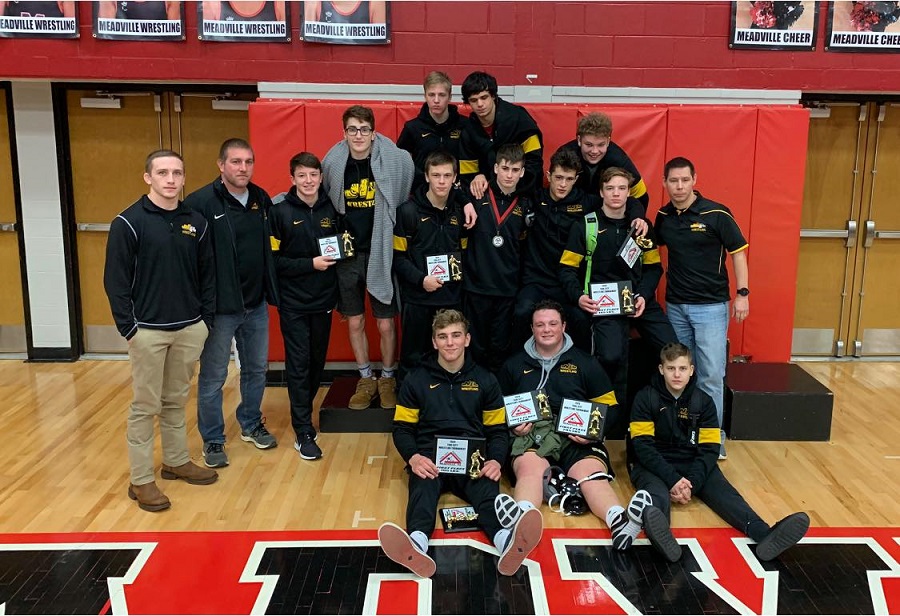 Tigers Win Tool City Tournament, Nick Marcenelle Named Outstanding Wrestler
The North Allegheny wrestling team laid claim to the Tool City Tournament title on Saturday in Meadville. The Tigers bested the competition with a team score of 243.5, finishing well ahead of second-place General McLane who totaled 168.5 points.
The Tigers crowned four individual champions at the tournament, including Nick Gorman (106), Freddy Junko (145), Nick Marcenelle (195) and Ben Grafton (285). Marcenelle posted four wins by fall on his way to being named the Most Outstanding Wrestler of the tournament. The senior won the title bout at 195 pounds by pinning Garrett Eddy of Punxsutawney at the 4:17 mark.
At 106 pounds, Gorman defeated McDowell's Logan Sallot by fall for tournament gold. Gorman totaled three wins by fall in his three bouts.
Junko racked up two pin falls in his four bouts and earned a 6-5 decision over Roman Marrone of Williamsport in the title bout at 145 pounds.
Grafton pinned a pair of opponents and picked up a 4-3 decision over Jordan Schell of Girard for the championship at 285.
Earning silver medals in their respective weight classes were Dylan Coy (120), Nathan Monteparte (126) and Grant Mackay (152).
Winning bronze was Max Stedeford (138), while A.J. Rohan (132) took fourth place and Ian Branstetter (160) medaled with an eighth-place finish.
For a complete look at Tool City Tournament results, click here.
North Allegheny returns to section action on Wednesday night against Fox Chapel. The match will be broadcast live via the internet by the North Allegheny Sports Network.