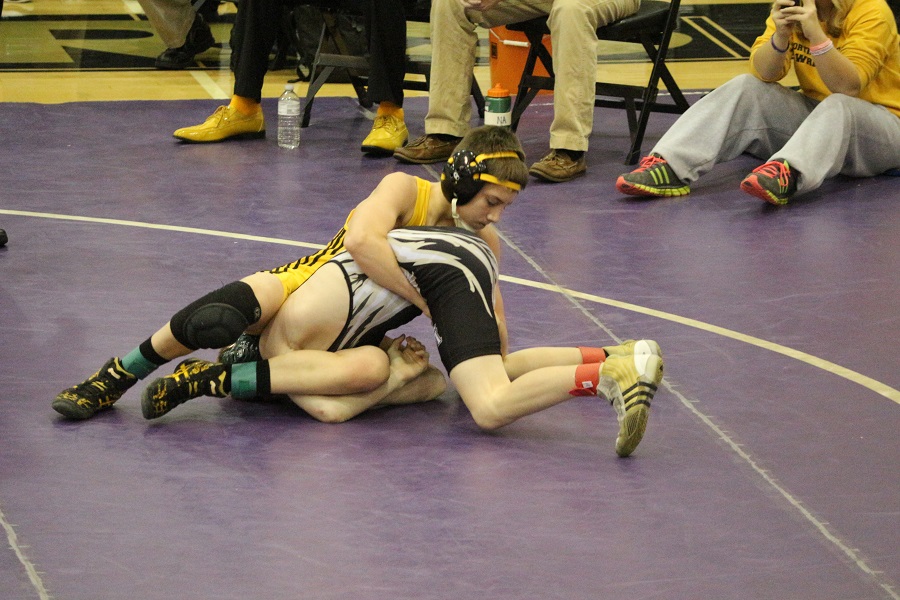 Tigers Wrestling Pummels North Hills, Mt. Lebanon
The North Allegheny Wrestling Team earned a pair of convincing victories on Saturday against Mt. Lebanon and North Hills.  The Tigers dominated the Blue Devils for a 51-12 win and followed that up with an equally impressive performance, topping the Indians by 48-16 final.
In the opening win against Mt. Lebanon, the Tigers collected five pinfalls from Zach Stedeford (106), Luke Landefeld (113), Dom Forys (126), Jake Woodley (160) and Layne Skundrich (220). Against North Hills, the Tigers used three forfeits, two falls, one tech fall and one major decision to rout the Indians. The tech fall came from Colton Byerly at 170 pounds in a 16-0 win over Justin Helfferich, and the major decision was delivered by Stedeford at 106 pounds in a 13-1 victory over John MacPherson.  The falls were provided by Blynn Shideler (152) and Clay Byerly (182).
North Allegheny sits at 7-0 overall with Saturday's wins and will visit Pine-Richland on Wednesday night with a chance to lock up the top spot in Section 3-A. Start time is slated for 7:00 pm.
Wrestling Match Summary: NA vs. Mt. Lebanon
| Weight | Wrestlers | Score |
| --- | --- | --- |
| 106 | Zack Stedeford (NA) pinned Jake Buono (ML) | 1:42 |
| 113 | Luke Landefeld (NA) pinned Brian Perri (ML) | 3:44 |
| 120 | Kevin Kinyua (ML) dec. Scotty Stossel (NA) | 6-2 |
| 126 | Dom Forys (NA) pinned Sam White | 2:58 |
| 132 | Jake Hinkson (NA) dec. Sean Perri (ML) | 10-8 |
| 138 | Richie Boeh (NA) dec. Turner Gray (ML) | 4-0 |
| 145 | Sean Kalmeyer (NA) dec. R.J. Fitzgerald (ML) | 4-1 |
| 152 | Blynn Shideler (NA) maj. dec. John Marshall (ML) | 12-4 |
| 160 | Jake Woodley (NA) pinned Jack Rendulic (ML) | 3:53 |
| 170 | Colton Byerly (NA) maj. dec. Cam Giometti (ML) | 10-1 |
| 182 | Kellan Stout (ML) dec. Clay Byerly (NA) | 6-1 |
| 195 | Zach Smith (NA) maj. dec. Bakhtiyar Zaynullaev (ML) | 13-0 |
| 220 | Layne Skundrich (NA) pinned Chas Blango (ML) | 1:48 |
| 285 | Zeynul Zaynullayev (ML) pinned Mark Littlefield (NA) | 1:18 |
Wrestling Match Summary: NA vs. North Hills
| Weight | Wrestlers | Score |
| --- | --- | --- |
| 106 | Zack Stedeford (NA) maj. dec. John MacPherson (NH) | 13-1 |
| 113 | Gage Curry (NH) dec. Luke Landefeld (NA) | 2-1 |
| 120 | Scotty Stossel (NA) wbf | |
| 126 | Dom Forys (NA) wbf | |
| 132 | A.J. Boeh (NA) dec. Keagan Lawson (NH) | 6-3 |
| 138 | Jake Hinkson (NA) dec. David Badamo (NH) | 10-6 |
| 145 | David Tuzikow (NH) dec. Richie Boeh (NA) | 9-4 |
| 152 | Blynn Shideler (NA) pinned Valente Caruso (NH) | 3:47 |
| 160 | Jonathan Avon (NH) maj. dec. Jake Woodley (NA) | 13-1 |
| 170 | Colton Byerly (NA) tech fall Justin Helfferich (NH) | 16-0 |
| 182 | Clay Byerly (NA) pinned Elliot King (NH) | 0:41 |
| 195 | Zach Smith (NA) wbf | |
| 220 | Layne Skundrich (NA) dec. Mike Bonsmann (NH) | 5-0 |
| 285 | Eli Swain (NH) pinned Mark Littlefield (NA) | 3:53 |