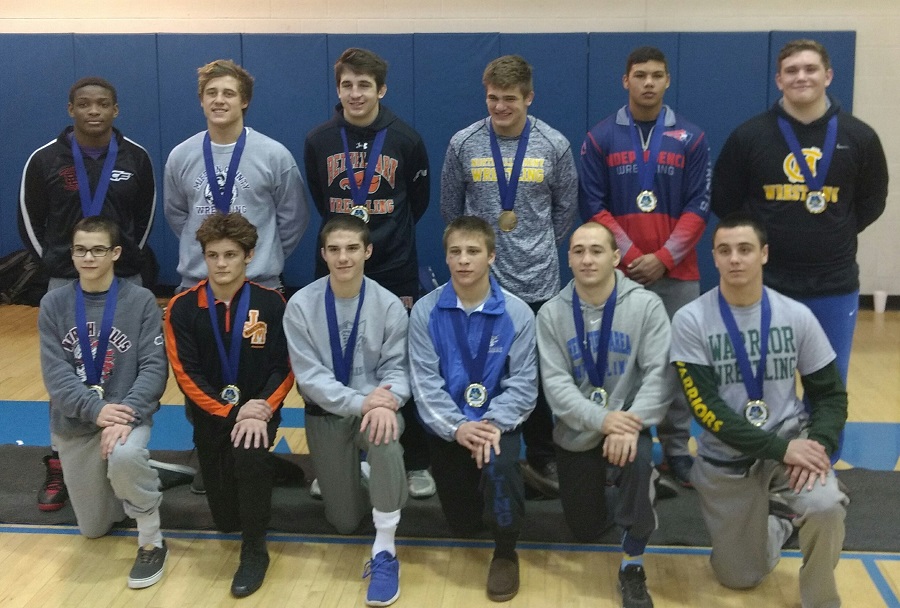 Top 10-Showing For NA At Powerade, Woodley Wins Gold
The North Allegheny wrestling team claimed a top-10 finish at the illustrious Powerade Wrestling Tournament from Canon-McMillan High School. Four NA wrestlers placed and one took home a championship medal. Senior Jacob Woodley, an Oklahoma recruit, earned tournament gold at 195 pounds, defeating Gavin Hoffman of Montoursville in the championship bout, 5-2. Hoffman was the 2016 PIAA champions in Class AA a season ago and ranked No. 4 nationally. Woodley entered the tournament ranked sixth in the country.
Also delivering a standout performance was senior Jake Hinkson who claimed a fourth-place finish at 145 pounds. The Kent State recruit opened the tournament with three straight wins to reach the semifinals. Despite a loss in the semifinals to Frankie Gissendanner of Penfield (NY), Hinkson bounced back with a 5-2 decision over Kiski Area's Joey Blumer to reach the third-place bout.
At 132 pounds, senior Luke Landefeld also garnered a fourth place medal. The Seton Hill recruit picked up six victories on his trek to the third-place bout, including two wins by fall. Landefeld pinned Carlos Ugalde of Bound Brock (NJ) and Hunter Michaels of Reynolds. In the third-place bout, Landefeld dropped a 3-1 decision to Quincy Monday of Carrboro (NC).
Junior Derek Devine grabbed a seventh place medal at 285 pounds. Devine came through with three wins by fall in the tournament, including a fall at 2:03 in the seventh-place bout over Waynesburg's Nathan Hinnerman. Both Landefeld and Devine entered the tournament as unseeded wrestlers.
Overall, the Tigers tied for seventh place with St. Paul's (MD) with 96 team points. Wyoming Seminary won the team title with 161 points. Kiski Area finished in second place with a team score of 129, the highest amongst WPIAL participants. For more information on the Powerade Tournament and results, click here.
North Allegheny will return to section action on Wednesday night with a matchup against the Hampton Talbots at 7:00 p.m. The match will be broadcast live via the internet on the North Allegheny Sports Network.