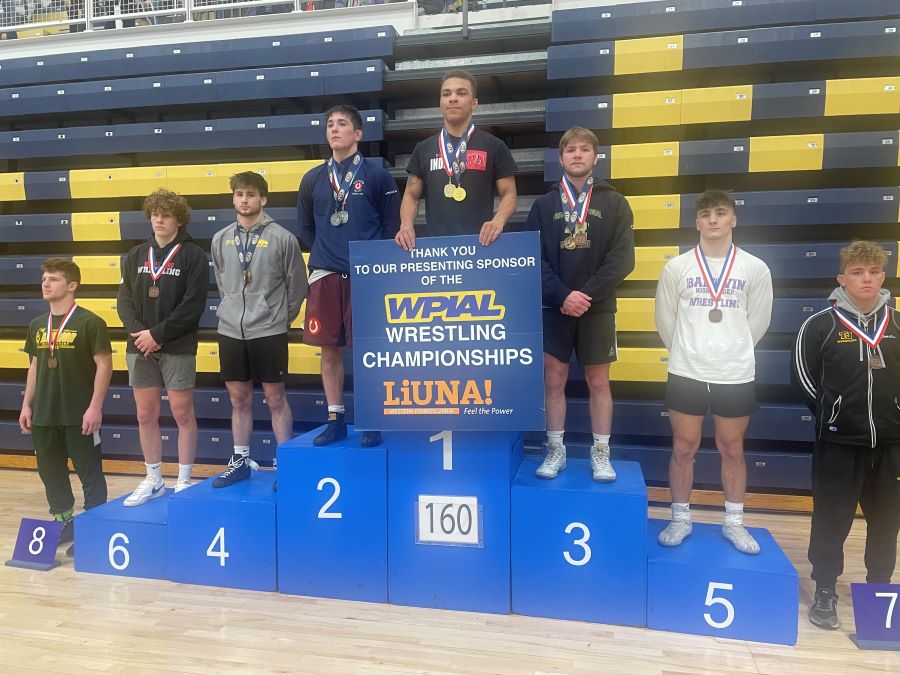 Two Tigers Qualify For PIAA Individual Tournament In Hershey
Two members of the North Allegheny boys' wrestling team punched their ticket to the state tournament in Hershey with fourth-place finishes at the WPIAL Class AAA individual wrestling tournament at Canon-McMillan High School. Seniors Jayson Flener (145) and Adam Rohan (160) both placed fourth in their respective weight classes to qualify for the PIAA Class AAA individual wrestling tournament next week at the Giant Center.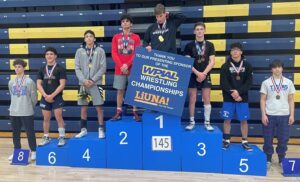 Flener opened the two-day tournament with a 4-0 decision over Anthony Trout of Chartiers Valley to reach the quarterfinals. Fifth-seeded Flener fell to fourth-seeded Chris Cibrone of Peters Township by a 7-2 decision, sending him to the consolation bracket. Undaunted, Flener rattled off three consecutive victories, including a major decision over Cole Gibbons of Mt. Lebanon, to reach the third-place bout. In a rematch with Cibrone in for third-place, Flener fell by a 7-2 decision but still qualified for the state tournament.
At 160 pounds, Rohan started the tournament with a 16-1 tech fall victory over Pierce Turner of Hempfield and followed with 5-1 decision over Dominic Hartman of Penn-Trafford in the quarterfinals. In the semifinal round, Rohan faced off against top-seeded Dylan Evans of Chartiers Valley and fell by a major decision, 19-8. In the consolation bracket, Rohan bounced back with a 3-1 decision over Waynesburg's Jake Stephenson to reach the third-place bout. Similar to Flener, Rohan fell in the third-place bout but still qualified for the state tournament with his fourth-place showing.
Freshman Gus Stedeford (107) and junior Aidan Buggey (215) also represented North Allegheny well at the WPIAL tournament. Despite just falling short of Hershey, both Stedeford and Buggey earned fifth place medals. Stedeford capped a successful rookie season with a 28-12 record and reached the semifinal round at 107 pounds. In the consolation bracket, Stedeford defeated Owen Campbell of Seneca Valley by a 5-3 decision to secure a fifth-place medal. Buggey finished the season with an impressive 29-8 record and posted a 3-2 decision against Elijay Binakonsky of Hempfield in his fifth-place bout at 215 pounds.
In all, nine NA grapplers competed at the WPIAL Class AAA individual wrestling tournament, including Casey Walker (114), Griffen Reid (121), Will Bentrim (127),  Nathan Monteparte (139) and Kellen Buggey (152). Monteparte placed eighth in his bracket with a 2-1 showing. He suffered an injury in his fourth match and was unable to compete for the rest of the tournament.
For a complete look at the brackets from the WPIAL Class AAA tournament, click here. North Allegheny only results are below.
Flener and Rohan will now prepare to take on the best in the state at the PIAA Class AAA tournament on March 9-11 at the Giant Center in Hershey.
WPIAL Class AAA Wrestling Championships
March 3-4 at Canon-McMillan High School
| Weight | Wrestlers | Score |
| --- | --- | --- |
| 107 | Gus Stedeford (NA) pinned Cade Stern (West Allegheny) | 2:22 |
| Quarterfinals | Gus Stedeford (NA) dec. Owen Campbell (Seneca Valley) | 5-1 |
| Semifinals | Santino Sloboda (Butler) dec. Gus Stedeford (NA) | 8-2 |
| 4th Consolation | Ejiro Montoya (Mt. Lebanon) dec. Gus Stedeford (NA) | 6-3 |
| 5th Place Bout | Gus Stedeford (NA) dec. Owen Campbell (SV) | 5-3 |
| | | |
| 114 | Cael Yanek (Moon) dec. Casey Walker (NA) | 2-0 |
| 1st Consolation | Casey Walker (NA) dec. Noah Henry (Kiski Area) | 9-2 |
| 2nd Consolation | Arontay Heinincamp (Gateway) dec. Casey Walker (NA) | 2-0 |
| | | |
| 121 | Brady Joling (Chartiers Valley) maj. dec. Griffen Reid (NA) | 9-0 |
| 1st Consolation | Griffen Reid (NA) pinned Adam Haines (Fox Chapel) | 0:44 |
| 2nd Consolation | Jonny Baiano (South Fayette) maj. dec. Griffen Reid (NA) | 11-2 |
| | | |
| 127 | Hayden Coy (Penn-Trafford) maj. dec. Will Bentrim (NA) | 9-0 |
| 1st Consolation | Will Bentrim (NA) dec. Dom Colaizzi (Franklin Regional) | 3-1 |
| 2nd Consolation | Dominic Ferraro (Pine-Richland) dec. Will Bentrim (NA) | 7-2 |
| | | |
| 139 | Nathan Monteparte (NA) pinned Michael Lawrence (Chartiers Valley) | 3:51 |
| Quarterfinals | Lonzy Vielma (Connellsvlle) dec. Nathan Monteparte (NA) | 6-3 |
| 2nd Consolation | Nathan Monteparte (NA) maj. dec. A.J. McGarrity (Peters Township) | 11-1 |
| 3rd Consolation | Ethan Higgins (Bethel Park) inj. default Nathan Monteparte (NA) | 8-0, 3:09 |
| | | |
| 145 | Jayson Flener (NA) dec. Anthony Trout (Chartiers Valley) | 4-0 |
| Quarterfinals | Chris Cibrone (Peters Township) dec. Jayson Flener (NA) | 7-2 |
| 2nd Consolation | Jayson Flener (NA) pinned Sam Jacobs (Armstrong) | 2:38 |
| 3rd Consolation | Jayson Flener (NA) dec. Cooper Dietz (West Mifflin) | 8-1 |
| 4th Consolation | Jayson Flener (NA) maj. dec. Cole Gibbons (Mt. Lebanon) | 11-3 |
| 3rd Place Bout | Chris Cibrone (PT) dec. Jayson Flener (NA) | 7-2 |
| | | |
| 152 - Pigtail | Kellen Buggey (NA) pinned Tamerian Kapitonov (Chartiers Valley) | 4:44 |
| 1st Round | Lucas Kapusta (Hempfield) pinned Kellen Buggey (NA) | 0:53 |
| 1st Consolation | Alexander Kaufmann (Fox Chapel) dec. Kellen Buggey (NA) | 8-2 |
| | | |
| 160 | Adam Rohan (NA) tech fall Pierce Turner (Hempfield) | 16-1 |
| Quarterfinals | Adam Rohan (NA) dec. Dominic Hartman (Penn-Trafford) | 5-1 |
| Semifinals | Dylan Evans (Chartiers Valley) maj. dec. Adam Rohan (NA) | 19-8 |
| 4th Consolation | Adam Rohan (NA) dec. Jake Stephenson (Waynesburg) | 3-1 |
| 3rd Place Bout | Gavyn Beck (Franklin Regional) dec. Adam Rohan (NA) | 7-0 |
| | | |
| 215 | Aidan Buggey (NA) dec. Landon Hartman (Bethel Park) | 7-1 |
| Quarterfinals | Conner Jacobs (Armstrong) dec. Aidan Buggey (NA) | 1-0 |
| 2nd Consolation | Aidan Buggey (NA) dec. Mason Kraer (Trinity) | 5-3 |
| 3rd Consolation | Aidan Buggey (NA) dec. Gene Calgaro (Canon-McMillan) | 5-2 |
| 4th Consolation | Owen Ott (Penn-Trafford) dec. Aidan Buggey (NA) | 3-0 |
| 5th Place Bout | Aidan Buggey (NA) dec. Elijay Binakonsky (Hempfield) | 3-2 |
| | | |